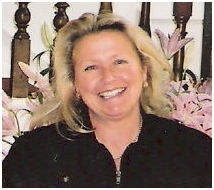 I come from a Welsh farming background and grew up in Warwickshire, just on the edge of the Cotswolds, eating wonderful seasonal produce from a large kitchen garden with orchards which were full of old fruit varieties that my father treasured. One of my earliest memories is of crawling around looking at small things under greenhouse benches - and being fascinated by lush ferns, violets, tiny leaved 'mind-your-own-business' (Helxine) and the beautiful silky emerald green algae which grew on the sides of the old lead water tanks. That 'humussy' smell of warm greenhouse soil in spring instantly takes me back to those early memories. Outside, our soil was heavy red clay which I would often make into pots - perhaps that led to my sculpture later? I've always loved to have my hands in soil and need to 'plug in' to it regularly! My parents were both keen gardeners and the memorable scent of the rose 'Ophelia', at nose height at a very early age, engendered a lifelong love affair with roses. I have that rose in my garden now. It was a wonderful childhood surrounded by horses, dogs and constantly evolving menagerie of other animals.
My passion for plants, wildlife and nature was fostered by my father, who was a keen amateur naturalist and brilliant bird mimic with a huge knowledge of the countryside, horses, folklore and natural remedies. I remember walking over springy, dew-spangled old turf in autumn looking for field mushrooms as big as dinner plates, and being lifted up to see a robin's nest in the top of an old iron pump in the stable yard. My father lifted the lid and there the robin sat on her nest! It was magic to a small child! I spent many days after that watching her going in an out through the spout to feed her brood! I only realise now just how precious was that store of knowledge that my father had - I wish I'd asked him more before it was too late. He sadly died of cancer when I was 19. Not a day passes without me seeing things that I would love to tell him, or thinking of questions I wish I could ask him. You don't think of such things as a teenager though. I also realise now just how privileged the world I grew up in was. Not privileged in financial terms, which is how some people might perhaps view it - but privileged to have had the ability to roam freely through a countryside full of birds and butterflies, abundant hedges full of wild flowers and daffodils in spring, crystal clear streams to hunt sticklebacks and play in on hot summer days, and enormous species-rich woodlands full of knee-high bluebells, like a fragrant sea of blue as far as the eye could see. Sadly, so much of that world is gone forever, buried under roads, development, or fallen prey to pollution from intensive farming and Dutch Elm disease. So you can see why I'm so passionate about preserving what is left, perhaps restoring some of the countryside back to what it was, and encouraging biodiversity in my own garden.
After leaving school, I might have chosen botany or music - my other great loves - but horses won! My passion for horses led to a move here to Ireland in 1973, where I married and had a daughter and a son. In 1975 my daughter was born with very severe, life threatening allergies, which luckily our very enlightened GP recognised just in time - as she had lost half her birth weight in the first 6 weeks. He explained my daughter would have to have chemical-free food as far as possible, so I then had to learn how to grow natural, organically grown food very fast - because you couldn't buy it back then. I'd never really thought very much about it until then, as I'd always been able to take for granted the delicious produce from the garden where I grew up. I assumed in my ignorance that everyone grew their vegetables like us - with compost and manures. We kept horses, poultry, pigs and goats at home, so that provided plenty of fertility for our garden. I knew nothing about the amount of poisonous chemicals sprayed onto the very limited range of vegetables normally available in shops back then. Reading the late Rachel Carson's book - Silent Spring opened my eyes to what was happening. From then on I was a sponge for any knowledge about organic gardening, I ploughed up our entire 1/8th acre back garden to grow our food, and that led to me being the longest borrower ever of the Rodale book of Organic Gardening in our local library! From that I went on to read many other books on organic farming and gardening - including the writings of the marvellously eccentric Lawrence Hills. (Little did I think in those days that I would one day have the pleasure of meeting him and then later sculpting his portrait for the HDRA!)  My small children's Montessori friends always ate vegetables in our house that they wouldn't eat at home - and their parents couldn't understand what my secret was. I think it was simply because they tasted much better. Many of them asked if I ever sold any and so the die was cast. A couple of years after that, when we moved to our 5 acres here, I became a commercial organic grower, with an acre of fruit and veg and eventually four large polytunnels. 
I've been been growing organically ever since, mostly in raised beds and various greenhouses and polytunnels for over 35 years. The first seven of those were in small back gardens and for two of those years entirely in containers, as we expected to move any minute! When we did, the furniture took one lorry load and the plants took four! It was like Chelsea flower show on the move! In the early eighties, after our move to North Co. Dublin, I became one of the first Soil Association certified commercial organic growers in Ireland, was a free range egg producer, kept a small flock of sheep, set up Dublin's first organic box scheme delivering around the northern suburbs of Dublin every week, and many of those deliveries were to people suffering from cancer or serious allergies. I supplied the Dublin Food Coop, supermarkets and wholesaler Organic Foods, and became involved in various organic organisations, including organising the Irish group of the HDRA. I joined IOGA initially - which later became IOFGA, and was a director of IOFGA for several years, among other things helping to develop the Irish Organic Standards, and helping to gain recognition for organic farming which led to funding from the Irish Government. A few years later a group of commercial growers and farmers including myself, who were intent on preserving the integrity of organic food, left IOFGA to found The Organic Trust. I'm happy to say that The Organic Trust is now the certification body of choice for most professional growers and farmers in Ireland. There was a host of other things too - but in 1995, I gave up commercial growing in order to be able to look after my mother who had worsening dementia and also to concentrate on my long held ambition to work as a portrait sculptor.  Working from home meant that I could spend more time looking after my mother. My commissions since have included among others - Lawrence D. Hills (the founder of the HDRA-now Garden Organic) HRH The Prince of Wales, jockeys Michael Kinane and Charlie Swan, and former Taoiseach Charles J. Haughey. If you'd  like to see pictures of these they are on my other website 
nicholakylesculpture.com
. Gardening and sculpture seem to go together really well, they're probably both grown-up versions of 'making mud pies' really - very therapeutic and also very satisfying when you get them right!
Although I have worsening degenerative disc disease due to my many falls in my horse riding days, which necessitated spinal surgery, I still grow as much of my own food as possible, and I am more passionate than ever about preserving biodiversity. I designed the garden here while I was unable to walk for some months in 1980 - and it stopped me going completely off my head! But I was determined not to give up - particularly with my daughter's illness. The reason I'm telling you all of this is to prove that if I can do it - then anyone can if they're determined enough! I designed my garden here in a cross shape with 12 raised beds, four in each quadrant, each bed roughly 28ft. x 4ft., I have 2 polytunnels, fruit cages and an orchard of 55 varieties of apples, many heritage varieties, and also pears and plums. I grow many rare and endangered varieties of vegetables, fruit and ornamental plants, and save a lot of my own seed. There are borders with old roses, hellebores, primulas and many unusual herbaceous plants. In addition there is also a completely green- foliaged 'Jungle Garden' with plants like bananas, gingers, restios, tetrapanax etc Then there's another roughly 4 acres of woodland, a stream, water garden and rough meadow specifically managed as wildlife habitat. Although I'm not able to grow as large an area as I once did - I still manage to grow most of our own food, and keep just a few laying hens now as I couldn't bear not to have my own fresh eggs. Hens are wonderful 'clearer-uppers' of veggie bits not good enough for us to eat but too good for the compost heap. In the process they produce wonderful eggs with amazingly orange yolks and very useful high nitrogen droppings which are ideal for activating the compost heap!
I believe that growing your own food is an incredibly positive and therapeutic thing to do and that everyone should try it no matter what their limitations of space, time, money or ability. Picking food from your garden and eating it a few minutes later is an incredibly satisfying feeling - it also couldn't be fresher and saves a lot of money!  Over almost 40 years I've gained a lot of experience of growing organically in Irish conditions, particularly in raised beds and polytunnels. I've really enjoyed inspiring other people by giving talks to various gardening clubs, organic groups, transition/allotment/community groups, lectured at The National Botanic Gardens, also to political and business women's groups etc. and I've also taught courses at various centres. I also have a slot on LMFM radio's Late Lunch Show with Gerry Kelly, called 'Tips from the Tunnel' - talking about organic gardening and food. I've thoroughly enjoyed the last year and am looking forward to the next! I'll let you know what's happening soon! I no longer drive miles to give talks or courses, but I hope that I can inspire you just a little - by sharing my knowledge here with you on my blog! You can also find me on Twitter now - there's a link here on my blog, and from January 2015 I shall be posting a 'Tweet of the Day' quick tip each day, on organic gardening, food, how to encourage wildlife and preserving biodiversity