April Topics

:
Sowing super-fast seeds.
My 'loo roll' method of sowing parsnips and carrots.  Growing on onion seedlings to cheat the weather! 'Hardening off' early vegetables. Stop weeds and slugs before they start! 
When growing your own - you can grow the best varieties for flavour and nutrients. Get your seeds sown! 
Another great thing about growing your own food is that you don't even need a garden!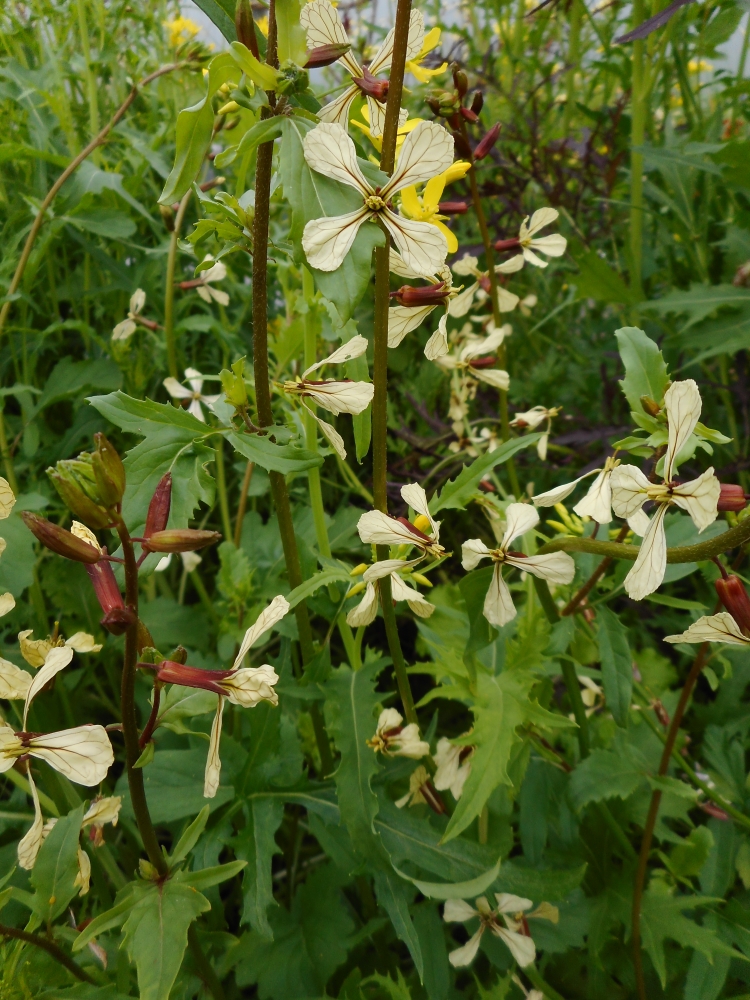 Rocket flowers taste deliciously of vanilla!
Sow some super-fast seeds if you're desperate for greens!
If your garden is still too wet and cold at the moment for sowing seeds direct into the soil and you're craving something fresh and green - then sowing some fast-growing veg like spinach, baby leaf lettuce, pea shoots, rocket and Oriental veg in modules will gain you at least 2 weeks on anything you could sow outside now! You could be eating all of these within 4-6 weeks! If you plant them out on the ends of your veg beds where they won't be in the way of subsequent crops - then after you've picked their leaves for a few weeks - later on you can leave one or two plants to flower. Doing this provides very welcome food for bees and other beneficial insects that help with pest control. Many of their flowers are also delicious in summer salads - especially rocket flowers - which actually taste of vanilla believe it or not! The look really pretty on salads or even on chocolate desserts due to the beautiful dark brown veining on their flowers! A double or triple whammy! The most likely time you'll see any pests greenfly in an organic garden is on the very young and succulent emerging shoots of some plants at this time of year - roses in particular seem prone to them. If you've been attracting beneficial insects into the garden though - and also feeding your garden birds all winter - then you'll have a willing army of pest controllers ready and waiting to help you dispose of them! 
Seeds of some food plants like spinach and lettuce which grow best in cooler temperatures have a built in germination inhibitor that is triggered by high temperatures - so it's best to keep them fairly cool for the first 24 hours or so after sowing. Don't try to hurry them more by putting them in a heated propagator as they may not germinate at all. At 30 deg C the seed actually becomes dormant - this is nature's clever way of ensuring that they don't germinate in unsuitable conditions and have the best possible chance of growing on to adulthood and producing seeds themselves. 
My 'loo roll' method of sowing parsnips and carrots for guaranteed success!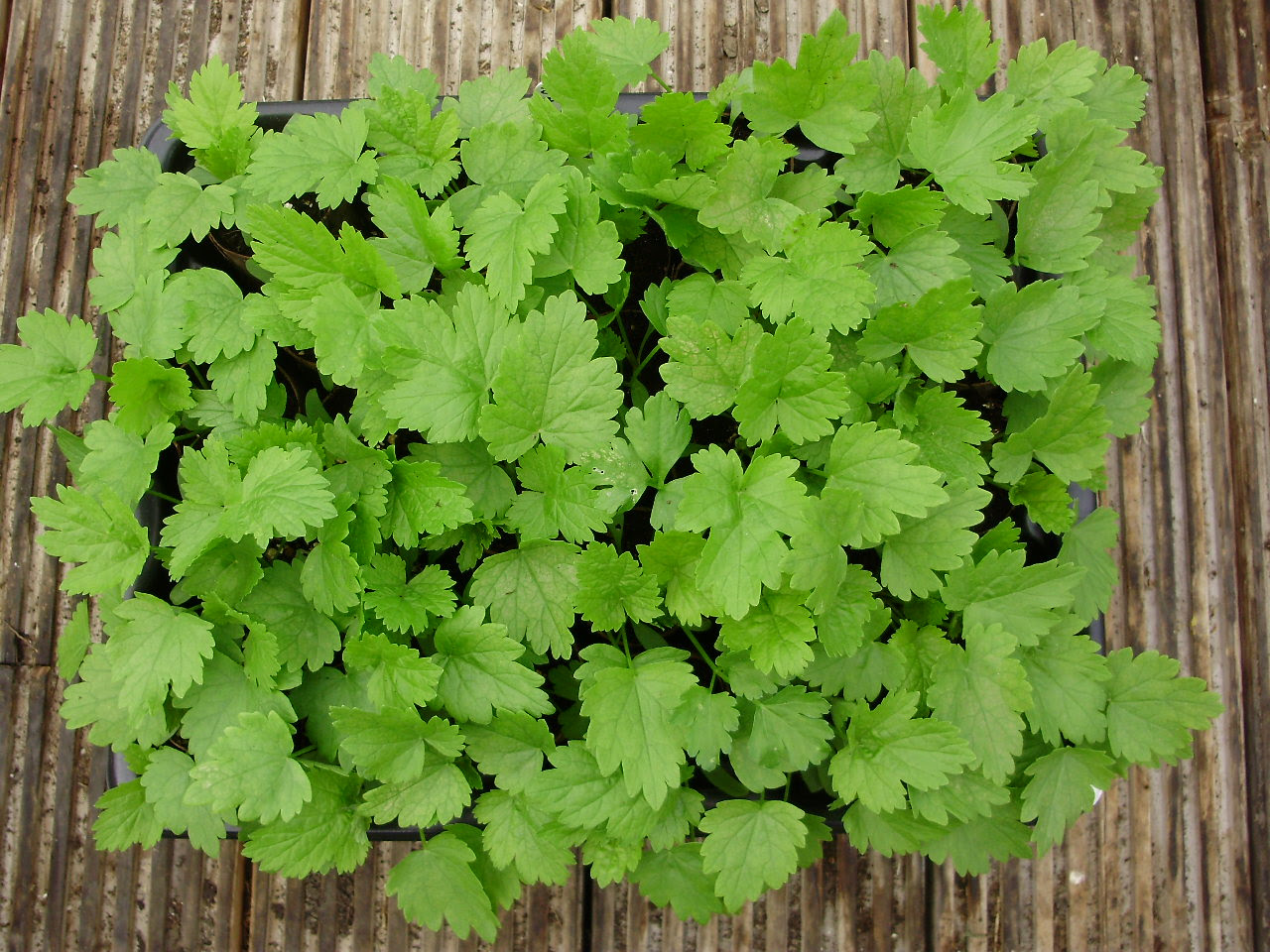 My 'loo roll' sown parsnips are already hardened off and begging to be planted,
 they have two nice first 'true' leaves and they're waiting impatiently now - first in the queue. They don't appreciate being delayed! There's still time to sow them in long modules like loo rolls, if you haven't sown any yet - they'll germinate far quicker at room temperature in the house than they will in cold, wet ground. Then as soon as they're up and need light you can put them in the greenhouse or a cold frame for a couple of weeks before planting out. They'll be way ahead of any sown in the ground even 2-3 weeks ago - and they won't have been eaten by the slugs which are active now despite the cold!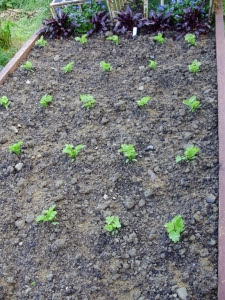 As the soil is still sticky in the raised beds, I'll do what the show vegetable people do and take out a trowel full or so of soil
, mix it with organic peat-free potting compost to dry it out a bit, replace it and then plant into that. They'll take off like rockets then. Nothing likes being planted into cold, sticky clay as firming them in it compacts it and squashes the air out. Roots need a certain amount of air. The very first 'module' will need easing out very carefully from the corner of the mushroom box
that's been their home for the last two months. I use two narrow trowels for doing this, either side of the first one in a sort of 'pincer' movement which lifts the loo roll with it's precious package out very gently, then lowering it into it's hole and pushing the soil towards the sides rather than from the top, which would squash the loo roll down and disturb the contents. Lots of TLC is the secret - but it's worth it to get those lovely straight parsnips later!

When sowing anything in loo roll 'modules' It's really important that the hole is deeper than the loo roll module. It must be buried well under the surface and not exposed to the air - otherwise it will dry out at the top and act like a wick, drawing moisture out of the module, which then dries out and shrinks - and then is a complete disaster. When well buried, they just rot away with no problems at all. After the first one they're then much easier to extract from the box. I just take them out of the mushroom box with one long narrow trowel at a slight angle so the already rotting loo roll is supported and doesn't fall apart. Then I plant in the same way, about a foot apart, as there's three plants to a module. After that they'll only need a minor weeding once, mulching afterwards (I use grass clippings) then the light excluding leaves will close over the soil and I won't need to touch them again at all, until they're ready to eat after the first frost in the autumn! 
Over the years I've found that my 'loo roll' module method is much the easiest way to get parsnips sown early enough to reach a really decent size. Small ones never have the same flavour. The ground is usually far too wet and cold here in early spring for them to germinate well - even under cloches. We don't get much early warmth in Ireland - it's different in the south east of England or even in the midlands there, where most of the books that give gardening advice tend to be written!  They've been nearly 10 deg C warmer there for most of this last week!  Parsnips take about 3 weeks to germinate even in a warmish soil. That leaves them far more vulnerable to damage by slugs etc. before they're big enough to withstand the odd nibble. That's if they don't rot in the cold soil. I always get fabulous parsnips this way, three to a module planted like that in each planting spot - with only one or two that are a bit odd shaped or curled around the others!  Who knows, I may even grow show standard parsnips this year! Even if they're not - with parsnips at almost a euro each for decent sized organic ones that have any flavour - they're well worth that extra little bit of trouble. After planting they're pretty much trouble-free, apart from keeping them well-watered in the raised beds. They just get on with growing themselves until the autumn frosts, when they develop their sweet flavour and I lift them as I need them for the kitchen. You can raise carrots just like this too, sowing a tiny pinch into each module, again eventually getting nice clumps a foot or so apart - just right for lifting a perfect bunch for each meal. A lot of people find carrots a problem because again they take ages to germinate, and they're tiny 'grassy' seed leaves are very vulnerable to slug damage just as they're germinating. This totally avoids the problem - and is a great way to raise the very expensive seed of the new purple ones. After they've reached a decent size in the modules you can plant into clean, weed free soil, so you won't have to weed, which attracts carrot fly. All you need to do after that is to keep them permanently covered with a fine mesh like 'Enviromesh' to keep carrot flies out.
My rather unconventional method of growing on onion seedlings also cheats the weather!
Onions from seed are always far more successful than sets, particularly in a bad year - and of course they don't run the risk of bringing in any disease which sets can do. That can be even more likely in a wet year. The good news is - it's still not too late to sow them if you get a move on and sow them now!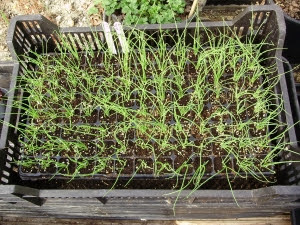 I also have a neat trick up my sleeve for onions
 - and this one is really worth trying if you are ever delayed when something sensitive needs planting out from modules. I first thought of this when I was behind for some reason (weather, or back problems probably!) so that I couldn't plant out my onions and leeks at the right time - which meant they were in serious danger of becoming starved and root bound - which they hate and can cause bolting. The trick I use now is to sit the module tray on top of roughly an inch of fairly loose compost in a large plant tray. I put something like a sheet of newspaper on the bottom first - just to stop the compost falling through, then I put in 2-3cm of organic peat free potting compost - which I water well - and just sit the module tray on top. This completely avoids the fiddly and time consuming job of having to pot on over 100 modules just for the sake of a couple of weeks or so - and means that the onions, leeks or whatever get absolutely no check at all to their growth. They keep on growing - sending their roots out exploring downwards, happily unawares, and not being the least bit bothered at all. When I'm finally ready to plant them into the ground - I give them a good watering, very gently ease the tray up out of the compost - taking each plug of plants out of the module tray and plant as normal. I may get only one or two 'bolters' out of 3-400 onions - so it obviously doesn't bother them in the least! They will usually have put on a couple of centimetres or so of root into the compost underneath in this time - but by easing them very gently out they never even know they've been moved and don't receive any check at all. This was a great success four years ago, when the weather was so wet that many people's onions were a complete disaster. I had a terrific crop as a result of this trick, most of which ripened well and kept all winter long. 
OK. Like so many of things I do - it's not the most conventional way of doing things - but being 'conventional' has never bothered me much, I've always felt that 'conventional' was always there to be challenged - having been an organic gardener for more than 35 years (not a trait my school teachers appreciated though)! The onion trick is something which I've learned works really well from experience - and experience is always the best teacher. Otherwise I would have to go to a lot of bother and time potting on - using a lot more compost. Saving time is often as important as saving money for me! If you don't do this, or don't pot them on and just leave them sitting on a hard surface and getting starved if their planting is delayed - then the roots will start going round and round inside the modules, becoming very congested. They will then be far less efficient and the plants won't grow as well as they should when you plant them out. If they're sitting on capillary matting - the effects can be even worse! This is because they start to root into the matting - then roots get broken when you try to lift them up off the matting - and this can cause them to get such a shock that some of them will 'bolt' - running straight up to flower instead of producing a nice firm ripe bulb. 
Leeks aren't quite as sensitive as onions - so if you have to go away at short notice or are held up in some other way - you could row them out in a small patch of a veg. bed instead of doing this - and plant them out as usual later - but this trick works fantastically well for them as well. I actually do this every year now with my onions - I like to sow them early to get nice big plants so that I eventually get nice big well-ripened onions! I'm still using the last of last year's 'Golden Bear' and 'Red Baron' onions (Organic Catalogue) - and they are as firm as ever! It's really worth keeping this trick in mind nowadays, when we can't always rely on the weather to behave in the predictable way it always has done - and we are all so busy! 
Following the same advice given in old gardening manuals just because that's how it was always done is rather outdated now - our climate is definitely changing and we'd better learn to be adaptable and think laterally. I call it 'seat of the pants' gardening!

'Hardening off' early vegetables sown under cover
'Hardening off' is a term which first time gardeners often find difficult to understand. It's just a gradual acclimatising of plants to the outside world - after being raised in nice warm conditions inside. At this time of year I tend to operate a kind of airport style 'holding pattern' with plants in various stages of hardening off - gradually moving closer and closer to being completely outside. Gradually is the key though!Always be prepared to put them back under cover quickly if severe weather is forecast. I use this method for everything that's sown early under cover - including my onions. The weather's so bad here today that the gales would have battered and destroyed anything like tender lettuces in trays. Typical April weather! It really is worth taking that little bit of extra trouble to properly harden off module grown plants. If it's well done, in a few weeks time you will have perfect beds full of beautiful, healthy salads and other veg to start harvesting.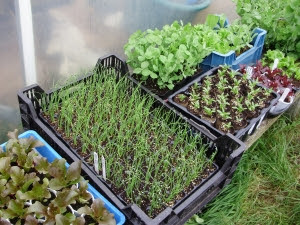 At the moment I'm running in and out of the tunnels morning and evening - putting stuff out during the day that needs to begin the 'hardening off' 
process - bringing everything in again at night in case of a sudden unexpected frost. I have trays raised off the ground on upturned plant crates, so any slugs can't get them - or sneak underneath and be brought unintentionally into the tunnel at night. When weather improves - I shall leave them out day and night at the side of the tunnels just covered with some fleece at night for a few days. After that they can be planted into the raised beds - which are looking like a very inviting (but very cold and wet) blank canvas right now - most of the winter crops having been cleared. The surplus late leek seedlings 'Bandit' which I couldn't bear to waste last year I planted out pencil thin - 3 in a clump  in August or early Sept. - mulching them with grass clippings to keep the weeds down and the moisture in. 
Stop weeds and slugs before they start!
If you're an all year round gardener like me, then you'll probably have already covered any ground vacated by any late winter crops lifted last month.  If you haven't done that - then do it fast now!This is important to stop the weeds merrily growing away while your back's turned doing something else! Otherwise you'll seriously regret it in a few weeks time - when trying to get a bed ready for sowing or planting takes a couple of hours because there's a jungle of weeds to remove - instead of the few minutes it would have taken if you'd covered it before they start growing! Don't forget that weeds tend to encourage slugs as well because they give them more places to hide! You can use the time that the ground's covered to lift the cover every so often and pick up any slugs - or just cut them in half if you really can't bear the slime!  Any light-excluding and also preferably rain-proof covering will do, to stop the weeds growing and keep the soil dry and in good condition until you can get round to preparing it for a new crop. As soon as we get better weather the weeds will simply leap out of the ground practically overnight! They're always the first to germinate at lower temperatures - that's why they're so successful!
Remember - Nature has strategies that can outwit even the best-laid plans of gardeners - that's why organic gardeners work with rather than against it.  Nature is always wisest in the long run and no matter how clever we may think we are - Nature will always have the last word!


With growth fast now - plots can quickly become an unmanageable mess if weeds are not dealt with promptly!
If that happens - then it's often the time when many first-time gardeners give up - thinking that this gardening lark's just far too difficult!  Either that or turn to weedkillers on the advice of chemical-minded gardeners!  This is a disaster for all the soil life and also for your health if you eat vegetables grown in chemically weed-killed soil!  Recently I bumped into a friend who opened some allotments on his farm - he said that several people had taken on far too much and ended up with a mess - so they've abandoned their allotments completely this year. That's a shame - with the right advice they wouldn't have been so disappointed. If that's happened to you in the past - but you're going to have another shot - then good for you but don't take on too much - a little bit of forward planning really pays off.
You're far better to get just one small area perfectly under control and cover the rest or just mow it for the time being. You can use the clippings to start a compost heap or for mulching potatoes to keep weeds down. They love the acidifying effect on the soil. While on the subject - only grow potatoes on one quarter of the plot - not everywhere as some 'know-it-all' people may advise! You could even grow some pumpkins, courgettes or even sweetcorn through any light-excluding cover later on too - or sit tubs on top to grow in this year.
If you spread manure or compost on the surface and just cover it until next year - you won't believe how much the soil will improve without you doing another thing - but it must be covered - not left open to the weather!  Don't make it hard for yourself and attempt to be self-sufficient in fruit and veg if you've only got a couple of hours a week to spare. Grow just a few things that are easy - or perhaps are expensive and hard to find fresh in the shops - or things that are better picked fresh just before you eat them like salads. Don't bother trying to grow bulk crops like main crop carrots, onions or potatoes if you haven't got much room or time - organically grown ones are easy to buy almost everywhere now. Grow some permanent fruit bushes which aren't as much trouble and as time-consuming as vegetables. And most importantly - and this sounds obvious - grow what you know you like and will actually eat!!
Growing your own means you can grow the best varieties for flavour and nutrients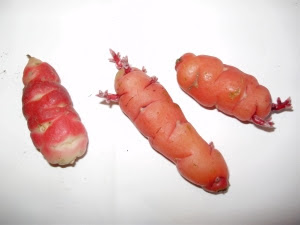 Commercial growers often have to use varieties that crop heavily, travel well and have a long shelf life - which usually means far less flavour! 
I find that the most difficult thing of all for me is restricting myself to things which I know I will realistically have time to grow! I want to grow everything - including many of the more unusual and exotic things. But surely one does have to have a little bit of gardening fun sometimes - otherwise life could be very boring. I also like to experiment with growing new varieties of old favourites, it's an interesting and useful way of discovering better varieties. The great thing about gardening is you never stop learning - and doing it is the very best way to learn!  
Another great thing about growing your own is that you can try more unusual crops which are never available in the shops. I've tried many unusual crops over the years - some successful - others not so! One of them was Oca - (oxalis tuberosa) - an ancient Andean crop. The steamed tubers taste rather like a lemony/buttery floury new potato. You can also use the delicious, sharp lemony-tasting leaves and pretty yellow flowers sparingly in summer salads. Sparingly though - as like sorrel they have a high oxalic acid content which can cause kidney stones if eaten in excess! That's something that many experts fail to mention! There are several different coloured ocas - but I'm interested in the more highly coloured ones for their possible higher antioxidant content. They're fascinating little tubers and very pretty plants - but I found they made masses of tiny tubers wherever the stems touched the soil as well as bigger ones - and I have a funny feeling they may become as invasive and hard to get rid of as Jerusalem artichokes! They're popping up everywhere now, wherever they've been grown previously, despite being cleared up thoroughly - or so I thought! They don't form their tubers until really late in the season - November or so - but they make an interesting alternative break crop in the tunnel rotation where they were obviously very happy in 2012, and also outside for the last few years!
Get your seeds sown on time!
You can get on with lots of seed sowing now - the list is elsewhere in the blog. If you're short of time - (and who isn't these days?) then sow your seeds before you do anything else. As I've mentioned before - you can catch up with everything else when you have time - but seeds must always be sown at the right time otherwise you'll miss the boat!  It can be a fine balance - I often make two sowings of a really important staple crop as an insurance policy. If sown too early some things may get a check if we get a sudden cold spell - then run up to flower and seed almost straight away instead of cropping properly. Alternatively if sown too late - they may often never have time to develop a crop at all - especially if we have a really poor summer. In Ireland, we're lucky enough to live in a climate where it's possible to grow most things in most years given a little care. But all gardening in our changing climate is now really 'play it by ear' - 'seat of the pants stuff' - being flexible, prepared and waiting to see what each year brings!  As I've said so many times before - you can throw the rest of the rule book out of the window now! Every year is different and every garden is different too - with it's own particular micro-climate - so you have to learn what suits your own soil and situation. But get your seeds sown anyway - even if you have to do it twice!


Now, I know they look lovely, and we'd all love one - but the perfect picture book, 'Country Living' style old brick potting shed (as beautifully seen on Gardener's World) isn't really necessary, or even standing outside in a freezing cold greenhouse, with numb fingers trying to sow tiny seeds! I prefer to sow mine in comfort! I keep a large tray under my kitchen table at this time of year, with a few module trays and small pots, a bowl of seed compost, some vermiculite and a few labels, ready to snatch a few minutes between other jobs, whenever I can, to sow some seeds. The tray is actually a 'grow bag' tray - about 1m long by 45cm wide (a standard seed tray width) which I find is the ideal size. It has deep sides, conveniently keeps all the messy stuff together, is waterproof, and can be whipped off out of the way and shoved under the table at a moment's notice if someone arrives, or at mealtimes! I use a new cat litter tray to sit seed trays in for watering seedlings from below. You may think that sounds a bit scruffy but it's actually quite tidy, very convenient, and at least it stays where it's put - unlike the lambs, chicks or ducklings that often in the past frequented a snug cardboard box under the table in my nice warm kitchen, whenever they required a bit of TLC! I do rather miss those days now - and the children's delight with all our various little fluffy babies! It was a bit frantic sometimes though! Hey ho - life moves on.......

Now I know the books all tell us to sow seeds in a perfect 'friable seedbed'!  But like a lot of you I suspect, when I first moved here I spent endless fruitless hours and energy, making an already bad back worse, struggling to break up the compacted, concrete-like, clods of clay that passed for soil!  I was desperate to make 'the perfect seedbed' as recommended. That was before I discovered, more or less by accident, the more convenient and sure results that come from sowing seeds in modules, which I do most of the time now, even for many early root veg as I described earlier. Then I just made 'planting pockets' in the soil of the beds later, as I described in an earlier blog post. After years of cultivation my soil does now make a good seedbed - but I actually still sow most things in modules now because you can be more sure of the temperature, the weather and importantly - the absence of slugs!. Seeds are so expensive now that one can't afford to waste them - and the one thing that is totally beyond our control is the weather. The earliest sowings are inside in my polytunnel, and later outside sowing is done in modules in a raised, slug proof, outside propagating area. You could also make a raised seedbed, if you wanted to but I still find that sowing in modules avoids the setbacks and occasional damage which can be caused by 'pricking out', uprooting and transplanting. Plants establish so much better, far more quickly and more reliably if they already have a really good root ball.
Another great thing about growing your own food is that you don't even need a garden to do it!
As my stepladder garden and containers prove in the polytunnel diary this month, growing some of your own food is easy, really satisfying and can save you a lot of money. There's a lot of information here I know - but you don't have to do everything here! I just try to give the advice and encouragement that I know I would have found really useful when I was starting my gardening life. I hope that you can benefit from my 40 years experience of growing food for my family and for my veg box and co-op customers years ago (can't believe it!). Many customers became friends for life - because an interest in healthy food is something we have in common - as indeed so have you! 
Here's wishing you all a Very Happy Easter - I do hope some of you will have some 'extra-early' new potatoes to enjoy with your Easter celebratory meals! We certainly will!
No matter how busy you are in the garden - I hope you'll take time to enjoy every moment of this wonderful spring time - it's such a joyous and hopeful time of year! The garden is bursting with hope. Planting a garden is really planting hope! That's something we all need plenty of - and it's something that we can renew afresh each year. Aren't we gardeners lucky?! 
(Please note. I really enjoy sharing my original ideas and 40 years experience of growing and cooking my own organic food with you. It's most satisfying and naturally also very complimentary if others find "inspiration" in my work......But if you do happen to copy any of my material, or repeat it in any way online - I would appreciate it very much if you would please mention that it originally came from me. It's the result of many years of hard work and hard won-experience. Thank you.)