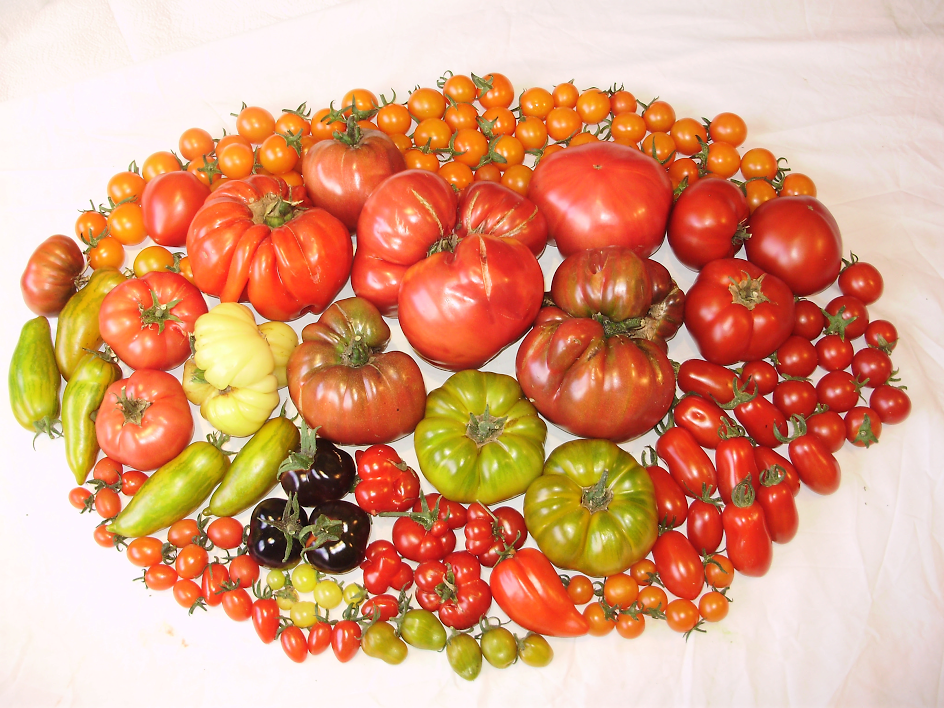 Do you know that every single year the entire human race eats half it's own weight in tomatoes?  This astonishing fact was revealed to us by Dr. Matthew Jebb - Director of our National Botanic Gardens at Glasnevin in Dublin - during his fascinating and entertaining talk at the 2016 'Totally Terrific Tomato Festival'.  Not only are tomatoes clearly a vitally important crop in economic terms - given how many are consumed globally - but when you look at all their many and varied health benefits they may well also be responsible more than most other fruits and vegetables for maintaining our health too!  Can you imagine a life without tomatoes and all the wonderful dishes we can make with them? Imagine a curry or Bolognese sauce without them - or even just bog-standard good old tomato sauce on your burger and chips? I certainly can't!  A life completely devoid of tomatoes would be unthinkable - and for me they are the absolute essence of summer!
It was for this reason that I came up with the idea of holding the first Totally Terrific Tomato Festival back in 2012 - as a way of not just celebrating their enormous and fascinating diversity but also to show how vitally important it is to preserve as much as possible of that genetic diversity. In the future, some as yet unknown disease may possibly threaten the survival of all tomatoes as a food crop - and if we have preserved their varied and valuable genetic diversity, there might just possibly be one gene - in one particular tomato variety somewhere - which could be resistant to that disease. This gene could then possibly hold the key to the survival of all tomatoes, as it could then be used to breed a new race of disease-resistant varieties. That's why genetic diversity really matters both in scientific and economic terms.  In terms of our everyday lives though - it also means that we have a delicious and diverse kaleidoscope of tomato colours, shapes, textures and flavours to choose from - all with a wide range of scientifically proven health benefits!
So why exactly are tomatoes so good for us?
Tomatoes are very high in health-protecting, carotenoid plant phytonutrients. The most important of those healthy nutrients is Lycopene - tomatoes are the richest dietary source of this. It is a very effective antioxidant phytochemical that can protect our body's cells from oxidative damage and from many degenerative diseases such as heart disease, premature aging, skin cancer and eye cataracts. It is also well known for it's protective action against many other cancers including kidney and prostate cancer.  
Although cooking does reduces the vitamin C in tomatoes - this heat processing can dramatically increase the bioavailability of beneficial lycopene by up to 164%! This is especially the case when combined with a natural oil or fat. So It's important when eating or cooking tomatoes to use olive oil or some other natural fat, as this increases our ability to absorb the valuable lycopene and other healthy carotenoid nutrients such as vitamin A.
Interest in the health-protecting effects of phytochemicals is growing and new phytochemicals are being discovered almost daily. There's now a great deal of interest in a relatively recently discovered compound called Tomatidine. Scientists at the University of Iowa have found that this can stimulate muscle growth and has potential as a treatment for muscle weakness due to aging and injury. So don't worry if you have lots of green tomatoes left at the end of the summer. Although they're far too acidic to eat raw - you could use them in cooked dishes as an effective anti-aging medicine! Fried green tomatoes is one famous example.

Tomatoes contain many other healthy nutrients - here's a chart showing the main ones:
Tomato (Lycopersicon esculentum), red, ripe, raw, Nutrition value per 100 g. (Source: USDA National Nutrient database)
Principle
Nutrient Value
Percentage of RDA
Energy
18 Kcal
1%
Carbohydrates
3.9 g
3%
Protein
0.9 g
1.6%
Total Fat
0.2 g
0.7%
Cholesterol
0 mg
0%
Dietary Fiber
1.2 g
3%
Vitamins
 
 
Folates
15 µg
4%
Niacin
0.594 mg
4%
Pyridoxine
0.080 mg
6%
Thiamin
0.037 mg
3%
Vitamin A
833 IU
28%
Vitamin C
13 mg
21.5%
Vitamin E
0.54 mg
4%
Vitamin K
7.9 µg
6.5%
Electrolytes
 
 
Sodium
5 mg
>1%
Potassium
237 mg
5%
Minerals
 
 
Calcium
10 mg
1%
Iron
0.3 mg
4%
Magnesium
11 mg
3%
Manganese
0.15 mg
6.5%
Phosphorus
24 mg
3%
Zinc
0.17 mg
1.5%
Phyto-nutrients
 
 
Carotene-ß
449 µg
--
Carotene-α
101 µg
--
Lutein-zeaxanthin
123 µg
--
Lycopene
2573 µg
--
 
When cooking all my tomato dishes - or anything else requiring onions - I also only ever use organic red onions. These have by far the best flavour and are proven to be far higher in important antioxident phytonutrients than the white varieties of onions. Interestingly, some very recently published research by our own scientists here in Ireland - at Teagasc and UCC - proved that after a study of several years in all weather conditions - organically grown onions are in fact a massive 75% higher in these important antioxidant phytonutrients than conventionally grown crops! The same naturally applies to the garlic that we use in tomato dishes.
In addition to using oil or fat - I always use plenty of freshly ground, organic black peppercorns when either cooking with tomatoes or eating them fresh.  Organic peppercorns have the most incredible aroma and really bring food alive - giving it a fabulous flavour!  Whole black peppercorns are also now known to contain important phytochemicals such as Piperine & Terpenoids. Exciting new research is now investigating these naturally occurring compounds for their apparent ability to stimulate our digestive tract - thereby increasing our absorption of the healthy nutrients in tomatoes.and all other foods - as well as stimulating better absorption of many pharmaceutical medicines. As with all plant foods that we eat - organically-grown plants have been scientifically proven to be around 60% higher in all health-protecting phytochemical compounds - so the more you can add to your food the better! (If you can't find organic black peppercorns in your local supermarket - they are easily available online and well worth any slight difference in price) 
How I grow Totally Terrific Tomatoes: 
I've been growing tomatoes organically in Ireland for over forty years now and I never grow tired of their endless variety. They are such a generous fruit that even beginners can easily grow them and achieve decent crops. Each variety has different qualities and every year I'm excited by the possibility of finding an even better one for a particular use - whether it's for eating fresh, cooking, freezing or dehydrating. Below are links to my comprehensive blog post on how I grow them and also to my 'Tomato Report' - which I update at the end of the tomato season every year:
Here is the link to my Tomato Report - these are the varieties which I have found grow well in Ireland in a polytunnel, in our less than ideal climate and which in my opinion have the best flavour. If they grow well and taste good here - then they will do pretty much anywhere - trust me!:
Recipes - here are links to some of my most useful and popular recipes:
My methods of Preserving Tomatoes:
Whether you grow your own tomatoes or buy them in a shop - the first rule of storing tomatoes for just even a few days is NEVER to keep them in the fridge! I always feel like screaming when I see this done in shops! It absolutely ruins their flavour because it stops the action of the compounds that contribute to their flavour and also stops them ripening any more. Always keep them above 10 deg C/55 deg F and below 29.5 deg C/85 deg F as below or above those temperatures stops them ripening. If you keep them out of the fridge at normal kitchen temperature - then even if they are the usual not-so-tasty, shop-bought tomatoes which are usually picked slightly under-ripe - they should go on ripening a bit more. Placing them in a bag with a brown over-ripe banana may also help if they are very unripe, as the banana gives off ethylene gas which triggers ripening in all fruit. (Works for avocados too)
I don't make jams or chutneys with tomatoes here because these generally require a lot of sugar to make them.  We try limit our consumption of added sugars here to an absolute minimum - eating as few insulin-stimulating highly processed carbohydrates and free sugars as possible, within practical limits.
Apart from being frozen cooked, as sauces, roast ratatouille etc, you can also actually freeze all un-cooked tomatoes without blanching, either whole small cherry types or larger ones like beefsteaks simply cut into pieces. Just clean and dry them - cut out any bad or woody bits from the stalk ends and loose freeze them on trays. You can then bag or box them up later when frozen - which is very convenient for just taking a few out at a time. This is a very useful way of preventing waste when you're too busy to make sauces - as you can freeze any good bits of tomatoes, throwing away just any bad bits - rather than wasting the whole tomato because it may have a bad spot. As with many other fruits - the action of freezing on the plant's cells makes most of their important phytonutrients such as lycopene much more available and more easily absorbed by our bodies. It does reduce a small amount of the vitamin C but this can easily be replaced from other sources, or by adding more fresh tomatoesor lemon juice to pasta sauces at the end of cooking - which gives a nice freshness to dishes.
DO NOT REMOVE SKINS before freezing, even if you don't like tomato skins! If you then want to use frozen tomatoes for cooking in sauces, just thaw them, pour off any water that results during the thawing process as this usefully gets rid of some of the water they contain - so will reduce their cooking time. Then simply blitz them to a fine puree in a blender before adding them to your other ingredients. As I've mentioned before - the skins and flesh immediately beneath them contain most of the nutrients in tomatoes - and if you're blitzing them well in a food-processor or Nutribullet - these are very finely ground. In addition to the nutrients the skins contain - they are also a very useful source of important gut-friendly fibre and hidden in a sauce I promise you won't notice them!  Whole cherry tomatoes can also be used straight from frozen for adding Roast Ratatouille, Roast Mediterranean Peppers and other dishes calling for the addition of whole tomatoes. Once they're cooked - you won't notice any difference. If you insist that you must remove the skins for some dishes - these slip off very easily when the frozen tomatoes are run under the tap for a few seconds! Don't wast them though - re-freeze them for blitzing into other dishes like stews and soups to add flavour and nutrients!
I'm a big fan of dehydrating many fruits and vegetables - it's a terrific way to preserve the goodness of your summer crops for use in winter
 - but I never dehydrate anything to 'paper dry' stage as most people do, as doing that destroys far more nutrients and also flavour. 
Instead I semi-dehydrate to what is known as 'soft-leather stage and then freeze them - otherwise they wouldn't keep safely, without developing food spoiling organisms, for more than a few days. Dehydrating effectively reduces their volume by more than a quarter, so it makes it easier to find space to store them in the freezer - and gives far more delicious results. It also increases the lycopene content. 
My favourite tomatoes for dehydrating are Rosada, Chiquito and Incas. I don't dehydrate any fruits or vegetables to a completely 'paper-dry' state which I think ruins the flavour of fruits in particular.
There are many books out there now which recommend dehydrating to a totally dry state in order to store fruits and vegetables - but as I've already said - this can reduce their nutrients and another thing that they all fail to mention is that the variety of fruit - especially in tomatoes - has an enormous bearing on their resulting flavour when dehydrated.  Not exactly rocket science one might think - even common sense?  This makes me wonder just how much experience of dehydrating some authors really have!  I've been doing it for many years and have experimented with processing dozens of varieties of tomatoes this way.  I have found from often bitter (!) experience that dehydrating tomatoes naturally concentrates all of the various elements of their flavour. This means that not all varieties of tomatoes are good for dehydrating. If a tomato has a deliciously mouthwatering acidity to balance it's sweetness when eaten fresh - any acidity will tend to concentrate on dehydrating. In some varieties this acidity can dominate the taste very unpleasantly after dehydrating - completely ruining them!  I'm thinking here of tomatoes such as Sungold or Maskotka - which have a deliciously mouthwatering taste when fresh - and even cook very well - but dehydrating makes them almost inedible and certainly not enjoyable to eat!  The reverse is true of paste tomatoes such as Amish Paste and Incas or some of the black-skinned, high-anthocyanin tomatoes such as Indigo Rose - which tend not to have the strongest flavour when fresh. The taste of these varieties hugely improves on cooking and they also dehydrate extremely well - their often rather bland taste intensifying a great deal. I always find that it's well worth do a small 'test run' of any new variety which I haven't dehydrated before - no matter how delicious it may be when fresh. This is easy to do when you're processing something else and it can save an awful lot of waste and heartache!  My absolute favourite tomatoes for dehydrating are Rosada, Chiquito and Incas. These are always reliable and give very good results. Some of the larger beef tomatoes are quite good too - cut into quarters and dehydrated skin side down on the dehydrator sheets.
To prepare tomatoes for dehydrating - I remove any stalks, wash, dry and halve them - even the smaller cherry plum varieties. I try to ensure that I process similar sizes together.  If some are a lot smaller they will dry quicker and may be spoiled - so I will put smaller nes on one tray so that I can remove them a it earlier than larger ones of the same variety from the dehydrator. I space them out as evenly as possible on the dehydrator trays and process at a temperature of 135 deg F - usually for an average of about 14 hours. This usually semi-dehydrates to what is known as the 'soft-leather stage which I prefer. This depends on how large the pieces are but I find it generally takes an average of 14 hours. I then loose freeze them and bag them up later - this is because as I only semi-dehydrate them to preserve more of their flavour and nutrients - they otherwise they wouldn't keep safely for more than a few days being still a bit moist - even if stored in oil. 
I've found very few books which give any useful instructions for using them from a dehydrated state - so again I've experimented a lot over the years!  My method of semi-dehydrating reduces their volume by more than a quarter, so it makes it much easier to find space to store in the freezer - and because it also concentrates their flavour so much they are even more delicious!  I like to use them either simply thawed and added chopped to salads or re-hydrated slightly in extra virgin olive oil. I also add them to pizzas and all sorts of cooked dishes to bump up the flavour. They can also be cooked, very gently straight from frozen, in olive oil. This results in an incredibly deep-flavoured tomato salsa or sauce which makes a sensational addition to traditional fried breakfasts, a filling for omelettes, or an accompaniment to many other meals! You will never find that fantastic flavour from any shop-bought fresh tomatoes - either in winter or summer!
I use a Sedona dehydrator. Excalibur is also a good brand. I chose the Sedona because the drying compartment can be reduced in size by closing off half of it when processing smaller amounts. That saves energy and is more environmentally friendly - even though most of my electricity now comes from wind energy. Although at this time of year the dehydrator tends to be chock full most of the time! If you're a dehydrating novice, starting with one of the much smaller and cheaper models is perhaps a good idea - although they don't give such good results, some are only around €40 and will give you some idea of what you can do and if you like the results. Oven-drying is possible on a very low setting - but I've never had much success with it. Most ovens are too warm and also waste a lot of energy doing this - especially if leaving the door partially open as recommended. They use a great deal more energy when compared to a dehydrator - for doing the same task but with not quite such successful results.
| | |
| --- | --- |
| | |
| 1. 'Rosada' tomatoes -  halved and spaced out on the mesh sheet ready for dehydrating. | 2. The same 'Rosada' - 14 hours of gentle dehydrating later. Semi-dried and succulently sweet! |