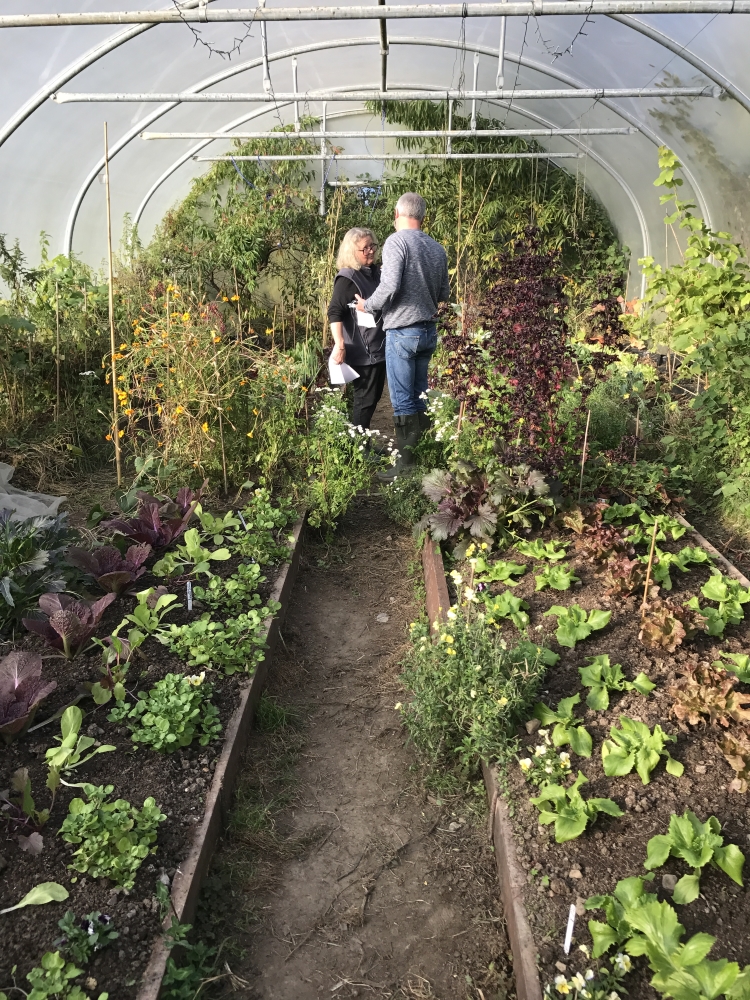 Gerry Kelly & I chatting about seasonal crops & planting for winter - in our 'From Tunnel to Table' Autumn Special
As it's late autumn and so many people have asked me about winter polytunnel crops - this month I've decided to depart from my usual format
 and share the notes with you which I always send to Gerry Kelly before our programme on LMFM Radio - which aired last week. Gerry then chooses what he wants to talk about. The notes are a full run down of what's in the tunnels right now - which I've slightly amended to make them more intelligible (I hope) because Gerry is used to my notes by now - but they're still slightly in shorthand compared to my usual style of writing!  I think they do give a flavour of what's going on in there at the moment though. As time for adverts always tends to cut down on our air time too - a lot tends to get left out - which is a pity but can't be helped!  I will put the more usual stuff on the blog in the next few days. You can listen to our chat and the more 'ad lib' programme here:  
http://nickykylegardening.com/index.php/listen
Polytunnel - general comments
Firstly - as I'm always saying - this garden isn't a show garden it's a food-producing garden. It never has huge swathes with neat rows of crops as 1. I no longer grow commercially and 2. I never did plant like that!  It does however grow plenty of food for my family - with enough spare to often share with friends and also for wildlife. It's therefore always a work 'in progress'!  If you came to see it - you would probably be hugely disappointed - as it looks far from perfect!
Autumn planting is well under way in the polytunnels - it's sad to see the end of summer but we're looking forward to some great winter food not just for us but also for any bumblebees that will venture out on mild days. I have lots of flowers planted for them too.  
With lots of flowers all around the polytunnels to attract in bees & beneficial insects - that's why I almost never see any pests. The hoverflies, frogs, sparrows and other small birds that come in, because of the insects attracted by the flowers, are a very effective army of pest controllers.
All the flowers in the polytunnels also lift my spirits in winter - a time when many people feel a bit low.
 Many studies have shown that spending some time outside every day with gentle exercise, even in winter, is good for our mental and physical health. So a spot of gardening in a nice warm, dry space, with some colourful flowers to look at, bees buzzing and birdsong to listen to as well, is just what the doctor ordered and something we really need in the middle of winter!
There are also clumps of nettles in odd corners which provide nettle aphids which are very valuable early spring food for ladybirds. Those aphids are specific to nettles and don't live on anything else - but ladybirds are so grateful for them when there's little other food around, as they can eat all sorts of aphids! When the ladybird larvae have chomped their way through the nettle aphids - which are normally the earliest to appear every year - then there is often other food for them to eat. Or at least I think there must be - because I rarely see any aphids around after that! 
Some butterflies also over winter on the nettles as chrysalises which then hatch out in spring
.
Just as I do in the garden outside - I try to make my polytunnels as natural an ecosystem as possible - just mimicking nature in miniature really - because everything in nature is connected - with everything living depending on everything else. In that way it all works well in a wonderfully evolved symbiosis - or mutually beneficial relationship - which helps me to grow all of our food as naturally as possible - without any pesticides.It's a sort of "you scratch my back and I'll scratch yours" situation! 
 (ps - This is an aside not in the programme notes! -  I was furious a few years ago when a very rude visitor remarked behind my back to his wife on seeing all the nettles - "that if this was his garden - he would do a bit of weeding"!  Unfortunately for him my son was at the back of the party I was showing round the garden and heard that remark! With hindsight now I laugh about it as he was demonstrating not just his bad manners in return for my hospitality - but also showing 
his total ignorance of how nature works. Not surprising I suppose though - for someone who sold a lot of pesticides!!!
Walking in at the south end - the propagating/potting tables on either side of the door 
Lots of veg seedlings still sitting around in pots or modules waiting for the last of the summer crops to come out before they can be planted.
 Things like multi-sown Ragged Jack kale - this is a useful way of sowing for lots of things to be cropped as baby salad leaves. As I always save my own seed of this and many other salads - I can be generous with the seed. Lots of things can be sown this way - especially things like fast growing Oriental salad mixes and spinach - which by the way can still be sown now. (These can also be left to flower early next spring to provide welcome early pollen and nectar for bees.) You have to be careful with multi-sowing things like lettuces though - as these need slightly better spacing and air circulation or they can get diseases caused by damp. I always sow three to a module with these - to make sure I have them - and then thin them to just one seedling per module as soon as they're large enough to handle without damaging the others. There are also
 peas sown a week ago in pots (to avoid mouse damage) - for a late crop of pea shoots - these are Oregon Sugar Pod which is a good variety for doing this in winter. The leaves are tasty and it seems hardier than most. 
There is also garlic sprouting in modules - a variety called Lautrec which I've wanted to try for a while. I always start garlic off like this if I don't know the source of it - then if it looks virused or diseased I don't plant it. When it's sprouted - if it looks healthy then I shall plant it in a container for this year. (I found this in the Avoca shop in Dunboyne. They sell a great variety of organic veg there & also have a lovely garden centre & cafe if you're in the locality.) There are also some tomato cuttings I rooted in water a few weeks ago - these will be potted on now and brought into the house in the next week or so before frosts, where I hope they will come through the winter and be very early next year as the Rosada did last year.
In addition there are also some Violetta and Red Emmalie potatoes for Christmas
 - up out of the way of marauding mice on a small stepladder - (last week they dug up and ate some of the Red Duke of York I had planted earlier!) They are both second-early varieties which usually do well. Mice can't reach them up there! It's what's known as the organic 'barrier method' of pest prevention!! 
All the beds have moved round in their yearly rotation so this bed is now winter lettuce 
- mostly a great variety called Jack Ice a lovely crisp variety like a non-hearting Iceberg type lettuce - this means it's more nutritious as all the leaves are green - not blanched and white like an Iceberg lettuce!'  Also Red Oak Leaf lettuce in the middle. It's all inter-planted with a garlic variety called Morado - an organic high-Allicin producing variety which I got from Fruit Hill Farm which is available online. Allicin is the strongly-smelling active ingredient in garlic which is very good for our health - boosting our immune system and circulation - and keeping away colds & flu. The garlic will continue to grow on after the lettuce has all been harvested in early spring and will be harvested as soon as it produces usable bulbs in late spring/earl;y summer and our stored bulbs are finished. Green garlic - with the leaves still green - has a delicious flavour. 
I think the garlic may also even possibly help to keep root aphids away.
There's celery planted at the door end where it is slightly lower and cooler, as this was planted while the weather was quite warm and kept well-watered. I only grow a few plants and only ever cut sticks as I need them - I never cut whole plants. This way there's always outside sticks available for cooking throughout the winter - with some more tender, inner ones for salads. At the other end of the bed near the middle of the tunnel there is purple Perilla - a lovely spicy herb with an indefinable curry/basil/anise/lemony taste which is fabulous in salads and other dishes. I always leave it to do it's own thing and seed itself where it likes. I then dig up any seedlings I want as for some reason it's very difficult to grow from seed and does it far better itself!
Inter-planting is something which I've done for 40 years now. A few years ago someone re-named it polyculture - but basically it's the same thing! I first discovered it was a great way to grow things when I only had a tiny garden - and as I've already mentioned - I still plant every part of my garden and even the polytunnels like that. Just like a tiny garden that I have to cram as much as possible into! It makes the most of the available space by growing something very upright that will crop later in between something like lettuce which is harvested earlier. Then there are also the perennials - like grapevines and peaches in the tunnels too. 
Far right S.E. bed - side of tunnel
I'll be sowing a green manure called Phacelia in this bed next week to improve it's fertility and humus content -
 as it tends to dry out quite quickly. This is a much better way to improve soil fertility than just lashing on masses of manure! Too much nitrogen unbalances the nutrients in soil and can cause some important soil bacteria and other soil life to die out. When it's cut down and forked in lightly early in the New Year, the worms will gradually work it in - magnifying it's nutrients
 and turning it into moisture-retaining humus. 
This is all brassicas - the cabbage family - broccoli, Chinese greens etc. this year - this bed will be tomatoes next year as they follow on well from brassicas. 
It's important to plan your rotations well even in a small polytunnel as this is another good way to prevent a build-up of pests and diseases. Growing veg in rotation means making sure that you don't grow any veg family in the same spot more than once every four years. With things like the tomato family (solanaceae) sometimes this can be a problem as there's so many of that family that we want to grow - tomatoes, aubergines, peppers, potatoes etc - I overcome this by growing some of them in containers - especially peppers and aubergines which seem to do better in containers - I think that's because the roots are warmer and the drainage is much better.
G

rowing right next to path here where it's easy to pick anytime is w

atercress - a plant that most people don't realise is actually a member of the cabbage family

 - this is one of the mainstays of our winter diet. It's higher in healthy nutrients than any other green veg - lovely raw in salads and also great for soups and sauces - it's so versatile that we use it a lot. 
Next to that is the 
multi-coloured Pak Choi called 'Vibrant Joy' (from Real Seeds) with very tender juicy leaves - again great in salads. Next to that in the middle of the bed is the 
Chinese Cabbage Scarlette - a fabulous-coloured, sweet-tasting new variety I grew for the first time last year - very high in phytonutrients. It's great in stir fries and salads. 
On the left of these will be Green Magic broccoli - coming on nicely in modules now and soon to be planted. That will crop until late April/early May.
To the far left of these at the side of the tunnel waiting to be planted are lots more plants and seedlings in pots and modules - looking a bit of a mess really!
The last grapes are ripening - a late seedless variety called Flame. These are trained at 1m high along the sides where they don't shade anything & produce huge crops.
Courgettes - yellow Atena & a green one Ambassador (
some of which we eat in the pizza recipe for the programme) 
- these have been cropping well since early May and should go on another few weeks unless we get really cold weather. I always plant two varieties to ensure I get good pollination (explained in programme) After they come out I have a terrific winter spinach called Viroflex (again Real Seeds) - growing on in modules which will crop until next April and some more lettuce. If they're still cropping I shall pot the spinach on into small pots.
This will also be brassicas - 
multi-sown Ragged Jack Kale to provide baby leaves for salads or stir fries all through the winter and then delicious flower shoots like broccoli in spring. Currently there is some green oak leaf lettuce cropping there and also some loose-leaf winter 'collard' cabbage to harvest after Christmas. 
There's also some late-sown 
purple sprouting broccoli - all still growing on in modules at the moment. Both are much more productive in the tunnel in late winter as we can be very windy here. As I have eight beds in the polytunnel - a four course rotation works well in here.
All the tomatoes have gone now and have been replaced by Ruby Chard Vulcan - another very nutritious mainstay of our winter diet. This is planted either side of the bed with Sugar Loaf chicory down the middle.  The hens love the outside leaves of this and we eat the smaller middle leaves and hearts in salads all winter until April. There are Welsh onions to provide tasty salad and stir-fry green onions planted between the chard - and again this bed is also inter-planted with garlic. 'Layering' and 'inter-planting' crops again.
Here the brilliant bush tomato variety Chiquito is still ripening late fruit - this is wonderful for cooking and also freezing for cooking over the winter. We're eating some of this in the sauce which is an ingredient of today's recipe.
Poor Gerry missed the hundreds of peaches!  We've had a phenomenal crop - the best ever!
 I spent about 4 weeks dehydrating a crate of them every 
night during August and early Sept. The older branches will be pruned out next week - I haven't had time to do this yet - then the younger green shoots which will carry the crop next year will be pulled down into a horizontal position. I do this while the shoots are still pliable and before the buds start to swell each year. 
Just worth mentioning here is that peaches grow really well in a polytunnel or greenhouse because they never get peach leaf curl which is caused by rain washing fungus spores into the buds as they open in spring if they're growing outside. They're easy to keep as small as you want them to be too, as they have to be pruned every year to take out the older growth. Peaches fruit best on the younger green wood formed the previous year. I wouldn't be without them - they're a real treat and with organic peaches at least €1 each even in the height of summer - we harvested about €400 worth this year! I've now got masses of semi-dehydrated peaches in the freezer
Already I'm thinking ahead to next year's crops. It's a good idea to buy seed or order online as soon as the new catalogues come out - some varieties sell out quickly & with Christmas in between it's so easy to forget to do it!
Our recipe used some of the last of the courgette glut - n
ew courgette recipes are always great to have at this time of year because anyone who grows them has a glut sooner or later!  You can find the recipe here: http://nickykylegardening.com/index.php/recipes