April contents:
 The importance of pollinators......Thinning peaches and apricots is vital for good crops......Dwarf Cherries? I don't think so!.....What kinds of fruit can you grow in a north-facing site?....Tunnel fruits - grapes, strawberries and figs......Other fruit jobs.....
| | |
| --- | --- |
| | |
| Blackthorn blossom in full flower against the  blue April sky - 20.4.16 | Blackthorn blossom  against the blue April sky only one flower open, the rest still in bud - 20.4.18 |
"In this Month your Garden appears in it's greatest Beauty, the Blossoms of the Fruit-trees prognosticate the plenty of Fruits for all the succeeding Summer Months, unless prevented by untimely Frosts or Blights. The bees now buzz in every corner.... to seek for food: the Birds sing in every Bush and the sweet Nightingale tunes her warbling Notes in your solitary Walks, whilst the other Birds are at their rest..... The air is Wholesome, and the Earth pleasant, beginning now to be clothed with Nature's best Array, exceeding all Art's Glory."
 - (Worlidge, 1688) 
I love this quote above!  How pristine and beautiful that relatively unspoiled countryside must have been. What a contrast to our countryside now! How much I would love to have seen it. I long for a time machine - so that I could go back and see the abundant beauty of that world before we humans destroyed so much of it in our ignorance. There's no nightingales here sadly! 
This year the blackthorn is only just coming into bloom - again what a huge contrast to this day in 2016 when it was already in full bloom!
 In a couple of weeks though it will look just like that pictured in 2016 and will look stunning once more against the cloudless cerulean blue skies. There are still the charms of Goldfinches sitting in the blackthorn thickets singing -  
and the noisy starlings
 still chattering there as usual where my lovely Feckitt used to sit sunning herself with her friends - so that's some consolation. But the pictures above remind us of just how uncertain and erratic our weather is becoming now - thanks to climate change. The late blossom has been caused by the cold soil temperatures due to last winter's extremely cold and wet weather. Hopefully, things will start to warm up now we have some sunny weather - Nature will fast-forward things and the plums shouldn't be too far behind. They are of course the same family. The pear and apple blossom buds are swelling now too. So much promise in those buds!  We'll be so grateful for the hardworking bees when they all come into flower - whatever would we do without them?  We'd have very little fruit! 
The importance of pollinators 
Back in the 17th century, one could take the predictability of the seasons for granted. Gardeners back then could also take for granted that there would always be plenty of bees and other pollinators every year to pollinate our fruit trees and other important crops. 
Our seasons are becoming quite unpredictable now and bee numbers are declining rapidly everywhere, mainly due to insect damaging pesticides and habitat loss but also erratic weather due to climate change.  It's in our interests to do everything we can to help all pollinators right now, to try to halt this decline, by providing different habitats for overwintering and breeding, with flowers for nectar and pollen - and by not using any pesticides. 
If bees and other pollinating insects disappear - so will all the food crops which are pollinated by them. That's an awful lot of our everyday foods - and we wouldn't last too long without them! 
Thankfully, despite the frosty nights, over the last few sunny days there seem to be quite a few different species of both bumblebees and solitary bees around in the garden and the tunnels. Yesterday, the tunnels were bee central! There were masses of them in there, pollinating the last of the dwarf peaches, apricots and nectarines in the west (fruit) tunnel, and enjoying all the flowers in both tunnels, some of which I grow specifically just for them. Last summer's warm dry weather was a good one for them again and despite the fact that we're surrounded by intensive agriculture and so much habitat destruction, I like to think that all the work I've done here over the last 30 or so years to provide lots of different habitat for bees and insects is now paying off. Particularly the well-drained B&B bank as I call it - that seems to have been a great success, with so many bee nests in it that I had to stop tidying it the other day. Agitated bumblebees were flying around me everywhere as I tried to tidy the roughest of the grasses up a bit. So I left them to it and resigned myself to it looking what some very tidy gardeners would consider to be a mess.  Essentially my garden was planted over 30 years ago with wildlife in mind - because insects, wasps and bees are the organic gardener's best friends. They don't just carry out valuable pollination but also vital pest control - just as nature intended. 
Many people don't know that bees, moths and other pollinating insects don't just need flowers for food, but also grasses, dry banks, leaves and woodpiles to nest in and to shelter overwinter. A friend told me the other day that the new 'Glas' scheme for farmers here includes a module on attracting pollinating insects and solitary bees - so that's very good news. Although we left it as late as we could, to allow for hibernating bees, I felt rather guilty when we were mowing the strips across the wildlife meadow at this time two years ago, prior to planting the new orchard. Quite a few bees crawled out from the tall clumps of grasses - but the strips are only about a metre and a half wide - I'm leaving the rest of the rough grass so there was plenty of habitat for them to crawl back into. I'll also be planting lots of meadow wildflowers between the trees to provide even more food for them and to attract plenty of pollinators so that our trees are pollinated. So far the new orchard is doing well and we got a good crop last year.
There are still very few native black honeybees around at the moment though - usually the pussy willow catkins are smothered with them at this time of year. I see fewer every year which is really worrying. I did see one yesterday in the tunnel on the wallflowers, so I was thrilled. If anything will attract them those will - the scent when I open the polytunnel doors in the morning now is just amazing - it smells like a perfume shop!. There are already plenty of hoverflies around in the last few days. Hoverflies aren't just brilliant pest controllers - really gobbling up the aphids - but they're also great pollinators. Once again this shows the enormous value of growing flowers in your tunnel - in case anyone thought it was a waste of space, or a bit 'girly'! Growing flowers outside around your fruit areas or in orchards is important too. That way pollinating bees and other insects get to know where there's food for them and they remember it's location - so then they'll keep returning to do their job and then there'll more fruit for you too! Hopefully we can look forward to another summer full of a wide range of delicious fruit. The bees and hoverflies have done a good job of pollinating the early peaches and apricots, occasionally with a little help from me, and they're are now swelling fast! 
Thinning peaches and apricots is vital for good crops
The peach and apricot fruitlets, which are about the size of large peas, will have to be thinned as soon as they reach pea size, and thinned again in a few weeks when walnut-sized, leaving them at least 4-6 ins/10cm apart eventually - a fiddly job I really hate - especially now I only have one arm which will reach above shoulder height since breaking my right shoulder 4 years ago!  I also can't bear picking off all those furry little babies - that potential fruit - but I have to steel myself, because otherwise I know that they won't develop properly! Most will turn yellow and drop off as the tree can't cope with that many. By thinning you stop that fruit drop and those left will develop properly to full size. It's hard fiddly work doing all that thinning but I congratulate myself when I bite into that first delicious really ripe peach and the juice runs down my chin. It will be peaches for breakfast for several weeks in the summer! The outside ones are two or three weeks behind, so if you have any flowering now, protect them at night with fleece if severe frost is forecast.
Dwarf cherries? I don't think so!
Most years the cherries come into flower later this month. The dwarf (ha!) 'Stella' cherries were the first fruit trees to be planted in the garden 34 years ago,  as small sticks less than 2 feet high, in the bare field. Now when they're in full flower they resemble a beautiful arching cathedral of blossom and are as tall as the house! Not dwarf sadly - but still worth growing for the blossom - and the birds naturally appreciate the fruit! They can reach it - I can't! Sitting at my computer, I can see over the half door out of the kitchen, through the courtyard gate and straight down what I rather grandly called the 'cherry walk'. The trees should be literally dripping with blossom in another couple of weeks. They're under-planted with bulbs, hellebores, primroses and a multitude of other shade loving spring flowers, so they're a wonderful sight every year! They fruit prolifically, but I hardly ever get more than one or two delicious cherries, the birds get the lot, as they're far too high to cover. Even if I could - the blackbirds in this garden seem to be a particularly ingenious and determined lot, no matter what I try to do to deter them. I've even tried covering some lower branches with old tights before the cherries start to colour (not the most attractive garden ornament!), but my blackbirds aren't fooled by a bit of old hosiery, they just peck at them through the tights and still ruin them anyway! Some people say it's because they could be thirsty - but there's always plenty of water around here for them to drink and that doesn't stop them. So I have to be content with just one or two of my favourite fruit - if I'm very lucky. However, I suppose there is a little compensation in the form of melodious bird song for much of the year. Right now I can hear them competing with the thrushes, goldfinches and chaffinches for 'best spring song of 2018'!  A joyous concert -  although a pretty expensive one thanks to some of them - if you count the cost of the cherries!!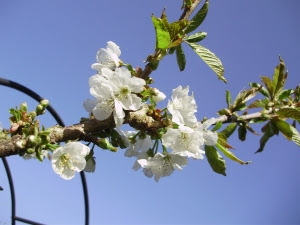 Six years ago I had another try, buying more sweet cherry trees on a new, much-vaunted 'extra-dwarfing rootstock' - Gisela.
  Sadly it doesn't seem any more dwarf than the others but perhaps with constant attention and pruning, which I don't have time for - it might possibly work? They're showing every sign of being just as vigorous as the others!  Last year I invested in some more really dwarf fruit trees - this time to grow permanently in pots. I'm growing those in my fruit tunnel, so they'll get more attention while watering etc. and they'll also be protected from hungry birds - so I'm hoping that I may finally enjoy more than one or two cherries!  A couple of years ago I had the idea of putting empty netting log bags around many of the fruiting branches of the trees outside with some success but they're too difficult to reach now! The only cherries I will really be sure of getting outside are the Morellos which I planted 6 years ago on the back wall of the stables, which faces north. I can net them there. Their blossom won't be out for another week or so, but the buds promise a big crop on what are still quite small trees. 
What kinds of fruit can you grow in a north facing site?
On the subject of cherries - Morellos are a very good, reliable crop trained as fans on a north-facing wall. They are much more easily kept within bounds than sweet cherries, as like peaches, they fruit on the previous year's growth, so a certain amount of the old wood must be pruned out each year to keep them productive.  Against a wall it's much easier to keep the birds off by putting netting over them at the right time. I'm anticipating all sorts of future cherry deliciousness, not the least of which is what I call my 'Vodkatopf' - my corruption of the traditional Austrian 'Rumtopf' - which an Austrian friend of mine makes.  Being tasteless - vodka doesn't detract from the flavour of the fruit and I think it's much nicer. I just pile cherries (after pricking each a few times with a cocktail stick) into a large old glass sweet jar with a lid, fill about half way up with sugar, depending on the sweetness of the fruit, and then just top up with Vodka. Sainsbury's do a very good, cheap, organic Vodka - so I can still feel almost virtuous when I'm enjoying a shot or two!  Not forgetting of course all those wonderfully healthy phytochemicals too - perhaps they cancel the alcohol out hopefully? Cherry juice is an acknowledged natural preventative and cure for gout and arthritis. My method works well for all fruit, especially peaches, damsons, strawberries - particularly alpine strawberries if you have enough - blackberries and blackcurrants, everything really. Then the fruit makes great sorbets too! - Yum!
There are plenty of different fruits that will grow very well trained against a north wall or in a north facing garden - so don't despair if you have a small sunless back garden. Good light is essential, so you don't want a site overhung by trees, but direct sunlight is not essential. Even if you have a sunny garden, using a north facing site for some of your fruit is a good way of spreading or lengthening the season of many fruits, as it delays their cropping by a couple of weeks - so that they're not all ready at once. That's what they used to do in the big old walled gardens, often covering ripe fruit like currants and gooseberries with straw matting to keep them on the bushes until late autumn!  A north wall is potentially a great food producing space which is often wasted, because people think it's useless for fruit growing, so it's usually only occupied by ivy or something similar. I remember vividly the wonderfully productive morello cherries trained against the high, north facing wall of the mews at the end of the late dress designer Sybil Connolly's beautiful small garden, off Merrion Square in Dublin - one of Dublin's best kept horticultural secrets many years ago. It was a real gem of a garden - where I used to enjoy helping Sybil out occasionally with pruning etc.
As well as Morello cherries - loganberries and Tayberries, currants, gooseberries, and blackberries will all fruit very well facing north, but just a couple of weeks later than in a sunnier part of the garden. They all actually make great 'Vodkatopf' too - I've tried them all! Blackberry is particularly good. If you're planting blackberries though, do be very careful that you don't plant a very vigorous variety if you only have a small space. Although 'Himalayan Giant' is probably the best-tasting variety, it really does live up to its name - and more!! It should come with a health warning, as it's territorial ambitions know no bounds! It will grow at least 30ft/10m annually in every direction if allowed to, and if the birds can get to the ripe berries, after digesting them they will drop the resulting undigested seeds in every corner of the garden, which you may not notice until a vigorous shoot, taller than you and as thick as your wrist, is suddenly waving at you happily, having planted itself in a lovely fertile spot, under something particularly precious which hates being moved!  It's enormous thorns can easily pierce even the toughest of leather gardening gloves or wellington boots and if it gets out of hand it is an extreme pruning nightmare. It can be a menace - you have been warned!  I will admit it that it really tastes fabulous though, and carries huge crops!  For all it's faults and vicious habits - I wouldn't be without it!  Every year I fill my freezers with huge carrier bags full to enjoy in smoothies and everything else you can think of all winter long! The great thing about freezing berries too - is that the phytonutrients in them become more available to our bodies when they've been frozen as this breaks down the skins.
Himalayan Giant really tastes fantastic, better than any other blackberry. It never needs feeding (very foolhardy - don't encourage it!) it's reliable even when all else fails and is amazingly productive. The bees really love the blossom too. Although I curse it for most of the year - I love it is when I'm loading the freezer with countless bags full of fruit for winter smoothies, crumbles etc., especially when I've just been looking at their price of about 4 or 5 euros for 250gm little plastic punnets in the supermarket (unbelievable)!  It makes wonderful ice cream and sorbets, the berries' gelatinous qualities making them extra smooth, they're full of heart-healthy ellagic acid and many other phytochemicals, and are far more nutritious than blueberries, according to recent scientific studies. They're certainly a hell of a lot easier to grow!  Blackberries just haven't had the same expensive PR campaign, since many people just pick them from hedgerows!  Although having said that - Himalayan Giant has a far better flavour than most hedge-picked brambles. The loose frozen fruit is great for filling air pockets in the freezer too, as it fits nicely around everything else.  So it even saves energy and money! However, when it started to take over the neglected old hen run (own fault - too busy), and I had to get a man with a digger to remove about 1/4 acre of it - I was awfully tempted to get rid of the lot. Now I now keep it under very strict house arrest, never taking my eye off it for very long - severely trained along a fence! Gerry Kelly begged me for a root of it four years ago after tasting it. I'm never short of a root or two as any end of a shoot that touches the ground for longer than ten seconds will root  - so if you hear that Drogheda has been taken over by a rampant thorny nightmare - I did warn him!!
You can plant all types of fruit from containers now, as it's too late for bare-root planting. Make sure they're nice young plants, not 'pot-bound' as they are more difficult to establish well. Gently tease a few roots loose around the bottom when planting, so they get the idea. Be careful to make sure that any graft union on fruit trees is at least 3-4 ins/10cm above ground level. I often see potted trees in garden centres with the graft union practically in the compost - those are a disaster waiting to happen for the unaware.  If the fruiting top part of the tree roots past the dwarfing rootstock, as can happen if it's too close to soil level, then the dwarfing effect of the root stock is lost altogether! Don't forget if space is short that you can also plant all sorts of fruit in containers too!  If you have a high 'pH' (limey) soil, this is in fact the best way to grow fussy acid-loving blueberries, always watering with rainwater - never tap water if you're in a hard water area. This is where many people go wrong
 
You can also prune to shape young and trained trees of stone fruits like plums and cherries now that the sap is rising. If pruned in the winter, they may possibly develop 'silver leaf' or bacterial canker disease.
Keep a eye out for any blackcurrant, redcurrant and gooseberry leaves which start to appear like lace - small holes appearing between the leaf veins. This is caused by gooseberry sawfly caterpillars. It's often a problem on young bushes just recently bought from nurseries, as it seems to be endemic in them! The best way to cope with these is not to spray! Just squash any caterpillars you find as soon as possible, and if you have space, put a temporary chicken wire fence around your currant patch and get a couple of chickens or even bantams to scratch around over the winter and pick up the eggs and grubs - that's how I got rid of it. A bit more protein to produce some nice eggs for you! The blackcurrants in particular will appreciate the extra nitrogen that the chicken's droppings will provide - and I can guarantee you won't have any more trouble with sawfly. Just make sure you move the chickens somewhere else in the spring, before the bushes start to fruit, or you won't have any fruit either!!
Feed and mulch all fruit trees and bushes if you haven't already done so. If you have wood ash available from a wood burning stove - all fruits particularly apples and pears, will appreciate the highly soluble, fruit inducing potash it provides - except blueberries, as it raises the 'ph' of the soil - use seaweed meal and/or comfrey mulch on these. Fruit trees and bushes in containers would also appreciate a feed of an organic general purpose fruit fertiliser and a nice mulch to preserve moisture at the roots if you have room.
Don't forget that any fruit grown in containers is totally dependent on you for it's food and water, so from now on keep an eye on watering too. If short of water, most fruit will immediately drop their fruits if allowed to wilt at all. Don't over water either - or the roots may rot unless the compost is free draining. Keep on top of weeds, but be careful hoeing raspberry beds, better to hand weed, as there may be new shoots appearing from ground level. Prune out some of the older fruited canes of autumn fruiting varieties (see March).
Tunnel fruits - grapes, early strawberries and figs
Inside the tunnel - grapes will be producing nice juicy looking shoots on the spurs now, with the flower bunches clearly visible. By the end of the month or before, you should pinch out the tips of all the shoots on the spurs (side shoots) after they have produced two leaves beyond the developing flower bunch. That is all except the very end two shoots, on grapes grown on a permanent rod (stem) system. These will draw the sap along the branch system and provide extension growth if necessary. Always leave two shoots in case one gets damaged or broken. In the case of 'Guyot' pruned grapes, also leave two shoots to develop at the base of the current fruiting branch to develop fully, those will make replacement flowering branches which will fruit next year. Next winter you will cut out this year's fruited branch completely, leaving the stems which developed from those two shoots at the base which grew this spring. I think the permanent rod system works best for amateur gardeners though - it's easier and less work.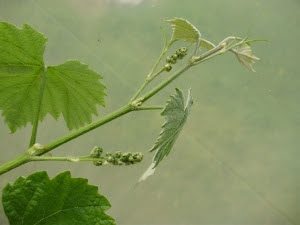 Grapes are very amenable to training and are also easy to grow in large bucket-sized pots grown as a small bush. Allowing several branches to develop rather than just one main branch. They take up very little room this way and most people could grow them. You can get a surprising amount of different varieties into quite a small space this way and have a good spread of cropping time from July to November or even later. I experiment a lot with different varieties of grapes and various methods of pruning and training. Seedless grapes don't need the bunches thinning - whereas if you don't thin some of the seeded ones - the bunches can become crowded and diseased prone. I don't juice them any more because what you're left with is just a lot of sugar in most cases, without all the valuable nutrients in the whole fruit. I blitz the whole lot in a food processor or powerful Nutribullet blender now if I want a smoothie - so that I get all the skins, pips and important fibre from the fruit too. Grape pips and skins in particular are very high in a phytochemical called Resveratrol - which studies show is extremely good for vein health and circulation. This especially high in black or dark red grapes. My favourite black grape is Muscat Hamburgh, which has the same fabulous taste as those huge Moscatel raisins that are only available before Christmas. Another good black grape is Muscat Bleu, it has the same delicious flavour as Muscat Hamburg but also has the advantage of self-spacing bunches - with the individual grapes slightly further apart, which promotes good air circulation - so it is ideal for growing in polytunnels where the atmosphere is more humid.  A new seedless one I planted a few years ago is 'Rose Dream'. It fruits extremely well, is very early in the tunnel and very sweet. 'Lakemont Seedless' - is a deliciously sweet early green dessert grape that carries large bunches and is a really good variety for organic gardeners as it's very disease-resistant. It's available from many suppliers now. That's the one I use for making scrumptious sultanas in my dehydrator! It makes a lovely feature climbing over the door at the south end of my large tunnel in space that would otherwise be wasted. Growing them in a tunnel also means that it's far easier to keep the birds away from them too.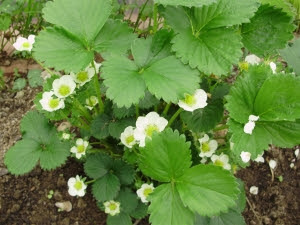 All the varieties of perpetual strawberries
in the tunnel are starting to flower well now.
  They rarely produce runners after their first year, so if you want to increase your stock, let some runners develop. The catalogues or labels never tell you this of course, they tell you to cut them off - well they want to sell more don't they?! As long as the plants are strong and well fed - it won't affect them at all - and after all that's how they naturally grow. Many of the more modern 
summer fruiting 
varieties seem to behave the same way, 'Christine' is an early, great flavoured one I grow, which does the same, so it's safer to take one good runner from each plant in it's first year, that way you're sure of keeping them. Cut off any which develop after those, to avoid weakening the plant. 
Protect flowers of early fruiting varieties from frost with fleece at night - remove during the day for bees to pollinate. Liquid feed weekly once the fruits are developing, with a high potash organic food like comfrey liquid, or the excellent 'Osmo' organic tomato food (available from White's Agri at Lusk, Co. Dublin and many garden centres). If you're just planting a new bed of more than one variety, make sure you just grow one variety per bed, to keep them distinctly separated. I find an early one like 'Christine', grown both inside and outside, with another one or two perpetual varieties, like 'Everest' and 'Albion' again grown both inside and outside, and an alpine one provide plenty of delicious strawberries to eat fresh and to freeze, from May until November. I've also brought pots of 'Gariguette' into the tunnel this year. I've grown it for years but never tried forcing it before. It's the French version of the famous old 'Royal Sovereign' - so I'm looking forward to supreme flavour. Why on earth would anybody want to buy the tasteless, disgusting, chemically-grown ones grown out of season, imported from half way across the world - when it's so nice to look forward to them in their proper season - just helped along a little in a polytunnel? By the way 'Albion' freezes particularly well too - not going quite as mushy as some other varieties.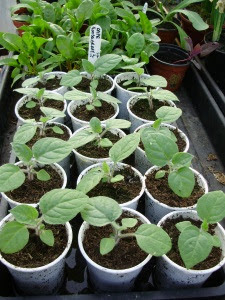 The Physalis (golden berry, Pichu berry or Cape Gooseberry - whatever you like to call it!) will have to be potted on this week into larger pots as they've grown well.
 They'll be fruiting by late August/September and will go on until December. After that the fruits will keep for literally months in the salad drawer of the fridge - so they're well worth growing from seed and are a really easy fruit to grow. They have a delicious citrussy-sherbetty taste (even writing about them makes my mouth water!) - and they're very high in antioxidants lutein and vitamin C. They're even easier to grow than bush tomatoes, do really well in tubs or large pots, seem not to be bothered by any pests at all, the bees really love the flowers and the birds haven't sussed them yet! What's not to like? I've seen the dwarf version for sale in garden centres - but they produce so little fruit they're a complete waste of space - and I don't know anyone who's been successful with them. Some of last year's plants have overwintered well in the tunnel due to the mild winter, I gave them a feed about a month ago and they are now producing lots of nice new shoots at the bottom, and even flowering already on the few long branches which didn't die back. As a result I'm hopeful of some really early, very welcome fruits.
Frosty nights can be particularly difficult for any tender fruit
 growing in the tunnels. On the very bright sunny days after a clear night's frost the temperatures can rise at an alarming rate - so I have to watch the ventilation very carefully - trying as far as possible to even out the day/night temperatures - not always easy! There's a good crop of early figs developing fast on all the trees - many of the figlets overwintered without any damage. Those that are in any way damaged won't develop and eventually will turn brown and drop off. It's a good idea to take those off so that they don't develop rots and spread diseases to the healthy younger ones. I'm taking a lot of care to cover them with fleece at night as all the new growth is very young and tender now. In the picture you can see the early figs on last year's darker coloured growth - the late summer's crop will develop on the new growth made this spring and summer. I'm being very careful to keep them evenly moist now too - if they dry out and wilt even the slightest bit - figs will ditch all their fruit without fail - usually about 
two weeks later
 - when you've completely forgotten that you possibly neglected them on just one occasion! The same goes for all potted fruit. Figs also like good drainage too, hating to be too wet - so they're temperamental devils in pots but well worth it, when even non-organic fresh figs are about a euro each in the smart fruit and veg. shops! I should have my first ripe figs in mid May and will then have a second, bigger crop on this years new green growth, on most of the varieties I grow.
The scent of the citrus flowers is filling the tunnel even though there's only a couple of trees flowering!  A real scent of approaching summer. I must pick the last of the fruits on the lemons, oranges and grapefruit - I always hate doing it as they look so beautiful. Daft really isn't it?  If I leave them on though - they will stop the new fruits developing even if the flowers are pollinated. They're also being protected at night as the dark red young growth is very soft and vulnerable to frost. They're getting a low strength 'Osmo' liquid feed mixed with tunnel temperature rainwater at every watering now - they hate limey, high pH tap water!  I do wish garden centres wouldn't water them with a hose though! I they are in the garden centres for too long - the leaves start to turn yellow and drop off, as the staff don't know that they prefer the 'gentle rain' that 'droppeth mercifully from Heaven'!  Talking of which - I really had such a laugh on one of my much dreaded twice yearly ventures into Dublin! I wonder what on earth would Shakespeare have said at being quoted on an M&S food carrier bag? - "If music be the food of love play on"! on a bright purple, recyclable bag - Whatever next!?
Twelfth Night - Act 1, scene 1.- Duke Orsino:
If music be the food of love, play on,
Give me excess of it; that surfeiting,
The appetite may sicken, and so die.
Music and food would certainly be pretty high on my list of priorities. And I really love all kinds of fruit. I wonder if Shakespeare liked figs? 'Duke Orsino' would certainly have prized them as a Mediterranean man. I don't think you could ever die from eating them - but too many could possibly be a little uncomfortable!  I find half a dozen just enough per day, any more is too many - but they're so delicious that they're very hard to resist. Anyway, I could never fall out of love with figs - they're one of my favourite fruits. Problem is - so is almost everything - each in it's own season! Though sometimes it almost seems that the more fussily difficult things are to grow - the better they taste. But then isn't that the real joy of gardening - that you can actually taste the achievement a little too?!

 
 

Early figs forming from the overwintered buds on last year's darker 'woody' growth. New shoots will carry a later crop on most varieties of figs in tunnels.

 

 

Strong red-flushed young growth, overwintered fruit and flowers on lemons in the tunnel
(Please note. I really enjoy sharing my original ideas and 40 years experience of growing and cooking my own organic food with you. It's most satisfying and naturally also very complimentary if others find "inspiration" in my work......But if you do happen to copy any of my material, or repeat it in any way online - I would appreciate it very much if you would please mention that it originally came from me. It's the result of many years of hard work and hard won-experience. Thank you.)