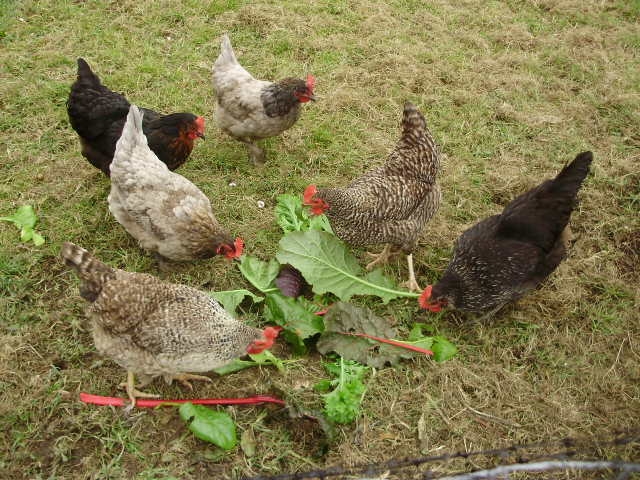 A colourful small flock of 6 hens enjoying some late winter greens from the polytunnel in early March
There's very little more rewarding than keeping a few hens in your back garden. A colourful flock of beautifully marked hens look every bit as ornamental as any exotic birds you could keep in an aviary – but unlike purely ornamental birds - if you look after hens correctly, they don't just look beautiful, but they will provide you with far more delicious and nutritious organic eggs than you could ever buy.  In addition to being amusing, intelligent and very watchable company all year round, keeping your own laying hens also gives you a measure of food security, because you will always have some eggs handy for a quick meal, for baking or can even to make a very welcome gift – far cheaper and healthier than a box of chocolates!
An organic egg is probably the fastest, most convenient and nutritionally perfect meal in the world. A simple omelette made with couple of eggs along with a handful of homegrown salad greens, is a nutritionally-balanced meal, containing high quality protein and fats, virtually all of the vitamins and minerals we need, and also choline – recently classified as an essential nutrient - which is vital for many bodily functions including liver function, cholesterol metabolism, and healthy brain and nervous system development. Eggs also supply important antioxidants like Lutein and Zeaxanthin, which are vital for eye health.
Producing your own eggs means that you know exactly where they have come from and how the hens were kept. That gives you a great feeling of self-sufficiency and of being more in control over what you're eating – because you are, quite literally, what your hens eat. The better you feed them – the better their eggs will be. The more organic greens like broccoli, kale and spinach that you feed your hens – the higher the eggs will be in those vitamins, minerals and phytonutrients vital for eye health. In addition to all of that – as if that wasn't enough - your hens will give you a wonderful free by-product, fertile organic manure which will greatly enrich and boost the vital microbial life in your garden compost, which can then be used to grow your own delicious vegetables and fruit! What a lot of benefits, in return for very little daily trouble, after you have initially set up your domestic egg production unit!
Hens are a valuable adjunct to any organic food-producing garden. They convert the leftover bits of green vegetables like kale, broccoli, spinach and chicory, which are not quite good enough for the kitchen, but still too good for the worm bin, into wonderful eggs.  At the same time, they produce very valuable, high nitrogen manure. They are also very happy to help you to get rid of garden pests like gooseberry sawfly larvae, if you let them roam among your fruit bushes during the winter.
I've kept hens for most of my life but last year I was without them for 3 months in the autumn, and I really missed them. Although we buy organic eggs, they are not nearly as good as our own, because as I've often explained before in other blog posts – organic producers are forced by economics of scale to keep the maximum number of hens on their holding that they are allowed to under Irish organic standards (or Soil Association standards in the UK) - otherwise it would not be economically viable due to the cost of producing the eggs in relation to the price they get for them, and they could not survive. However, I won't go into that here, as I've already done so before. Hens love to graze on short, sweeter, newly emerging shoots and grass, and the more hens you keep on any pasture naturally means that they eat any green food like grass and clover faster – so then their eggs will not have such as deep an orange colour to the yolks as hens where fresh green food is always available. When I was producing organic eggs commercially, I used to grow green food especially for them which makes a huge difference – particularly in the winter, when growth outside is slower. My customers really loved our eggs. I often see some of them and they still tell me that they simply can't buy eggs which are anything like as good as ours were. I can guarantee that once you have tasted your own home-produced eggs – you won't ever want to go back to buying them from shops!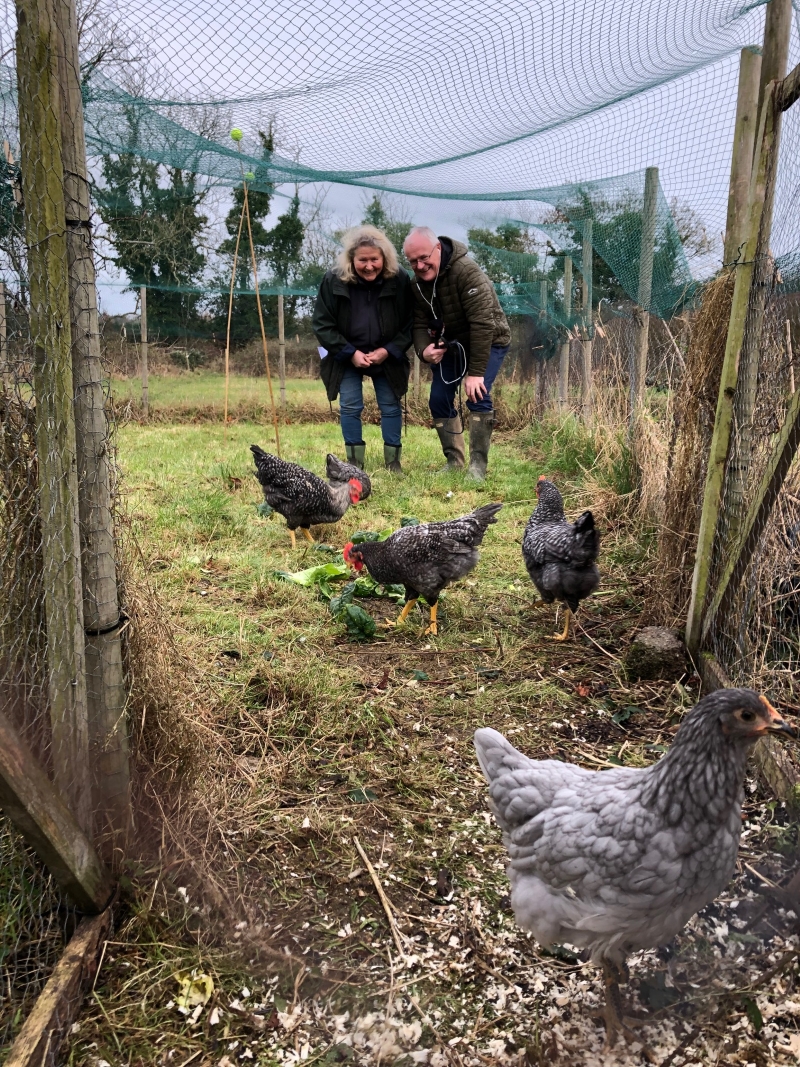 Gerry and I looking at the friendly and fast-growing 8 week-old pullets and cockerels in net-covered run
Gerry Kelly came over here recently to see how the day-old chicks which had just arrived when he was last here in early December were doing – and he was amazed to see how grown-up they were already looking, and how friendly they were!  I got a mixed bunch of male and female day-old chicks from the hatchery – somewhat unusual as most people just want females, or pullets, for laying eggs. However, I wanted to prove that it was worth rearing the male chicks too, which are usually discarded, and that's certainly proving to be the case – but those details are for another blog post I will write soon. Suffice to say here, that the males produced when hatching eggs of laying breeds (roughly 50% of the eggs hatched) are usually discarded, which is not only cruel and unethical - but also incredibly wasteful, when so many people in the world are starving! While I think about it by the way – hens are just purely for laying eggs - while hens and cockerels bred for meat production are collectively called chickens. A fine distinction of nomenclature perhaps – but there is often confusion about the use of those names. I'm talking about keeping hens for egg-laying here.
What do you need to think about if you want to keep hens? 
Before you start – the most important thing of all is to consider your lifestyle, and if you have enough time/are prepared to make the commitment to looking after them properly every day. In that way – keeping hens is just like keeping any other animals. Happy, well-kept hens lay the best eggs!
Then will first need to check with your local authority to see if there are any by-laws forbidding the keeping of garden livestock like hens or rabbits. If you are renting your property, then you may also need to check with your landlord. Unless you are keeping a cockerel which will crow loudly, waking up everyone within a mile at 3.30am in summer - it's unlikely that neighbours will object to some occasional daytime clucking from a hen that's just laid an egg – especially if you occasionally present them with half a dozen. Obviously hens need to be kept clean as possible to prevent smells, flies attracted to their droppings or vermin like rats attracted by their food.
If you go away occasionally - don't forget that you will also need to arrange for a 'hen sitter' - someone who will look after them every day while you are away – whether just for a night or for longer. It's important to make sure your hens are properly looked after if you're away from home, even if it's only for a day or two. You can't send hens off to a kennels while you're away like dogs or cats, as they get used to feeling secure in familiar surroundings. Any sudden drastic change can easily upset them and would definitely stop them laying.
There's just no substitute for someone looking at livestock every day – whatever sort of livestock it is. While there are some automatic door openers, feeders and drinkers etc – I would never rely on these as they can always go wrong (and Sod's law says – if it can go wrong it will – and usually when you're away!) Drinkers can get blocked, hens may get trapped, injured, or have some other misfortune. While it's alright to leave them if you're at work during the day, they shouldn't be left without attention for any longer – as this could lead to disaster and suffering for the hens. It's also important that eggs are collected every day – because not doing so can result in broken eggs, which can then lead to egg eating. This can be a big problem, because once they get a taste for it – it's almost impossible to stop. 
I'm not trying to put you off – just to make you really think about the responsibilities of keeping them, and whether they will fit into your life. If you do decide to give keeping hens a try – then I can almost guarantee that you will never want to be without them again. Hens are endlessly fascinating to watch, far more intelligent than most people give them credit for and definitely have very individual personalities. They are great company and a really good way of teaching children how to look after animals responsibly, and also of giving them an understanding of where their food comes from. Being outside in nature and having contact with pets is known to be good for boosting children's microbiome – the community of beneficial microbes living in their gut which is their immune system. Science has recently proven that the more naturally occurring, beneficial microbes children are exposed to from an early age – the better their immune system functions. This means that it is less likely they will suffer from the allergies which the many nature-deprived children, reared in often microbe-phobic, antiseptically-wiped environments, are increasingly suffering from.
Then you must decide how many hens you want to keep.
If you want to keep hens really happy and healthy, the first thing to remember is that they evolved in Asia to live as jungle fowl, spending their time mostly in jungle clearings – so they are happiest when they have plenty of room, and are warm, dry and scratching around in grass and the leaf litter under shrubs and trees looking for insects and eating the green shoots of plants. They also like having a daily dust bath to keep their feathers in top condition. Hens are very social animals which evolved to live in flocks and are very unhappy if they don't have the company of others. For this reason, I would never keep less than 3 or 4 hens, because if you only have two, and one dies or has an accident, which can happen occasionally, the one left on its own will pine and suffer. So, given that we can't supply jungle – we must try to replicate the natural food, shelter, company, places to roost up off the ground as they would in jungle trees, the opportunity to dust bathe, and the freedom and plenty of room to scratch around looking for insects.
Next you need to decide how and where you want to keep them
You may like the idea of hens romantically roaming free in your garden, but as they like to eat a lot of plants - they will destroy your garden! Bear in mind that 3 or more hens can also make quite a lot of poo and can damage a small patch of ground very quickly - turning a small piece of lawn into a mud patch within a few days, especially in wet weather, which is not good for their health! Also roaming completely free they are far more vulnerable to predators. Urban foxes are becoming an increasing problem often due to takeaway rubbish being discarded, most are not one bit afraid of people and regularly visit urban gardens. To a fox – a hen is naturally just another takeaway opportunity – and you don't want your beautiful hens to be hurt or to disappear completely! Other predators like mink can be a problem if you have water nearby, and also neighbour's dogs and cats. While hens undoubtedly look lovely roaming freely around the garden – that's not the best way to keep them. From a welfare point of view – a roomy safe run is always best.
 
Some housing options: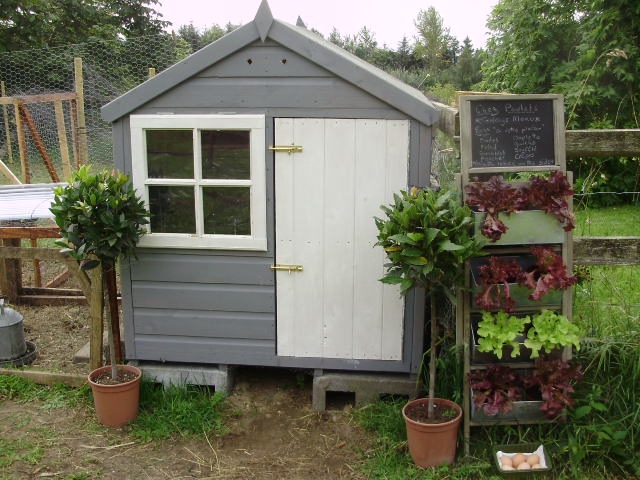 The so-called 'Hen Hilton' - the re-purposed child's Wendy house where my hens live and even have their own vertical garden!
Wooden hen houses/chicken coops are widely available now and suppliers can be found online. They can be an expensive option though - but admittedly, they often look tidier and nicer than many homemade ones!  A small re-purposed garden shed, making a pop-hole, can also be an option, but it must be heavy enough wood to keep predators out, or lined with wire to stop them eating through it as happened to me once many years ago. You can do a lot to beautify and have a lot of fun re-purposing a plain old garden shed! I was thrilled to find a child's 'Wendy house' on sale 6 years ago in my local DIY store – it was just what I'd been wanting for keeping my few hens for ages. The hens even have their own vertical garden outside it in the summer!
I describe my re-purposed Wendy house further on.  It is ideal for our 6 hens, and they provide us with more than enough eggs for our needs now. I prefer wooden houses as wood provides better insulation from heat or cold than some of the funky small plastic ones, which can also have condensation problems. Here are some ideas.
A moveable house preferably on wheels - with a predator-proof run attached which can also be moved daily. This is what I chose for the few hens which I used to keep after I stopped producing eggs commercially. It was a re-purposed small dog kennel with a sliding door, and a hinged roof for cleaning out and collecting eggs. After I broke my shoulder, unfortunately I was no longer able to move it, so I purchased the Wendy house which they now live in. It is far more plush and attractive – and one of my friends even called it the 'Hen Hilton'!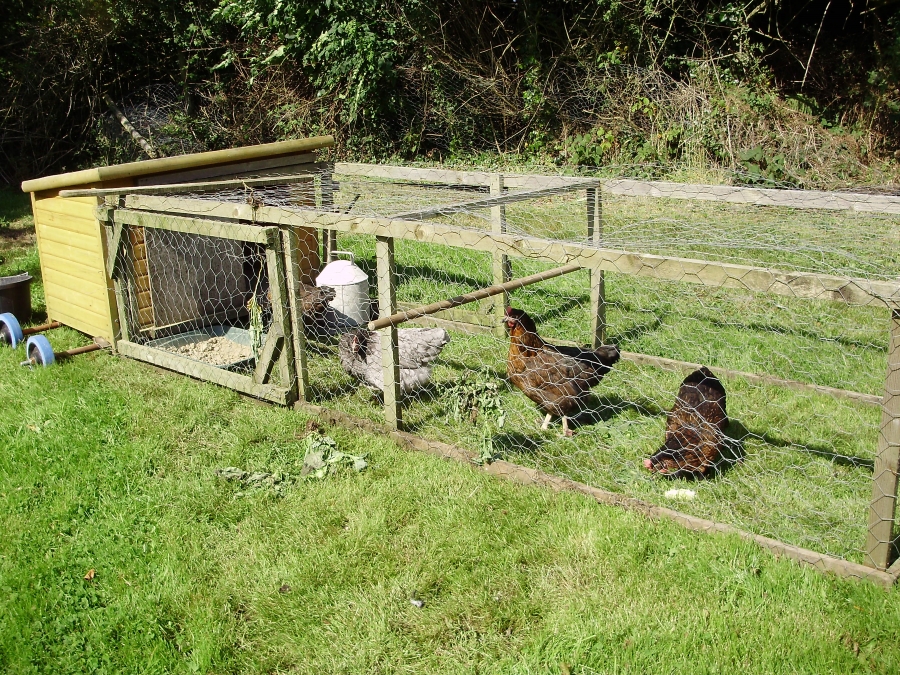 Four hens in a small re-purposed dog kennel house on wheels with movable run attached - in early spring.
Permanent fixed housing - with 2 or more permanent runs leading from it so that these can be alternated regularly to keep them fresh and disease-free. This is a good option for anyone with limited space, as even if you only have two alternating runs, you can throw all their green food and anything else which could go on your compost heap into one small run, which they will enjoy scratching through, will give them exercise and keep them amused, while you're growing a green manure or grass in the other run. Then you can change over sides when this is ready for them, cleaning out the one just vacated onto the compost heap and sowing more grass or green manure into the soil there.
Permanent housing - letting the hens have free run of all your garden which some people do.
It may look lovely, but I don't like this as:
- It means you have no fresh ground for them, which is important if you have any disease problems introduced by wild birds.
- They will destroy your garden, eat your vegetables if there are any, and they are far more vulnerable to predators like foxes and mink.
Hens being hens – they much prefer to find hidey holes under bushes to lay their eggs, as they naturally would do in the jungle where they originally came from - rather than lay them in nest boxes for you to conveniently collect! Doing this can attract vermin like magpies which love to eat eggs, and also rats.
Perches – Hens and chickens like to roost at night off the ground on a perch. In the wild they would naturally do this in trees. The perch needs to be a minimum of 45cm/18ins off the ground and long enough for each hen to have a bout 30cm/1ft of space. 
Nest boxes - Whatever type of housing you decide on – or if you make you own – you will need at least one nest box to every 3 hens. When I'm shopping, I always look for wooden orange boxes which are a real rarity now, as everything tends to come in cardboard. Wooden orange boxes make brilliant nest boxes with one of the sides lowered for easy access. If they have a lid you can leave it on as hens like to lay in a dark place.  If not you can put a board across the top, which also prevents hens roosting on the and dirtying the nest. I always use hay to line them, as I can't get organic straw, and it's softer anyway. I make a cosy nest shape in the soft hay for them, and when they're young pullets I also put a golf ball into each nest so that they get the general idea! I fondly remember the beautifully realistic china eggs my father used when I was growing up, and so wish I had one of them purely for sentimental reasons. The funny thing about hens is that when one decides to lay, usually in the morning – then they all get the urge to lay – often in the same nest. So, if you don't have enough nest space you may well get smashed eggs! Purpose made hen houses obviously have their own, usually accessed from the outside of the house or coop.
If you're handy at carpentry you could make your own hen house from recycled pallets or other materials, which I have done in the past. Ventilation without draughts, insulation against heat or cold, easy access for cleaning out, and being raised off the ground to prevent vermin must be considered when building it. Or you could buy a small wooden garden shed and re-purpose it as I did as I describe below.
My girls have a delightful re-purposed Wendy house which I bought cheaply in a DIY store sale. It has a smart front door and an opening window. The front door allows easy access for cleaning them out once a week. It came in a flat pack, which my son put together, lining the inside with small-mesh chicken wire to keep out predators. He made a pop-hole in one side, which has a sliding door leading out into their roomy scratching pen. I just love it! 
On the floor I have heavy-duty, recycled polythene damp-proof membrane, which is available cheaply from DIY stores and prevents the floor from rotting. This is then covered deeply with wood shavings which are topped up with a few handfuls more daily to keep the air sweet. This is all cleaned out weekly and goes onto the compost heap.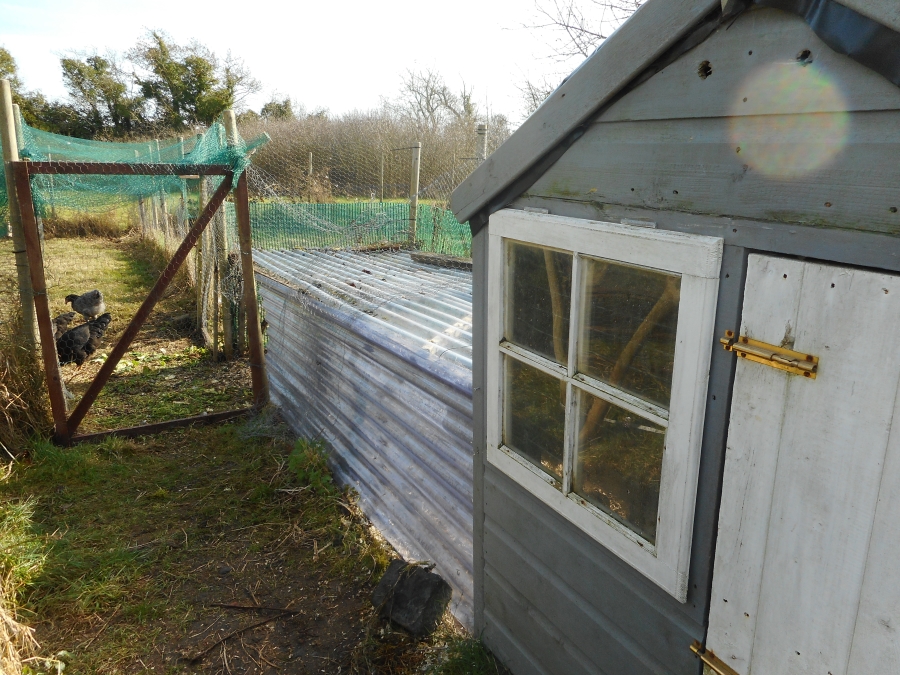 Hen house with scratching pen attached accessed by the pop hole. Sliding side panels allow access to runs on either side.