May topics:  Golden rule number one in life - always be flexible!....  It pays to be flexible at a moment's notice in the garden now too!.... The many advantages of 'raised', 'deep' or 'lazy' beds.  Protecting early potatoes and other crops with fleece.  Feeding your compost heap!  Planting out tender crops in late May.  Other jobs for May.                    
Broccoli Nine Star Perennial is delicious but looks almost too beautiful to eat!
Golden rule number one in life - always be flexible!
My May veg blog is a little later than usual this year - as I'm a bit behind with the work again here due to breaking my ankle badly on 16th March, so nothing has been done outside in the kitchen garden this spring! I've spent a lot of time in the last few weeks travelling to and from hospitals and doctors, but things are slowly beginning to mend so I hope to be back outside in the kitchen garden again before too long! My daughter has been over here helping me - but she's been concentrating mostly on the polytunnels, as I will find those much easier to manage when I'm able to resume doing a little bit of gentle gardening again. She and my son have also been looking after all the animals including the poultry, as they're the most important.  I'm thinking of sowing some green manures on the raised beds in a couple of week's time - when I'm hopefully able to venture into the garden again. That will be very beneficial for the soil, and I may then later plant something fast growing things like pumpkins and squashed on one or two of the beds through the 'cover-crop' of green manure. At least that way I will have something to store through the winter, as it's too late to plant potatoes now.  Then later on in early August I shall plant a late crop of potatoes to have at Christmas. Thinking sideways, adapting to circumstances and flexibility are definitely things one needs to be able to do when life throws challenges in the way!
As you know - I usually just stick to blogging about gardening - not about  more personal stuff as many people do -  but I'm sure that some of you know by now that I'm partially slightly disabled due to progressive degenerative disc disease, and also having from two arms that only half work due to various accidents over the years. Sometimes I think perhaps it's a good thing to show people that I'm not Superwoman, much as I would like to be - because too often people say - oh it's alright for you - but I couldn't because of X, Y, or Z reasons!  So many times I hear things like - "I have a bad back/depression/am unfit/don't have space/time etc etc"... Believe me - just like anyone else - I can often feel like just sitting on the sofa and reading a good book (in my case recipe books!). But I know that if I can drag myself up and make the effort - even if at times it's even painful - I will feel so much better for it.  
I like proving that if you really want to grow your own food, no matter what the problems - you can always find some way to overcome them if you really want to!  That's as long as you can at least sit or stand upright!  A great friend of mine was recently diagnosed with MS and can barely walk - but loves growing her own food - so her son has collected a few bathtubs that were about to be thrown out off building sites and made her a very idiosyncratic container garden! As at the moment standing upright holding onto a walking frame is just about all I can do until my ankle is better - I've decided to experiment with a bit more disabled gardening. So I got my daughter to carry my stepladder out from the polytunnel where is usually lives, to beside our front step, so that I can do some more experimenting with gardening in small spaces or with physical difficulties. This is something which I did a lot years ago after spinal surgery, and when living in a house with a tiny garden - so it's nothing new to me - although I now have lots of new ideas with more experience. It really keeps my spirits up to be able to pick even a small amount of healthy salad or other veg that I've grown myself.
I see so many people complaining on social media about feeling depressed and wish I could show them all that it's far better to focus on what you CAN do - not what you CAN'T!  I also see many folk saying that they need cake or wine to cheer themselves up. Frankly - both are the last thing they need - and I speak from experience! Cake is full of sugar which gives you an instant high but then makes you feel even more depressed, not long after you've eaten it - and wine does exactly the same if you're drinking much it on a regular basis! Both are nice occasionally - but not as a regular salve for one's moods. Gardening is one of the best ways to cure depression - with many positive benefits for mental and physical health - so it's far better than trying to give  your mood a temporary lift with junk food of alcohol. Even if you don't have a garden - or don't want to try gardening just going for a walk in the countryside, breathing fresh air and also inhaling the magic Mycobacterium vaccae in the air is proven to stimulate serotonin production in the brain and lift mood....then try having a glass of kefir which is full of 'good mood'-making, probiotic microbes!  It works every time - I guarantee it!
More than ever this year in particular - I feel so blessed that I have my garden. I simply couldn't live without it. Not just because it grows so much wonderful produce which I couldn't buy in shops even if I wanted to - but It's also my therapy and my sanctuary from the world and solace for any troubles. Although I have to admit there have been many days in the past when I really had to push myself to get out of the house and do something in the polytunnel - even if some days it was just sitting and planning, because I was in too much pain to do anything else. Even when when the weather is bad I can gently work in my polytunnel, but if I don't feel like it - then I can just sit feeling the blessing of the gentle early morning sun on my face and listen to the bumblebees buzzing happily while they enjoy the flowers and the birds singing their hearts out! Over the years I have had a couple of occasions when I stared possible paralysis, or even death, in the face - believe me it's so good to be alive, upright and out in the garden on a spring day! I always feel so much better after being out there doing something positive - no matter how small a thing it is.
It's truly wonderful to get your hands into the warm, vitally alive earth - to literally 'plug-into' the earths energy.  I believe that it's a primal human need in all of us to have even a small patch of earth to connect with, to cultivate and to grow some food. It's a basic instinct which man has had since time immemorial - and despite our seeming 'modernity' - the effects of thousands of years of evolution can't be erased in what is relatively just a few decades. There is no doubt that humans are much healthier both mentally and physically if they have close contact with the earth and can eat food which is naturally-grown in it. Healthy food doesn't grow without a healthy soil.  Growing food for our families is one of the most basic and satisfying things we can do - and no matter what happens I will go on gardening! I hope you will too.
It pays to be flexible at a moment's notice in the garden now too! 
Once we thought that gardening rules would always be the same for ever - but our seasons are less reliable and predictable now.  It pays to make sure that you've got plenty of fleeces available to cover vulnerable tender plants when necessary.Take care over the next few days - as frosts can still occur unexpectedly when the skies clear late at night. Temperatures have been plummeting here at night to -8 deg C on some nights. The potatoes in pots will have to be fleeced every night now as they're up about 12 inches or more in some cases and it's not worth taking the risk of losing them now. May weather can often see-saw back and forth between baking hot summer-like days and freezing cold wintry nights - so it's not a good time for a gardener to be away from the garden for very long if you grow all your own food!! I'm constantly obsessing about the weather in May and ready to run out with fleece at the slightest hint of a frost! But it really does pay off taking that extra bit of care - even if some evenings it's the last thing you feel like doing, after a long hard day! I console myself with the thought of all the delicious crops to come - many of which will see us all through next winter. Most of the crops that I grow I could never buy in the shops even if I wanted to - especially grown organically - and I wouldn't dream of eating anything else but organic! 
If you're already panicking and feeling a bit behind with the work - then don't worry - so am I  But there's still plenty of time to catch up this month. Pretty much everything can still be sown, especially things like French beans, pumpkins and squashes - which develop very fast and hate to be held up and get pot bound. I often find my May sowings actually do far better than earlier ones specifically for that reason. Don't forget though that if you use fleeces - take them off during the day and dry them out if possible - because wet fleece is worse than no fleece and offers no protection at all. The weight of it can do a lot of damage too - especially if it gets frozen to the plants. A good way to prevent this and also stop pigeons eating stuff is to suspend netting over the plants first, and then that will support the fleece too - which can be pegged to it with clothes pegs - especially worth doing if you live somewhere windy like I do! A lot of trouble some may think? But when I taste the wonderful early veg that I can't buy anywhere then believe me it's well-worth every bit of effort! 
In the past, before climate change began, our weather seemed to be a little more predictable - but just as in other areas of life - there's no point thinking about the past except to learn from it and to be prepared for anything! We have to deal with the here and now - gardeners now have to think 'on the hoof' and be practical. We're going to have to be a lot more flexible with our gardening in the future, be adaptable and find new ways of doing many things - responding and adapting to the unreliable and fickle weather from week to week. You can pretty much throw the all old gardening advice books out of the window - that is when it comes to advice about exactly when and precisely how to do things. Flexibility is the key from now on. I've never slavishly followed the rule books anyway, being something of a rebel! I always asked 'why'? I read all the basic advice I could in my early days of gardening and then adapted it to my organic way of doing things and also to my particular local climate. That flexibility is vital, is something I've learnt from many years of practical experience in various changing gardening situations and locations. I call it 'seat of the pants' gardening!
Basic requirements like the need for proper rotations will never change though - in fact they will become even more necessary and relevant to how we can best utilise our precious soils in the future. I find that so many of the new 'experts' these days are giving advice obviously taken directly from often outdated books and not gained from their own practical experience - if they indeed have any!  In so many cases that's just not relevant any more. Everything is changing now - and so must we - if we want to keep producing enough good, healthy food for ourselves. This year - with unexpected droughts, violent storms and floods happening once again all over the entire planet - it is predicted that food prices will rise even more.  And that's apart from the undoubted effects which Brexit will have on food prices!  So it's never been more important to grow our own food - and to do it organically - which is sustainable and helps to mitigate climate change, rather than accelerating it as conventional chemical farming does! 
After a very dry spring here again - later on in the year we may well have to cope with even worse drought again like last year - but organic soils are much more resistant to the stresses of extreme weather conditions due to their high humus content, so they tend to cope much better.  The humus organic soils contain acts as a buffer almost like a sponge - absorbing water and cushioning plant roots against extremes of both floods and drought. Humus also fixes carbon in the soil which helps to offset climate change. In areas where soils have been degraded and topsoil lost through many years of chemical farming, rainfall just runs off the compacted dead mineral dust that passes for soil - causing flooding - instead of soaking into the humus-rich, moisture retentive sponge that a good organic soil should be. All plants grow far more healthily, withstand stress far better and are more naturally disease-resistant in a living, well-nurtured and properly structured, organic soil.
The many advantages of 'raised', 'deep' or 'lazy' (aka no-dig) beds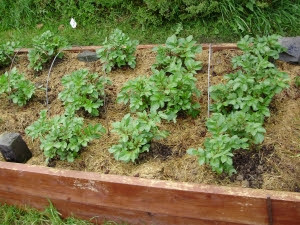 Potatoes mulched with grass clippings in one of the newer raised beds
Every spring I am so grateful for my raised beds. I've grown in raised or 'deep' beds for over 38 years now. That's the basis on which I originally planned the whole vegetable garden here - as I lay in my hospital bed after spinal surgery and later for a few months at home, unable to walk after a bad fall from a horse. I already knew then that gardening in the conventional way, on the flat was going to be completely out of the question for me in the future.
 On re-reading my treasured collection of old Soil Association 'Mother Earth' magazines going back to the late 1930s, I found that there were some very interesting results from so-called 'no-dig' growing then - especially on lighter soils. Others were growing in 'raised' or 'deep beds' or even 'lazy beds' as they are called here in Ireland. So I decided to combine all three methods of growing to suit my capabilities - by making 'raised/no-dig/lazy beds'! Planning the garden gave me hope and kept me going at what was one of the very lowest times in my life. I've never regretted the work of making them. Originally they were just made by simply throwing the soil up from the paths to give more depth and drainage and afterwards mulched - just as the old 'lazy beds' were made for growing potatoes, in pre-famine days, in the West of Ireland. Luckily I had some help do that hard job in those days - and until my relative fitness returned, all I had to do was to mulch and plant! The beds weren't made by lashing on tons of bought in non-organic manure or mushroom compost, their fertility evolved gradually and naturally over time. 
After over 30 years of mulching, green manuring and adding as much home-made compost as possible - they've become so raised that they're more than double the height they were when I started.  It's only rarely now that I have to do any gardening on the flat - when planting trees for instance - and when I do I am so thankful for my raised beds and so is my back!! The beds are so much easier to work, and are an absolute godsend now that I'm partially disabled with one half-working arm since I broke my right shoulder very badly over 3 years ago. When I was growing commercially, I used to have 12 un-dug, raised or 'deep' beds, roughly 10m/30 feet long and 1.3 m/4 feet wide. I made the raised deep (or no dig) beds about 4 ft/1.3 m or less wide so that I could reach comfortably to the middle from both sides. On a 4 ft bed I can just plant 3 rows of potatoes across - then space them out a bit more along the length of the bed - about 2 ft/60 cm apart down the bed or 90 cm/3 ft for main crops. That works very well for me. Now I've cut down and am planning to have only the 6 closest to the house. I'm gradually raising all of these even higher using planks, so that I shall always be able to grow my own veg - even if I have to just sit on a chair. I have no intention of ever giving up veg growing! The other half of the old deep beds will gradually be planted with even more fruit so hopefully will be far less labour-intensive - but still very productive. That will still give us plenty of room for vegetable growing along with the tunnels, which I find much easier to manage. The tunnels are always workable no matter what the weather conditions outside, in our often very wet climate. I also have to take into account that the family around the table is often smaller at times now too - so I don't need quite as much.
My new, higher level raised beds were made with planks treated with an organic wood preservative (very important where you're growing food) and filled with soil dug from the wildlife pond which I created a few years ago at the bottom of the wildlife meadow. Although unfortunately I couldn't persuade the chap who dug the pond to separate and sort the soil into topsoil and subsoil, I've found over the years that by using compost, green manures, organic mulches, cover crops and proper rotations to create humus and encourage beneficial microbial life, it only takes about 3 or 4 years to convert even the very worst of soil into a really nice medium to grow plants in. It never has to be dug. At the very most it's lightly forked if necessary to remove crops. I can use my fingers to plant small modules and a small trowel to plant bigger modules things like cabbage plants. You don't need tons of compost or manure, it's like junk food for plants and very little better than force-feeding with chemical fertilisers! It's far better to encourage and work with nature and to do things gradually, allowing all the microbes and soil life to develop in nature's own time, if you want to grow really healthy and nutritious crops. If you pile on the tons of nitrogen-rich manure advocated by some -  firstly there's potential for massive run-off and pollution of groundwater in our increasingly wet climate. Secondly, any excess nutrients that don't run off are taken up by plants, promoting soft sappy growth that is far more vulnerable to pests and diseases in exactly the same way as artificially-fed crops.
Overfed plants are just like overfed people - unhealthy! In addition, quite apart from that it's virtually impossible to find an organic farmer with manure for sale - and any non-organic you buy will contain many pesticides, weedkillers and antibiotic residues which are extremely damaging to all soil life. I'm planning to gradually convert all my old deep beds in my now downsized vegetable garden into these higher level beds over the next couple of years, using my sub/topsoil mix and proper organic methods of gradual soil improvement the way Nature does it. No 'quick-fix' methods for me - that's not Nature's way! 
If you haven't yet seen it - here's the video of the talk I gave in December 2016 at The National Botanic Gardens in Glasnevin, Dublin, for the Irish Launch of the 'European People for Soil' campaign.  It was entitled 'There is life after soil abuse'.  In my talk I showed how I gradually restored the natural health of my badly degraded soil here using organic methods:       
https://www.youtube.com/watch?v=jjN30StFsf0&feature=youtu.be
Protecting early potatoes and other crops with fleece
The most vulnerable things that really need to be looked after outside now are the sappy new shoots of potato plants - they can't stand even the slightest whiff of frost or they'll turn to black mush, so they must be covered with fleece if frost threatens. They are too big now to earth up, as I get them going early. Some of the early varieties already have flower buds this year as they've been so delayed, but I don't worry about that, as long as they're watered and fed if necessary they'll be fine. I planted out about 2/3rd of my pot-raised potatoes only last week due to the late cold season. Last year - 2017 - I had already planted them out 3 weeks ago. Some are still sitting in pots outside on the polythene covering their designated raised bed. That's where they sit for a couple of weeks to 'harden-off' and acclimatise to outside after being started in the polytunnel - and I covered them at night with cloches and fleece for protection. They'll be ready after the tunnel potatoes are finished which were started off in pots in January. I start all of my potatoes off in pots these days, in order to both get far earlier crops and to avoid blight and spraying - even with organic sprays such as copper.  I am astonished about how inflexible some people are - they are amazed that I would go to such trouble for potatoes - which have always been planted a certain way! Yet they would think absolutely nothing of starting off half-hardy plants or bulbs that way! And you can't even eat those!!  We live in a particularly blight-prone area here - with farmers often not bothering to lift blighted crops - just ploughing them back into the ground, which means that we can often get blight very early.
I always make sure I have at least two lots of fleece to cover each of my beds, just to be on the safe side.
 The fleece comes very cheaply on a big roll so I can conveniently cut off exactly what I need to cover everything securely. I get a huge roll every few years from our local farm supply shop - it's massively cheaper to buy it that way than in small pieces from garden centres and DIY stores! If it's windy I also cover the fleece with Enviromesh or netting to hold it down, or use cloche hoops. I fix the fleece to them with wooden clothes pegs which are needed as it's very windy here, and what  can often happen is that fleece will tear and blow away in the sudden gusts we get just before a rainstorm - then the wind drops after 
midnight
 and there's a frost! As I'm lucky to have a big enough garden at home to grow my veg., it's easy to run out and put fleeces on in the evening after watching the weather forecast!  It takes me about half an hour to cover everything that needs it, including anything in the tunnel. Then I take off the fleeces again in the morning, which only takes about five minutes, in order to dry them and have them ready for the next cold night. As I've said before - wet fleece is worse than none at all! And several layers are far more effective - 2 or 3 layers of dry light fleece will trap air just as layers of clothing do for us - and protect even quite soft things from anything but the very hardest of spring frosts.
If you have an allotment it's obviously a bit more difficult -
as obviously you're not there all the time.
 In that case I think I would make up a frame or hoops to drape the fleece over, perhaps then securing it with netting as it can blow off very easily being so light. Or you could make your own cheap polythene covered frames as I described a couple of months ago, maybe even putting fleece underneath them, where it will stay dry, as double insurance. It's amazing how much water fleece will collect on a cold night, it offers less frost protection if it's actually resting on plants, particularly if it's wet, and it's also then surprisingly heavy. You may think all this is an awful fiddle - and at 
8 pm
 in the evening, trying to cover a bed on my own with an aching back and fleece that insists on blowing off in even the slightest breath of air - I'd be inclined to agree! However, I know I'll get my reward in many different varieties - some extremely rare - of wonderful tasting, completely chemical-free, un-sprayed organic potatoes for most of the year! I also grow some potatoes in large pots too, if I'm trying new varieties or growing rare ones. I  normally grow around 12-16 different varieties - and if you think that's barmy - Dave Langford, the potato expert who lives in Leitrim, and who often came to the potato day at Sonairte, grows around 150 varieties every year! As someone remarked, I do use a lot of 2 litre pots for starting them off, which could be expensive, but as one of my best friends is a garden designer, I can always get plenty of free pots in whatever size I need. They would otherwise just be dumped, probably not recycled, and I've been re-using most of them for at least 20 years now! Make friends with your local landscaper or nursery - offer them some free veg. in return for pots which they don't want anyway and they may be glad to get rid of them cluttering up the place!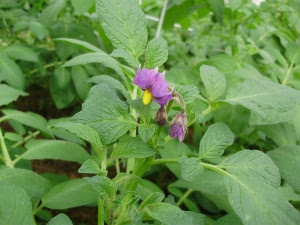 Potato Mayan Gold flowers are pretty enough for any herbaceous  border!
Most of the varieties I grow are early or second early cultivars, which need a shorter growing season than maincrops, so tend to bulk up faster. This means that they're early enough to have a really good crop underneath them before blight strikes here - often in late June in most years. There are quite enough different variety for anyone's needs. Some are waxy, some floury, some salad potatoes or unusually-coloured ones. I like to use different types for different culinary purposes, enjoying the variety. I'd get bored with the same one for everything - variety is the spice....etc.  
If I were really forced to choose just one single variety for taste however, it would probably be the Mayan Gold which is a second early/early maincrop.  It is very versatile, being waxy if lightly cooked, or very floury if cooked for longer. It looks every bit as beautiful as it tastes, is very ornamental with quite unusual foliage and gorgeous deep purple flowers. It also fascinatingly folds up it's leaves at night, a bit like a Maranta (the prayer plant). I've grown it for many years since it first became available, both in the tunnel and outside, and I've seen it recover quite well from late frosts, and even blight - growing on again healthily when the weather became drier. It's fantastic for every use in the kitchen, and the top chefs in London go mad for it to make saute potatoes. It's only problem is that it soaks up an awful lot of melted butter!!  A deep gold, almost sweet potato-like colour - it even increases in vitamin A during storage! Although it's actually quite a difficult potato to store, as it starts to sprout like mad in November, but I discovered why, on reading Roger Phillips and Martyn Rix's great vegetable book again. 
Apparently the Phureja potatoes, from which Mayan Gold is descended, do not have a proper dormant period, being more adapted to growing conditions in the Caribbean! Which definitely explains why dear old MG enjoys itself thoroughly in the tunnel. It's just flowering now - and it always looks so beautiful! The other advantage of not being day-length sensitive is that it's quite happy to grow at any time of year - so I often use it for growing Christmas new potatoes, planting it at the end of August or beginning of September. It's one I wouldn't want to be without!.......But then......there's so many others too - like the deliciously healthy, purple-fleshed, high-anthocyanin varieties. I've got several different varieties of those now - the first of which - Truffe de Chine I obtained in Harrods Food Hall in Knightstbridge well over 30 years ago and which started an undending passion for them! I can just never resist anything different - so it's absolutely impossible to just pick just one favourite!!
The potatoes in pots which I start off at the conventional time of mid-March are planted out when they're about 6ins. high. I water them in after planting and then mulch them thickly with grass clippings, keeping the mulch 3 or 4 inches or 10cm away from the base of the stems to avoid rotting. Then I water again immediately, otherwise the strong vapour given off by the nitrogen in the freshly cut grass clippings can burn the stems and leaves. This is really important whatever crop you are using a grass mulch on. Always water immediately - even if the ground was already moist beforehand. A lot of 'experts' forget to tell you this - then you wonder why your plants turn yellow and the leaves curl up - voice of experience!  Doing this also 'seals' the grass mulch into a mat quite nicely, sort of knitting it together, which helps to keep moisture in, cutting down on watering, and also keeps the weeds down. After a few days it goes brown and looks very neat and tidy. It's also a very handy take-away nest material for blackbirds - yesterday I surprised a blackbird in a potato bed - it flew off with a huge beak full of mulch - at a distance it looked as if it was carrying a small hedgehog almost as big as itself - then I realised it was helping itself to ready chopped, nicely dried grass bedding! Delighted to be of service in return for the pest control and the lovely music! The gratitude won't extend to free raspberries however!! There's plenty of berries planted exclusively for them down in the woodland!
By the way - if you're thinking of saving a few of your own early potato tubers for seed tubers for next spring - then make sure that you mark one or two of the very best, most healthy-looking plants, as soon as the foliage has fully emerged. Those must have perfectly green, really healthy-looking leaves with absolutely no yellow blotches, no twisting or odd-looking crinkling - as these could possibly be carrying viruses. Again many 'experts' tell you only to save sound looking tubers - but they don't tell you to look at the plants when they're growing - which is what you should actually be doing!  Tubers which are in fact carrying a virus can look perfectly sound and OK, - and it's only when they grow foliage that you can see if they are unhealthy and virused, by which time it's too late.  Check their health again when lifting - more on that in a couple of months.  As I've mentioned before - Lady Christl is the very fastest if you want to produce extra-earlies in the way that I do (planting in Jan.), Duke of York (which has a slightly better flavour) is the next fastest - only about a couple of weeks behind and Apache has now been a great success for the last few years. Mayan Gold is also definitely worth trying, though it's about another week or so after them until it has a worthwhile crop. Sharpe's Express and Annabelle are also good for 'extra-earlies'.
Brassicas safely tucked up under Enviromesh
Planting out brassica plants such as cabbages and calabrese
 - these must be protected with brassica collars fitted snugly around the stem against cabbage root fly. Seedlings must also be protected from now on too - as the fly is becoming active. As you obviously can't yet use brassica collars on them because they're too small, it's best to completely cover them with fleece or 'Enviromesh'. I prefer 'Enviromesh' as it gives better air circulation and light transmission. This will stop cabbage white butterfly too, and I saw several of those in the tunnel a month ago!
If you're starting off in a new allotment, where previously grass has been growing, there may be plenty of wire-worms, cutworms and leather-jackets (daddy long legs larvae) in the soil.  It's a good idea to turn over the soil a few times before planting and let the eager birds scratch them up. Starlings are particularly good at this! These can otherwise devastate newly planted out lettuces, cabbages, etc., slicing neatly through the stem, causing the plants to collapse, by which time it's too late. If you see that happening to one, then dig around the base of the others - you may find the grey-brown caterpillar-like grubs there before they kill other plants. Destroy! Chickens are also brilliant for putting onto newly cultivated ground for a while specifically for this purpose - nothing escapes their searching sharp eyes and eager beaks!
For the fourth year running, we're enjoying again what was a new brassica crop to me until 2 years ago, although it's something that I'd meant to try for many years. The luscious broccoli Nine Star Perennial which you can see above - so good with a little butter or Hollandaise sauce (or in my case - rather a lot!) It does take up a lot of room though and it's hard to fit in everything - even into a large garden - especially when there's only one gardener - just me! With only very occasional help mowing etc. from other members of the family! I don't ever remember less slug damage to the lush new shoots of plants fast emerging in the borders - that just proves one of the many benefits of having the a very hungry population of birds and other wildlife that I encourage in the garden! 
Carrots also need covering completely now with Enviromesh
. It's better to sow them in a row, rather than broadcast in a wide band - as I saw someone recommending recently, unless you've got an extremely weed-free soil, otherwise they'll just get smothered by weeds. It's much easier to see where a distinct row is. You really don't want to weed unless you absolutely have to, as the smell of bruised carrot foliage will attract every carrot fly for 10 miles! In a row you can see exactly where the carrots are much more easily, then you can just hoe either side of the row and leave the few weeds in the middle without bruising the foliage and causing the release of scent. Do this 
very
 early in the morning - carrot flies only become active around 
8 am
-ish as the day warms up - so the earlier you can do this the better. Then water the row and cover securely again - carrot flies will get through even the slightest gap. I find that this way I get great crops with no damage.  I mostly grow the larger Nantes type carrot all year round now as I think they have by far the best flavour.  
Remember - making compost isn't rocket science - so don't get in a state about it! Many people think it has to be absolutely perfect - it doesn't. Nature does it gradually all on it's own! Weeds can grow incredibly fast at this time of year but all annual weeds can go into the compost heap, so there'll be plenty of material around to make it now! Just make sure you have a good varied mix of soft green material and more fibrous brown and stemmy stuff. If it's going a bit slimy, perhaps because you've added too much cut grass or sappy green stuff, then turn it and mix in more carbon. Material like well shredded newspapers, un-sprayed straw, hay or dried up plant stems and chipped woody prunings will all balance the wet stuff and introduce some air, so that the heap will work better. A shredder is really useful in a large garden, it conveniently chops up things like woody prunings and brassica stems into an ideal size for mixing into the compost heap. Put all your perennial weeds like docks and nettles into a barrel of water - many are deep rooting and bring up very valuable minerals from lower down in the soil profile. Rotted in water they'll make a really good liquid feed combined perhaps with comfrey or nettles. Then when they're totally rotted in a few months - they can then be added to the compost heap along with everything else. I put anything which might attract rodents, like fruit and vegetable scraps, into one of those municipal grey tumbler bins, along with some shredded newspaper and chicken bedding of manure and shavings, to start their decomposing - they can then go onto the heap or the garden if they're well enough rotted. I put a deep tray underneath to catch the drips - there's a surprising amount. I bottle the fluid which runs off, and after storing for a while it makes a good liquid feed diluted to the colour of weak tea. Alternatively you can also add those things to your worm bin if you have one, although worms aren't that keen on tomatoes and really hate citrus fruit skins as they're too acid!
New material is added to the compost heap before it's re-covered to retain heat
Unless you cover compost heaps - then mostly all you're making is a soil conditioner - and all the valuable nutrients will be lost! It will also be emitting greenhouse gases like nitrous oxide. So don't forget to keep compost heaps covered with something waterproof - whatever the time of year. This argument also applies to my deep mulching with manure comments earlier!  Covering it also helps to keep the heat in, which makes the heap rot much faster, keeping in the steaming fumes, which then condense back into the heap, stopping possible nitrogen loss into the air. There's no point going to all the trouble to make lovely compost if you then leave it open to all the weather, so that the rain pours through it and washes out all the valuable nutrients, which leach out, run off and are lost, also polluting groundwater. In order to catch any possible run off from heaps it's a good idea to plant comfrey beds beside them, or let nettles grow there - which usually plant themselves! These will capture any nutrients which run off and will then recycle them into a liquid feed or onto the heap again when their leaves are cut.
If you've just started gardening and you don't have enough good compost available yet, or want to 'top up' nutrients for hungry crops, then Osmo Organic Universal granular fertiliser, fish, blood and bonemeal, and seaweed meal are all useful. There are more and more good compound organic fertilisers available now, so don't let fast growing crops go hungry, as if starved they may run quickly to seed. Don't let them be thirsty either - keep them well watered - mulching with things like grass clippings from lawns not treated with chemicals (I hope you wouldn't!) to conserve water wherever possible. Plants can't make use of food without water. Don't just rely on these alone however - you also need the humus that soil microbes make from decomposing plant remains and carbon, found in manures, compost or mulches, in order to protect the structure of the soil and to feed worms and all the billions of microorganisms which live there and make nutrients available to plants, in what's known as a symbiotic relationship - mutually beneficial in other words. 
Even if you can get well rotted organic manure - it shouldn't be lashed on.  As I said previously - too much can be just as damaging to beneficial soil life as chemical fertilisers. Moderation is the key. You can make up for a shortage of humus by mulching with grass clippings and other plant wastes, making worm compost, growing green manures or cover crops to incorporate into the soil surface and making as much garden compost as you can. Everything helps - the more varied the better. Mushroom compost is highly undesirable though, as if it's non-organic it will almost certainly contain very persistent toxic chemicals which kill vital soil life and may contaminate crops - and apart from that it also has a very high pH, which can again unbalance soil nutrient availability - causing chlorosis and yellowing of leaves. With no large livestock now, I only have hen manure and with only 6 hens there is little enough of that - so I tend to use a lot of mulches and green manures - which are more that way that nature does things anyway!
Planting out tender crops in late May
At the end of the month, or the beginning of June, depending on where you live, you can start to plant out more tender crops like celeriac, celery, sweet corn, courgettes, French and runner beans etc. after properly 'hardening off' (see April). I don't like to put up a fixed structure for beans, as I find individual 8 ft canes work much better on my sometimes extremely windy site. They can then move individually in the wind and when fully-grown don't present a 'fixed wall' or wigwam of beans - which may well all blow over completely, as has happened several times over the years! We often have very strong winds here in our summers!  If only one cane blows over, the plants suffer less damage and are far less likely to break,. It's also more easily pick up and supported again than trying to resurrect a whole row! I sow two beans to a 500 ml plastic yogurt pot - I find those an ideal size. Each pot full is then tipped out and planted beside it's own cane. There's still time to sow things like French and runner Beans, sweet corn and squashes. Squashes courgettes and pumpkins in particular grow really fast!
My pumpkin display photographed by Joy Larkcom in 1991
If pumpkins and summer squashes are developing fast, and the weather is not warm enough to plant them out - don't risk planting them too early. If the roots are filling the pots - feed them - pot them on into bigger pots and wait until the weather is warmer. They hate being checked and never crop as well if you allow them to become pot-bound. When you're ready to plant them out - plant them into a nicely prepared, really fertile, sunny spot and stand well back!  They grow very quickly, and are wonderful winter food. If ripened properly they will keep for months - in fact I'm usually using the last of my stored ones when I'm sowing the next year's! I've still got some of last year's that are perfect! 
When the wonderful garden writer Joy Larkcom was staying here in 1991, she took this terrific photo of some of my squashes on the table in my hall. I love to see them all arranged there in the autumn. They keep really well there for ages as it's dry but quite cool.  I almost can't bear to use them as they look so sculptural and decorative! Greed always manages to win over art in the end though! My pumpkin and basil soup is one of the best midwinter 'cheerer-uppers' I know - real comfort food. My kids used to call it 'sunshine soup' - it really reminds one of all the colour and warmth of high summer in the middle of winter. The ones best for storing are not the watery easily carved, over-sized 'Halloween' ones though. You want the really hard, deep orange fleshed, high dry matter varieties like Blue Hubbard, Crown Prince, Marina di Chioggia, Queensland Blue, Hokkaido, Golden Hubbard, Pink Banana and Buttercup. These will store for at least six months if ripened well and are another vegetable which ripens more and increases in Vitamin A with storage. The ones that start off blue all turn pink as they ripen more with age. They can be used in exactly the same way as 'butternut' squashes, but are much tastier! These are all available from The Organic Catalogue, Suttons, Simpsons, Real Seeds, Mr. Fothergill's  etc. and grow so quickly that you've still got time to sow them even in June in pots, when their germination will be more reliable and slug proof than outside! My tips on sowing all the cucurbit family are in this month's polytunnel diary.
In early May 
there's so much to look forward to!
Now at last winter is over - but we haven't quite said goodbye to Spring. Don't be in too much of a hurry to plant out tender crops yet or to sow into soil that may still be cold and wet. Despite the gloriously sunny weather of last weekend's Bank Holiday - we're not quite into summer yet - so it's back to jeans and wellies - it's definitely not shorts weather! This morning there's a freezing south-easterly gale blowing in from the Irish Sea with blossom and leaves lying everywhere! The garden looks a bit like the aftermath of a wedding!  We're in that sort of halfway time now - the ante-room for real summer. This morning's gales will do a lot of damage to the blossom in the orchard and to any outside crops. There won't be too many bees flying today either!  
Every day now there's something new, fresh and green to enjoy in the garden and fruit bursting into promisingly beautiful flower. 
Luckily, despite some cold nights over the last couple of weeks, there are now plenty of insects around for birds to eat and many beneficial ones like hoverflies that will deal with any aphids.
Despite the cold nights we've had some lovely warm sunny days too. Suddenly everything is lush and burstingly green and you can almost hear things growing!  It's so good to feel that urgent sense of regeneration and hope in Nature again, after months of winter.
Don't worry about the stuff you haven't done - if like me you're behind either because of the difficult weather, or for some other reason - life getting in the way as it does, be realistic - it doesn't have to be perfect! Remember that the most important thing of all to do in your garden is to enjoy it! Even the smallest bit of home grown produce is a real achievement - so celebrate it! 
Happy gardening.....and Happy Eating! We've got an exciting summer of delicious produce to look forward to - aren't we so lucky!
(Please note. I really enjoy sharing my original ideas and 40 years experience of growing and cooking my own organic food with you. It's most satisfying and naturally also very complimentary if others find "inspiration" in my work......But if you do happen to copy any of my material, or repeat it in any way online - I would appreciate it very much if you would please mention that it originally came from me. It's the result of many years of hard work and hard-won experience. Thank you.)