"Remember - always sow the seeds. You can catch up on everything else - but if you get behind on that, there's nothing you can do about it." ....That means do it now!  Every day, light is getting shorter and growth is slowing. - In the UK and Ireland we don't know what we're facing with Brexit - so anything you can sow now may give you some vitally important fresh salads etc, if there is a shortage of fresh vegetables!
Growing home-saved seed & supporting independent organic seed companies ensures diversity in seed supply & future food security
Sow outdoors in pots or modules - for later planting in the tunnel or greenhouse when summer crops are cleared and space is available - or direct sow in tunnel now if not too hot:
Cabbages 'Greensleeves', 'Greyhound' & other leafy non-hearting spring types, carrots ('Nantes' and other early finger types, possibly in long modules for transplanting), kales such as Cavalo Nero, dwarf green curled and Ragged Jack (or Red Russian) for baby leaves, lettuces (non-hearting leafy types such as green & red Lollo, Batavian, Jack Ice and Lattughino, Winter 'Gem' & winter butterheads), lamb's lettuce (corn salad), endives*, Swiss chards & 'perpetual leaf beets*, beetroot 'Bull's Blood' & 'McGregor's favourite' (for salad leaves*), peas (for pea shoots - Oregon Sugar Pod a good variety), Claytonia* (also called miner's lettuce or winter purslane), American Landcress*, leaf chicories*, rocket, brocoletto 'Cima di Rapa', all oriental greens such as mizuna, pak choi*, Choy Sum, mustards, Komatsuna, Tatsoi etc, summer turnips*, summer spinach, salad onions*, leafy salad mixes, coriander*, chervil*, plain leaved and curly parsley* and broad leaved sorrel*. 
Covering all young seedlings while in seed trays outdoors with a fine mesh-covered frame or cloche will give them protection from pests, early autumn strong winds or heavy rain. Cabbage root fly is still active in early Sept. and can devastate brassica crops. Be extra careful with watering and ventilation of seedlings now, in the damp autumn air.
Outdoors, sow in modules, in a seedbed for transplanting, or in situ where they are to crop - To possibly to cover with cloches or frames later on in autumn:
Early summer cauliflowers for next year, brocoletto 'Cima di Rapa', fast-growing early 'Nantes' type carrots for a late autumn crop, cabbages (red ball head, 'Greyhound' and leafy non-hearting spring types), leaf chicories*, endives*, salad onions*, Claytonia (winter purslane)*, lamb's lettuce*, American Landcress*, winter lettuces*, kales*, radishes,Oriental radish such as green skinned red fleshed Mantanhong, or Pink Dragon  (a great variety), rocket, summer spinach*, Swiss chard* and leaf beets*, oriental greens such as Choy Sum, Pak choi*, mibuna, mizuna, mustards 'Red & Green Frills', Chinese kale (Kailaan), Komatsuna*, and any fast-maturing salad leaf mixes.

 
On any empty patches of ground already cleared of crops that won't be used over winter - 
Sow green manures now such as alfalfa, red clover, mustard (a brassica so watch rotations) winter tares, field beans, fenugreek, phacelia and Hungarian grazing rye. These will help to protect and improve soil, mop up nutrients to stop them leaching in heavy rain, being lost and polluting groundwater. Green manures or even weeds will 'lock-up' carbon and feed worms later when cut down and covered. Dig them in or cut down and leave on surface later after the first frosts, then cover to protect the soil, prevent nutrient loss and possible pollution. The worms will then work on incorporating the plant material into the soil over the winter - leaving you a perfect, weed free, warmer,  more friable and more fertile soil to start your spring sowings next year. Don't leave manure or mulches uncovered now - you will cause pollution!
Also sow a few hardy annuals, to flower early next year for bees and other pollinators. Bees need all the help they can get now!
If you want new potatoes for Christmas - 
You could also still plant a few sprouted potato tubers in pots before mid-Sept
.
 - to bring into the greenhouse or tunnel later.  'Autumn planting ready' types are available now in garden centres - or if you have any small tubers of 1st or 2nd earlies you've kept from your spring crop, or 'Mayan Gold' or 'Apache' lifted in spring/summer - put them in the fridge for a couple of weeks - then bring into the warm and keep dark for a few days - this will initiate sprouting of shoots - Mayan Gold and Apache are great-tasting potatoes which are not day-length sensitive and will grow quite happily at any season of the year. Lady Christl is also good and always the fastest to bulk up but Sharpe's Express and Duke of York are also good. The sooner you plant them the better now. Give them really good air circulation once they are above the surface - to avoid late blight and 
don't 
wet the leaves when watering as doing this encourages it.  
*Best sown in early September
And don't forget there's still just time to plant some saffron bulbs (see last month).
Here is something I've put together for any Late Lunch Show listeners and others who may be new to 'Growing Your Own'
If you're growing something for the first time, I hope you will find this blog post useful.  If it seems a bit disjointed or there are repetitions in some places further on - apologies because some of it was sort of 'stitched together' in a hurry from my programme notes, and also from several older blog posts.
I think that the Corona-virus pandemic will undoubtedly have had an effect on the mental health of all of us - to a greater or lesser degree
.  Gardening can be extremely therapeutic, and in these stressful times, growing even a small amount of our own healthy food feels such a positive thing to do.
I hope for some that this blog post may be the start of an absorbing and satisfying habit that could last a lifetime. For other, more experienced gardeners, I hope this may give you some more ideas for getting that little bit more out of your space - and space is something us gardeners never seem to have enough of for everything that we want to grow!  
Gardening isn't just a relaxing hobby which distracts us, while we concentrate mindfully on what we're doing.  It is also great exercise, and if we're outside in the fresh air, using an organic compost or digging in some healthy living soil, then additionally it means that we are breathing in the naturally beneficial soil microbe Mycobacterium vaccae.  M.vaccae
 has been scientifically proven to help lift our mood, and make us feel more positive, by stimulating our brains to release Serotonin - the 'feel-good' hormone.  If gardening can help to alleviate the stress which we're all experiencing right now even slightly - then it's surely got to be a really positive thing.  Enjoying our first fresh, homegrown produce is also an experience like nothing else.  That thrill of achievement and satisfaction never goes away, no matter how long one does it.  Another benefit is that it can also save a considerable amount of money!
So Why bother to grow your own Food in Winter?
I am constantly amazed at the number of people who only get round to clearing up the remains of the previous year's mouldy and disease-ridden old tomato and cucumber stems in spring when they get the urge to grow something!
Especially when t
hey could have been eating delicious home-produced salads and other veg all winter.  Not only are they completely wasting precious and expensive cropping space for at least one third of the year - but they then wonder why their lovely summer crops almost immediately get hit by pests and diseases as soon as they plant out this year's crops!  This is because the spores of fungal diseases like botrytis etc which have overwintered on the rubbish left from last summer will be flying around the minute they go to clear up the mess!  Any protected cropping space is so valuable - and often so hugely expensive to put up initially - that every inch of it it should be earning its keep, and producing helathy food for you all year round!
Why I use peat-free seed and potting composts
I can't stress enough just how important it is to use a really reliable SEED compost. DON'T use
a 'multi-purpose' compost as they may contain far too much fertiliser which may burn the young roots.
Many seeds are very sensitive to a high nutrient level in the compost - and seed is expensive so you can't afford to waste it! 
I always try to share my money saving tips here in my blog - but compost is one example where trying to save money really is a false economy.  In my experience - you get what you pay for!
There are a few peat-free composts available now from DIY multiples, but I've tried most of them and they were all absolutely dreadful!  And they weren't organic either!  I personally prefer organic as artificial fertilisers discourage soil life - something that organic gardeners always try to encourage.   Several garden centres here are now stocking my favourite organic peat-free composts  - made by Klassman, both the seed and the potting composts. They are by a very long way the very best composts of any sort that I've ever used!  In Ireland, Klassman composts are available by mail order from 
Fruit Hill Farm - 
https://www.fruithillfarm.com/
  (the Irish importers) but the postage is quite expensive and will cost you as much as just one bag of the compost!  If your local garden centre doesn't stock it then ask them to! If you're anywhere near north Dublin, 
White's Agri at Ballough, Lusk, Co Dublin (on the old main Dublin-Belfast road) also stock it now too - http://www.whitesagri.ie/Products/GardenAllot.aspx.
Organic peat-free compost is a bit more expensive than some of the others I'll grant you - but
believe me it's worth every single cent.
I wouldn't sow valuable seed into anything else. Seed is so expensive now that you only have to lose a couple of packets and the cost of those would have paid for a bag of decent compost!  Being peat-free you can also feel good about not destroying peat bogs and the fact that you're also helping to preserve biodiversity and slow climate change too! And before you say that making it miles away in Germany isn't very environmentally friendly - making it in bulk, from organic, specially grown plant material, is actually a carbon-friendly activity - and shipping it in bulk to the UK and Ireland is many times less destructive, less carbon-emitting and so much better than digging up our precious, irreplaceable and biodiversity-rich peat bogs!
I don't need as much of the seed compost as I do the potting compost, generally only getting through 2 bags a year even with a big garden and growing all our own food.
If you only have a small garden and the bag of seed compost is more than you think you'll use in a year or so then you can always split it with a friend. Although if it is kept undercover I find it doesn't go 'off' like other composts, and will last for quite a long time - at least 2 years - as long as you keep it dry and cool.  I've even used 3 year old compost and it gave perfect results. Make sure that wherever you buy the compost, they have also kept it dry and cool. Never buy saturated compost that has been sitting out in winter weather without being covered! If the compost hasn't been stored properly - the natural ingredients in it will have changed and plants may either be starved of certain nutrients, or become diseased. 
White's Agri are also the Irish agents for my favourite organic plant foods - the 'Osmo' range. The liquid tomato feed is brilliant and thoroughly reliable, 
as are the other products. 
Salads in a large pot will start to crop in 6-8 weeks if sown now - and my stepladder salad garden and recycled skip-bag raised beds will fit onto a path
 
Veg Without Limits - Container Growing
This year I've been unable to grow as much outside in the garden as I normally do,  with my ankle surgery having been postponed due to hospitals having cancelled all elective surgery in order to make more space for patients with Covid-19.
 As a result, I'm prioritising container-growing of veg which either I know I wouldn't be able to buy in shops, or those which are eaten fresh and uncooked, like salads. This is not just because homegrown is much fresher, but also to avoid any contamination with the virus - as far as is humanly possible.  I generally prioritise salad growing, as they are all so much better for us when eaten as fresh as possible, and picked just prior to eating - which you can only really do if you grow them yourself. Fresh raw green vegetables also feed our gut bacteria, which turn them into compounds which keep us healthy.
A couple of months ago, while doing extensive research trying to discover how long it was estimated the virus might last on fresh produce, I found a very concerning study which was carried out in 2013, on the SARS and MERS Corona Viruses, which are both related to but slightly less virulent than Covid-19, and the study also included the influenza virus. The study showed that they can all survive for up to 10 days on fresh, uncooked produce such as lettuce or strawberries
 - those fresh foods which we are encouraged to eat the most of for health reasons! The virus can only be killed either by cooking or washing thoroughly, with soap or disinfectant - neither of which you can obviously do with soft produce like lettuce or strawberries, but which you could possibly do with harder produce like apples or peppers. As a result - I feel that erring on the side of caution, and treating any fresh produce you haven't grown yourself as if it may potentially be contaminated, is the most sensible option. It's better to be safe than sorry - especially when so much of the veg in shops is either imported from abroad, or even grown and packed in our own country by people who may not yet be unwell, but who could perhaps be carrying the illness in a mild form as someone as some are, or may be developing it - when it can be spread to others before one is aware that one may even be ill. It is for that reason that I think growing your own fresh salads which you will eat raw has never been more important.  Another concern is that workers in some countries that fruit and vegetables may be imported from in many cases have very poor living and working conditions, and are also not provided with adequate PPE - which means they can obviously contaminate any produce they touch.
It's most important to stress here that as far as we know and I can ascertain from extensive research - NONE of these viruses can survive in properly cooked food. But while I don't want to panic anyone - no one currently seems to be highlighting the possible surface contamination of fresh produce as a potential source of infection, as far as I've seen. Evidence also shows that it can be passed on through contaminated faecal matter - so once again it's absolutely vital to stress the importance of repeated and effective hand-washing.   If you're preparing food that will be eaten uncooked, or even after you've prepared any fresh produce that will be cooked - wash your hands thoroughly before you do touch ANYTHING else!  I know we're already probably thoroughly sick of hearing it - but it can't be repeated often enough, if it may save lives. 
Here is a link to the study I've mentioned:  https://link.springer.com/article/10.1007%2Fs12560-013-9114-4 - "Survival of Respiratory Viruses on Fresh Produce"
So What can you grow in Containers - if you don't have a Garden? 
This is something which I'm asked about a lot and the answer, perhaps surprisingly, is - quite a lot!  In fact - pretty much anything that you can grow in a polytunnel, or outside in the garden - you can grow in containers - but obviously just on a smaller scale. 
You won't be self-sufficient in fresh vegetables and fruit by growing it all in containers - but you'd be surprised at just how much you CAN grow!  If you're short of space and think you can't grow your own veg - then think again!  You'll be amazed at what will grow even in quite small containers. I know that not everyone is lucky enough to have a polytunnel or sometimes even a garden - but many people have a path outside their house - and if they have - then perhaps there's space for a tub or two?  Some people live in a flat which may have a balcony - and that can be a very useful space. So often I hear people saying "I don't have an allotment - so I can't grow anything".  Many people have tiny gardens now - especially in new housing schemes where space is expensive. Even if you don't have a garden at all - perhaps only a windowsill or a balcony - there's still no excuse not to grow at least something which will be far fresher than anything you could buy, a lot healthier and save you some money for very little effort. And I don't mean just an unhappy-looking pot of herbs on your kitchen windowsill!  
If you've got a path with room to walk on - then the good news is that you've got room to grow at least some healthy salad veg in containers. 
So What Type of Containers are Suitable?
Basically you can use anything which will hold enough depth of soil and has a few holes for drainage.  
Plants like lettuce, spinach and many other salads are quite happy with about 6 ins/15cm of compost or soil, because they make a very fine mass of fine roots which spread out - rather than a long single 'tap' root. But the deeper it is the better - then you won't have to water and feed plants as often. I grew my whole veg garden in containers 40 years ago, before we moved here, because I had a severely allergic child who needed chemical-free, organic food. In those days organic veg wasn't available in shops anywhere - so I had no choice!  In the second year as I got better at container gardening - I grew French and runner beans in strong carrier bags and froze 40lbs of them! Granted I spent a lot of my time feeding and watering - but it was worth it as we were pretty much self sufficient in veg. As I was at home with two toddlers then and not working or writing blog posts - I had plenty of time then compared to now.  It's amazing what spaces you can find to grow things in if you're determined - and it's great fun experimenting!  Even though I have a large garden now - I still love to experiment and find new ways of growing things!
For instance, there's my stepladder/mushroom box garden which I invented a few years ago (much copied since!).
 This will fit into anyone's front porch or on a balcony. It takes up less than a half a square metre and you'd be absolutely amazed just how much produce I got from it last year!  I picked up the used mushroom boxes, which are nice and deep, in the veg department of my local supermarket and they happened to be an ideal size to fit onto each step, but still not too heavy to move - even with a soil/compost mix in them.
I've tried growing almost everything in the mushroom boxes and some veg do better than others.
Most things are happy in them as long as they get enough food and water - even small, stump-rooted varieties of carrots - but veg with long roots that go deep, like parsnips, large cabbages and leeks don't like them, they need deeper containers like old dustbins or skip bags to grow happily. It would cost far too much to fill these up with just compost, but you can fill up to 2/3rds of larger containers with any garden or kitchen waste which you would normally put into a compost heap. Things like twiggy prunings, annual weeds, veg peelings, newspapers and cardboard are suitable, and also grass clippings - as long as they are from a lawn which hasn't been treated with weedkillers. The bonus is - that in a few month's time, all that stuff will have mostly broken down into perfect compost, to which you can either add more material and then another top layer of potting compost to grow more plants in - or you can tip it all out to use somewhere else in the garden or sieve and use in another container as the top layer.
I grew lettuce, herbs, chilies, Maskotka bush tomatoes, radishes, celery leaves, rocket, spinach etc. in those boxes on the steps a few years ago.
 I also put a couple of large 10 litre buckets either side of the stepladder, each fitted half-way underneath, one was planted with a Sungold tomato and the other with a watermelon Sugar Baby. I got terrific crops from both by training them up either side of the stepladder, tying them up to it as they grew!  Next to it in the picture here there's also some recycled skip-bag raised beds which are equally space-saving. The two bags fitted onto a large 'grow-bag' tray, but grew far more than you would ever be able to grow in a normal sized grow bag - and of course they were organic. I grew a fantastic crop of early potatoes, broad beans, Swiss chard, spinach, mangetout peas and then sweet potatoes in those last year - multi-planting so that there were two or three things growing in the bags all at the same time, apart from the very early potatoes in one bag which were on their own - as they were obviously going to be dug up, which would have disturbed the roots of anything else with them. I got several crops of fast growing radishes by 'catch-cropping' between slower growing things before they grew too big and shaded them. The sweet potatoes were the last crop of the autumn and they really appreciated the depth of soil in the bags - producing an incredible crop in November.
My 'stepladder garden' beside the recycled skip bag raised beds in late March shows what you can do in a very small space, with lettuce, spinach, celery leaf, peas & herbs.
Large attractive pots, if you can afford them, are very nice to look at 
- but if you're trying to save money, then 10 litre recycled mayo or coleslaw buckets from the local supermarket deli are good too, and they always have those at every deli counter. Ask nicely and you'll be amazed at what they have. 
Once you start on the "What can I fit some soil into?"  route - then frankly the only limit is your imagination - and of course any desire for tidiness! 
That's not something that bothers me greatly, I have to say, if I'm getting wonderful veg - and you can always hide the bucket by growing something trailing in it! In fact you can grow in anything that you can fit soil or compost into!  If containers are large you don't have to fill the whole thing up with good compost. You can fill up the bottom with any kind of garden rubbish that you would normally put on the compost heap, to bring up the level. Things like soft prunings, old pot plants (only organic ones as others may contain nasty chemicals), last year's container soil/compost etc. perhaps mixed up with cardboard and newspapers - and if you mix in some garden soil as well this will all compost down nicely at the same time!
As long as you have about 30 cm or a 1 ft or so of depth of a nice soil/organic compost mix as the top layer, then anything will be delighted to grow in that. If containers are tall I find it useful for the sake of stability to also mix the lower layer with garden soil which is heavier. This is particularly important if the containers are in a windy spot or you're going to grow tall crops like runner beans or tall peas. The advantage of tall containers like skip bags is that not only do deeper rooting crops like chard etc have more room - but also dwarf mangetout peas or trailing courgettes can also drape attractively down the sides, making them more attractive - maybe mixed with a few trailing nasturtiums to attract bees and beneficial insects. The sky's the limit as my article on stepladder gardening here in the link below shows! 
Many years ago, I did a lot of experiments with growing in all sorts of containers, even using dustbins, old sinks and recycled carrier bags!
 The reason mainly was because we were in the process of moving to where we live now, but I still wanted to continue growing organic veg as I couldn't buy any then. Over the course of 2 years I grew an entire vegetable garden in various containers of one sort or another. Some were a bit 'Heath-Robinson' - but it all worked and I got great crops! I even filled the freezer with 40 lbs of French beans! You can grow in pretty much anything as long as there's enough room for the roots and some drainage holes. Be inventive! Of course they do need a little more watering, looking after and feeding occasionally - but picking your daily salad should remind you to water them anyway! Containers tend to be a bit warmer too - particularly if they're sited in the sun, so crops are often earlier, meaning that you'll get more out of them over the course of a spring and summer, although they can freeze in the winter if you're in a very cold area. I've even protected containers in winter by wrapping them up with old duvets - but that's going a bit far for some people and can tend to look a bit untidy! 
You don't need a polytunnel for container growing - but if you want to grow more tender veg like tomatoes, aubergines or cucumbers, you can now get small, cheap mini-tunnel/greenhouses in most garden/DIY stores and in the discount supermarkets very cheaply, or get a cloche which will fit over your container.
 They can really increase the range of things you can grow over the year and allow you to grow more tender crops like tomatoes and aubergines. Or you could even make your own - as I did years ago out of 2 x 1 inch wooden laths and recycled polythene, begged off a mattress from a furniture store!  They often have loads stashed in skips around the back if you ask nicely - the ones off the double beds are best and last for years if you're careful! Anything you can grow in a large polytunnel, you can grow in one of these, allowing for the head space needed. They do need anchoring down well though in any wind but apart from that they're very effective. The really big plus with containers for most people is that slugs and snails are usually are far less of a problem - you may get the odd adventurous one - but there are plenty of organic ways and means of dealing with them!  
If you don't have much space - there's really no point growing things like carrots and potatoes which you will still be able to buy in shops. 
So What Varieties are Good for Growing in Containers?
Lettuce - loose-leaf types like oak-leaf and Lollo will give you the longest harvest by picking individual leaves rather than the whole head. Cheap lettuce mixes usually contain these and other varieties.
Summer spinach - very fast-growing and can crop in 4 weeks as baby leaves at this time of year.
Radishes everyone knows - but not many people know they can be sauteed in butter when they're delicious!
Perpetual spinach beet and Swiss chard are some of the most productive and nutritious veg. They need a shady spot and a deep container, but will go on cropping for months if well watered and fed.
Courgettes - can be sown now for growing inside or in late April for outside. They like plenty of root room, so a skip bag or dustbin is best for them.
Tomatoes - bush varieties Maskotka and Tumbler both have terrific flavour and are easy. There's still just time to sow those for a good crop this summer here. But you could also beg a cutting of a side shoot of any tomato variety from a friend, root it in a jar of water in a few days and grow it on in a large container even in a sunny porch.
Broccoli - grows well in bucket-sized containers. Green Magic is a great variety,continually producing sweet side shoots after the main head is harvested, if you keep feeding and watering it.
Kales
 - also grow well this way, are fast-growing and can be harvested as baby leaves.
Oriental seed mixes
 containing veg like mustard, Mizuna, Pak Choi etc are very fast-growing and productive.
All herbs are happy in containers
 and if you don't want to grow them from seed - you can buy herb plants in supermarkets - where they are generally cheaper than in garden centres. You can also split pots of basil and coriander to give yo several plants from one potful. Don't split parsley though - as this can make it bolt or run up to seed.
Potatoes and Jerusalem Artichokes
 also grow well in large containers.
Watercress
- easy to root from the shoots found in salad bags - just pop into water for a few days - they'll sprout roots fast which can be planted into a container. Keep well-watered after that and it will produce harvests literally forever - as it is a perennial plant that can be constantly reproduced from cuttings. 
There's just a few ideas for you!
A word here 
about sowing seeds
It's worth taking a little bit of time and trouble to be really careful with sowing seeds, so as not to waste them. They are as precious as gold dust right now - some small suppliers have already sold out, or can't keep up with the demand for sorting orders and posting them
. Some garden centres or nurseries may still have seed or even small plants of vegetables like tomatoes or lettuces - but some have already closed here in Ireland.  Even if you're growing in containers, to avoid wasting seed it's worth starting them off in modules of a good quality, preferably peat-free, seed compost. For best results, don't use a multi-purpose one which says you can sow seeds in it but which will often give disappointing results, or may possibly even kill some sensitive seeds due to too much artificial nutrient, or even high levels of nitrogen in an organic compost. When potting on or planting in your containers - you can use a compost which says it's specifically a 'potting' compost. This will contain more nutrients which will sustain plants for longer, before they will need further feeding. 
Just a warning - I've seen some people online recommending the use of mushroom compost for preparing vegetable beds and planting vegetables. If you are trying to avoid toxic chemicals and grow organically DON'T use it!  It will undoubtedly contain very nasty toxic chemicals which are used in the compost to kill fungus flies - the most common pest of mushroom growing. Not only that - but the 'substrate' or growing medium will have been made using non-organic straw which has already been treated many times with seriously toxic pesticides including Glyphosate. While this may not show up as damage to your produce, the various combinations of most of these many chemicals have never been tested to determine their effects on our bodies when we consume them, the only tests which have been done show that just Glyphosate, combined with the adjuvant always used in commercial formulations to make them more effective, makes the Glyphosate itself at least 1,000 times more toxic!  Although it may be tempting - long and sometimes bitter experience has taught me that it's false economy to use cheap, DIY chain composts containing peat and artificial fertilisers as they are not a natural medium for plants.  I won't talk about the environmental reasons for not using peat composts here, as I do that elsewhere.
When you've been growing in any compost for a few weeks, as plants get bigger they will need some extra feeding as the compost in small containers will quickly become exhausted, especially when plants start to crop.  I make a very nutrient-rich worm compost tea which is excellent for that purpose, but if you don't have room - there are several good organic liquid feeds which are suitable. Osmo is the one I always recommend, as I have had great results with it when growing in containers - especially when I grew 48 different varieties of tomatoes for the first Totally Terrific Tomato Festival which I founded in 2012 - but there are others.  Osmo also make an excellent and very convenient granular organic fertiliser, but it comes in very large bags - although you could share these with another gardening friend. I buy my organic peat-free seed compost and potting compost from White's Agri in Lusk, who are also the main Irish distributors for Osmo products. I called them a few days ago to ensure that they are still open to gardeners. They also have a website which takes online orders for delivery. 
On the bench pictured here I have two cheap Lidl cold frames sitting on a roll-out heated mat - which is a bit like an electric blanket - (from Fruit  Hill Farm). It keeps things at a 'just warm enough' 50/55 degF or 10 degC. The mat sits on a recycled door supported by trestles. To cover then at night I roll out double fleece and a large piece of recycled bubble wrap. So as you can see - it's not very hi-tech but it's actually very effective!  This is a great set-up for growing large amounts of seedlings - but you won't need anything like this for growing in containers.
The advice below is repeated from earlier blogs I've written - so although I've amended it in places - you may find some repetition, but it remains exactly the same and can't be repeated often enough if you want good results!  In a normal year, from March until about June, most garden centres will have module-raised lettuce and other veg plants, so if you're a beginner you can get used to growing the veg plants first, without the hassle of raising stuff from seed - also good news for any of us who are late starters in the vegetable growing season.  But this year, as I've already said - both plants and seeds are selling out fast because people naturally want to ensure some food security due to the worries generated by the Covid-19 situation - so buy any plants or seeds and get sowing asap!  
My General advice for Sowing all types of Vegetable Seeds:
You can raise most plants on windowsills, but contrary to what many people think - sunny windowsills are not the best - as most seeds are quite happy to germinate at a temperature of around 60 degF or 15 deg Celcius.  If you put seed trays on a sunny windowsill, on a warm day even in March the temperature can shoot up dangerously high very quickly and literally cook seeds!  Young seedlings are also far better off on a cooler windowsill - perhaps with a backing of tin foil behind them to reflect light so that they don't become too tall, leggy and weak. As soon as the weather is not freezing - everything but tomatoes and other tender seedlings will be fine outside 
If you're impatient to get an early start, you can steal a march in spring by sowing a few early seeds if you have a warm light enough windowsill indoors,
 or much better still a heated propagator in a greenhouse or polytunnel where the light will be better.  In autumn you can do the reverse, sowing your seeds in pots or modules outside on a bench or table, for perhaps planting in a tunnel or greenhouse later on.  There's a list each month on my "What you can sow" page. But whatever the time of year - it's always a good idea to have everything ready to go when you do, as it makes life a lot easier and your more likely to do it on time from experience!  I love sowing seeds - it's such a hopeful and positive thing to do - it's an investment in the future, short or long term, which pays off in abundance. 
The same advice applies whether you only have a cold frame or just a warm windowsill.
 I sow nearly all my crops in modules now though - as that allows me to get ahead whatever the weather, which means I can plan better, and it helps to make the most of valuable growing space. Obviously the most important thing to do is to always adapt any guidelines to suit your own local climate and soil. That can vary hugely depending on exactly where in the country you live - and often even in individual gardens in the same area. For instance - early spring can arrive in the very north of Ireland up to three weeks later than in the warmer south - and the same goes for the UK. Even within a few miles it can vary surprisingly. Where I live now - 400 feet above sea level on a south west facing slope in the teeth of the prevailing SW wind - the season is at least ten days later than where I lived 35 years ago - down near the sea only 9 miles away.
I sow most things in modules all year round
now - as it
wastes far less seed and I know I can be more sure of the results!
The only exception to this would be root crops like parsnips or carrots - which are really much easier to sow direct in the ground, if you can protect them from hungry slugs!. I only sow these into my recycled 'loo roll middle'  modules if I want to make a really early start - or if their allotted space isn't free yet. As I mention later - doing this really makes the best use of your space, as the minute you have a crop cleared - you have another ready and waiting to be planted. By sowing in modules you're not spending time waiting for seed to germinate in ground which early in the year may be far too wet and cold. Carrots and parsnips like quite a warm seedbed and can be very slow and even rot if the ground is too cold. They can also take up to three weeks to appear and with carrots - the tiny early seed leaves are so fine that they're quite difficult to see - so often slugs will have eaten them before you've even noticed they were actually germinating! 
If you're planning to sow any crops early outside in spring, and their planned future space is free - then it's a good idea to cover it with some black polythene or something else waterproof,
then you can uncover it every so often and clear up any slugs which are lurking around just underneath and get ahead of them too! You'll be amazed how many you'll find hiding under there - they won't bother going underground if they can hide in the dark somewhere damp and snug where they think they're out of sight! 
If you leave soil uncovered, as some people advocate - the slugs also just hide underground or around edges of beds. They've evolved to hide from hungry birds and hedgehogs - not hungry gardeners!
  So be clever and outsmart them - it's always a good idea to trap and dispose of as many slugs as possible before you actually start the growing season, or if you're starting a new bed - that gets you well ahead ahead of the game! 
Please don't be lazy and thoughtlessly use slug pellets - they kill all slug-eating wildlife too and traces of the poisonous metaldehyde they contain are increasingly being found in our drinking water as well!
  If you have ducks they're the very best slug hunters of the lot - they seem to have slug radar in the tips of their beaks - and they'll even eat the really big Spanish ones like rubber tyres which hens won't eat. But beware - as ducks are also extremely fond of anything edible, luscious and green - so don't let them near any lettuces etc. Also be careful if your soil is a heavy clay as they'll pack it down with their webbed feet - causing compaction, 'souring' and acidification - so don't leave them on any patch of ground for too long. After you've sown crops - a strip of black polythene, or a piece of slate at various points along the bed will give any remaining slugs a place to hide - so that you can then go along every so often, scoop them off and dispose of them - or cut them up with sharp scissors and leave them for wildlife to enjoy! When you've got rid of most of the slugs, then you can put some clear polythene on to the bed. This will allow the soil underneath to warm up so that it's all ready. If you see any weed seeds germinating at this point - a flame weeder can be very useful for burning off any tiny seedlings to make what's known as a 'stale seedbed' - which is perfectly clean on the surface and ideal for carrots and other small seeds.(If you're of a nasty frame of mind - a flame weeder is also great for barbecuing slugs!) - 
Remember - weed killers aren't just toxic - they don't actually kill weed seeds, so they're pointless poisoning!
Seed Sowing in Modules 
(This applies to all vegetables, herbs and flowers, whether they're for planting outside later, or for under cover - whatever the time of year.)
It may seem a bit fiddly sowing things into modules like plug trays, pots, or seed trays, but it's what I call my 'guaranteed one-step method to perfect plants'!
This method of sowing means you don't have to handle them again until you actually plant them out. Seed germination is far more reliable in the better conditions. I do most of my sowing into modules all year round now. It means I'm not waiting for a patch to be free before I can sow seeds - and I can have something ready to go straight into the ground the minute any crop is cleared - that way I get loads more veg. out of my space. In essence what I'm doing is continuously overlapping crops. By not taking up ground just waiting for seeds to germinate - over the course of a year I gain several extra weeks of growing time out of my ground space and I can fit in another quick growing crop. I've been doing this for years since I first started off in a small garden and it's an even more valuable way to grow things if you only have a small space. 
Module sowing also involves far less handling of the seedlings and avoids the risks of 'pricking out' seedlings from large seed trays - the less you handle them, the less chance there is of wasting seed through possible damage, which can cause setbacks, fungal diseases or even death. 
The only time when I would sow a few seeds into pots or small seed trays might be when seeds need a much higher temperature for germination - things like aubergines or tomatoes. I otherwise wouldn't have enough space for everything in the small heated propagator - because I grow so many. The other really great thing about module sowing is that I can do all my seed sowing inside on the kitchen table - in the warm! I keep all the 'doings' neatly on a grow bag tray under the table - then whenever I have five minutes - I just pull it out and sow something! For me, this also means that things are far more likely to get sown at the right time. I don't have to plan to set aside a whole day to do it all at once - making it much easier to fit into a very busy life! 
Remember - you can catch up on everything else - but if you don't sow the seeds at the right time - there's no catching up on that. Time waits for no man! (or woman!)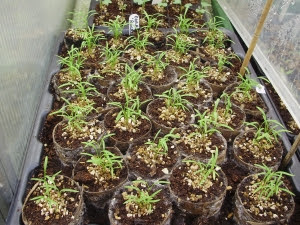 Planting out modules when they're ready also means that the plants are already growing strongly, are bigger and as a result better able to withstand the occasional nibble from any slugs or other pests without being completely destroyed
. And there's always one or two that escape my early scissor forays!  I often get questions from people who think they bought bad seed and it didn't germinate - but usually the reason seeds don't appear is because either the soil was too cold and wet in early spring so they rotted, or they dried out in summer, or slugs ate them as they came up!  Sowing into modules avoids all those problems. Bad seed that doesn't germinate at all is thankfully extremely rare. Whatever pot or module you choose to sow in is up to you, there are masses of things which can be recycled for this purpose, and as usual the choice is only limited by one's imagination!  The important thing is to make sure they're clean, have good drainage holes in the bottom and that the young plants will come out quite easily, without disturbing the root ball if you gently push them up from the bottom - otherwise you lose the whole point of modules - which is to avoid any disturbance which causes setbacks! 
Just a word on using loo roll middles as pictured above.  I find these brilliant for long rooted things like very early carrots and parsnips because they can be planted out intact as they are - completely avoiding root disturbance
- but I don't find them quite as good for other things like lettuce or other leafy crops which have a fine root ball - I think this is because the cardboard rolls are so high in carbon - which needs nitrogen to break down naturally - so it tends to rob this from the surrounding soil or compost as it does so - and also possibly any young plant that is growing in them. 
The other thing to remember about using cardboard tubes like loo roll middles is that they MUST be planted with the cardboard of the loo roll BELOW soil level - if exposed to the air they will act like a wick, drying out and shrinking - evaporating moisture from around the young plants ans fine roots with possibly disastrous results!
The same goes for using paper pots. I get a lot of questions about this from people who have tried i and had disappointing results - but I've never seen anyone mentioning the danger of this happening. I know it does take a little extra compost sowing this way, but sowing into modules also means I don't waste expensive seed - which more than balances out the small cost of the extra compost used. It also means I have larger plants ready to go without losses to slugs. That again also means that I can plan the use of space much better - planting out neat, attractive-looking rows, instead of perhaps having unsightly gaps!  I really love that kind of 
instant potager gardening
. 
It's very satisfying to stand back and look at the results!
The importance of using a good peat-free seed compost
Sorry if I'm repeating myself - bu it makes sense to use a good proprietary organic peat-free seed compost - NOT a multipurpose compost containing peat! A good peat-free seed compost will have been specially formulated to be suitable for small seedlings for their first few weeks when their tiny hair-like roots are very sensitive - and is worth it's weight in gold!  Many seedlings dislike a high nutrient content in composts - so using one specifically for seed sowing is really important - otherwise too high a nutrient content in the compost could inhibit germination, giving disappointing results. I never found those 'seed & potting' multi-purpose peat composts good for that particular reason when I had no choice but to use them many years ago. They also tend to attract root-eating soil pests like Sciarid flies too - because all composts containing peat do that!  I haven't used them for many years as I only use an organic peat-free compost now.
Peat is only a natural medium for plants which grow in bogs - and it should stay in the bogs where it belongs!  Using it is a very selfish choice! It supports enormous biodiversity and also acts a very effective carbon sink
.
  It should not be be dug up for the convenience of thoughtless gardeners who are just looking for the cheapest option - especially when growing your own food actually saves so much money anyway!  In terms of damage to the planet and accelerating climate change - using peat certainly isn't the cheap option eventually!  Any short term financial gain from using cheap, easily available peat is wiped out many times by the loss of important habitat for biodiversity, and also the inevitable flooding caused by reducing the land's water-holding capacity. Bogs act like enormous sponges - capturing rainfall and slowing up huge volumes of water that would otherwise immediately run off the land surface, overwhelming natural drainage systems and flooding not just farmland but also peoples houses and gardens.,
As I've mentioned previously - I use a really good, peat free, certified organic compost. This is available in Ireland from Fruit Hill Farm - (call them for local stockists - getting one bag by post is expensive!). It's also available from White's Agri, at Ballough, Lusk. 
The compost is produced by Klassman in Germany, from composted organic green waste. It's utterly brilliant and is the very best compost of any sort that I've found in over 40 years of growing. It's also available in the UK, and it's worth investigating if you live there. There are a quite a few other peat-free organic composts available there now too - but I haven't tried them, so can't recommend them. I would always prefer an organic compost - as those containing artificial fertilisers don't produce the most healthy plants in my experience. They are far more likely to attract aphids and other pests as the plant's immune defence systems aren't as healthy. 
Once you've used the Klassman organic peat-free compost - I promise you won't ever use anything else! (I wish I had shares in it!)  It's the best compost of any sort that I've ever used. Whether you're organic or not - believe me - this compost is worth every cent!
 Plants really thrive in it - I think possibly because it contains a good range of beneficial bacteria, having been made with organically grown green waste, composted specifically for this purpose. But whichever brand you choose, don't use a potting compost for sowing seeds - it will be far too high in nutrients that inhibit germination and burn the roots of the tiny seedlings as soon as they emerge. They may then be sickly, or possibly even keel over and die!  I grow a lot of rare plants - many of which are fussy and the seed expensive. I can't afford to risk wasting seed. These days no one can - so always go for a reliable, good quality seed compost - and choose peat free preferably - if you care about the environment. 
In addition - make sure that any compost is this year's freshly-delivered batch of compost too! Not old, saturated compost that's been sitting around outside in the garden centre all winter since the previous year!
 That would be stale, will have lost many of it's nutrients and may well harbour moulds and diseases. I always make sure that I have a couple of spare bags put by in a dry place so that I have plenty for early sowings the following year. Also don't use garden soil for sowing in pots - it's false economy - especially if you're a beginner gardener.  It will contain weed seeds and perhaps pests too, and the texture is unlikely to be suitable for sowing small seeds in pots or modules. I know good compost isn't cheap - but actually most bags these days cost no more than two or three packets of seeds and you won't need a huge amount. If you're careful a little will go a very long way, and you'll get far better results. You'll avoid wasting expensive seed and precious time too.
Another point I'd like to mention here is that although some gardeners in the UK don't like using British produced peat composts - some of them don't seem have a problem using Irish extracted peat. I just don't understand that 'NIMBY' attitude, because it's every bit as damaging to the environment and to biodiversity, and releases just as much climate-changing carbon which affects the whole planet. So please have a re-think if that applies to you! I think it's a bit like thoughtlessly throwing away your rubbish out of the car window and ensuring that it becomes someone else's problem!
Remember the piece of advice
"Whatever else you don't get time for - always sow the seed - you can catch up on everything else except that".
 - One of the best pieces of advice I was ever given - well worth remembering - and another good reason for sowing in modules so that you're not delayed by the weather or by waiting for another crop to be finished. This is often something that's really hard to remember in the middle of summer, when you're enjoying an abundance of glorious vegetables! If you don't sow many things in June, July and August - you'll have very little to eat in the winter!  Don't spend ages waiting around to get ground perfectly ready either, particularly in a wet year, or you may find it's then too late to sow the seed.
Sow the seed first, in modules if necessary, and then catch up with all the other jobs later while your seedlings are growing on nicely somewhere else, until they're big enough for planting.
Seed sowing - the basics
It's stating the obvious to repeat that most seed these days is expensive - a little care will make your seed go a lot further and therefore your money too!
My apologies to all you 'old timers' out there like me who know all this stuff 
- but maybe you may actually do it differently - and there's no harm in reassessing the way we do things occasionally is there? Gardening is an occupation where you never stop learning, that's what makes it so interesting.
1. First fill your modules, pots or whatever with good seed compost, firming it gently but not ramming it down too hard. Then make suitably sized small depressions in the top of each one with the end of a old pencil, pen, or whatever's handy. Seed differs in the depth it prefers to be sown, so consult your seed packet on this one, there isn't enough room here! Generally I find a depression of about 1/2-1 cm is suitable for module sowing of most things depending on the size of the seed. A very rough rule of thumb though is to sow at about twice the depth of the seed. As some really fine seed like celery or Nicotiana prefers to be sown on the surface and not covered at all - If you're going to sow very fine small seed it's a good idea to water the containers before sowing, to avoid washing tiny seed either too deeply into the compost, or alternatively washing it completely out of the compost! Some brands of seed composts can be quite difficult to wet if they've become exceptionally dry - so when sowing anything it's probably a idea good to moisten all composts a bit first - and letting any excess drain away.
2. Next, after you've prepared your modules, before you even handle the seed packet make sure your hands are absolutely clean and dry!  Don't attempt to open the packet with dirty wet hands from preparing your compost, soil or whatever! Unless you're going to sow all the seed at once, which is unlikely, you need to take care that the atmosphere around the remaining seed in the packet is as dry and clean as possible. Most people with average-sized gardens won't need to sow a whole packet of seed at once - despite what the packet tells you! (obviously they're trying to sell seed!) When you've taken all the seed you need, squeeze as much air out as possible, seal with sellotape, write on the date it was opened, and store somewhere really cool and dry. Most seed except carrot and parsnip will last well for at least a couple of years this way. People always say "but the experts say store them in the fridge" - all I can say is those 'experts' must have nothing else in their fridges - or have dedicated seed fridges!  Since when were most household fridges absolutely bone dry? But then perhaps yours is a bit tidier than mine! Frankly - I'd sooner tidy my polytunnel any day than my fridge!
3. When you're opening the packet of seed, make sure that all the seed is shaken down to the bottom first. Then slit it open with a sharp knife or with scissors rather than just tearing off the top - this makes it much easier to do up neatly again afterwards. The seed may also be in a 'stay-fresh' foil packet inside the paper packet, so open that carefully too, then when you've finished, re-seal afterwards in the way described. It always says on the packet "Do not re-seal" - pay no attention whatsoever to that!  Seeds will just absorb atmospheric moisture far more easily if you don't re-seal them properly - then you'll have to buy more seed because it won't germinate nearly as well!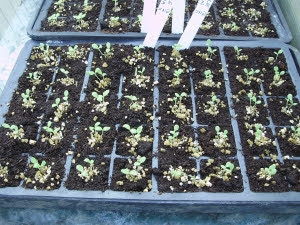 Lettuce - sown 2 per module - now ready for thinning. 21st. Feb.
4.
 Tip a very small amount of seed - slightly less than you think you'll need - into the dry palm of your hand or onto a saucer and carefully sow the amount you want into each module. Never put seed back in if you've tipped out too much into your hand, unless your hand is very clean and dry! I sow lettuce, brassicas etc. in two's or three's thinning to the strongest one when the seed leaves (cotyledons) are fully expanded and there's one 'true' leaf just showing, then you can judge which is the strongest, or if any are 'blind'(which can sometimes happen with cabbage family/brassicas in particular) - then pull the others out very gently and carefully. Beetroot or chards can be sown singly - they are multi-seeded - producing several seedlings in a clump from just one lumpy seed, which you don't have to thin too much unless you want to - I never do - I normally leave three chards in a clump! They grow perfectly well as normal - and I'm greedy! Some modern F1 varieties of beetroot are 'mono-seeded' - these are useful if you just want one seed per station and bigger roots eventually - but the seed is usually much more expensive and I don't want massive roots. I prefer medium sized or baby beets to pickle or roast - so I use normal varieties and I leave them in clumps of 3 or 5. They will push each other apart quite happily as they grow and find their own growing space.
I sow my onions in 3's, 5's or 7's according to what size I want them to grow to. The more you sow into the module, and the closer you grow them on, the smaller the onions will obviously be. Three seeds to a module sown in early to mid March will generally give me onions of around 4-5oz - a medium size which I generally find are the most useful for the kitchen. Red Baron onions I sow in 5's as I like smaller whole red onions for roasting. They're planted out later about 20-30cm apart in late March or early April. They will then push each other apart quite happily as they grow, giving you a much bigger, more reliable crop. Early carrots (a small pinch) and parsnips (in 3's) can be sown into loo roll or 1/2 kitchen roll middles and easily planted out carefully using a long trowel later. Peas and beans can be sown in large yogurt pots - as shown on the polytunnel page and here - also 1/2 milk cartons, fruit punnets etc - all with good drainage holes made in them. You can see how I sow mine in the polytunnel diary as well.  Some people sow into old half drainpipes but I find they're too shallow, they don't have much root room, then if planting out is delayed by bad weather, as it often is at this time of year, plants may get a setback and won't crop as well as they should later on. The roots can often go along instead of down.The RHS recommends shallow drainpipes with holes drilled into them - but again delays can be a problem and the roots may start coming through the drainage holes - making it harder to slide them out easily and possibly tearing roots off when you try to slide them out. The peas and beans pictured above here are growing in a variety of recycled containers in mid-February
5. Cover the smaller vegetable seeds with vermiculite, which is available in all good garden centres now in small packs (if it's too much, split it with a friend - it lasts years as it's sterile and you don't need that much). This promotes really good drainage and air circulation around seedlings which is vital and usually avoids nasty 'damping off' diseases, which can otherwise be a big problem with early seedlings in particular (but never in peat-free composts). Sit the seed tray, pots or modules in a tray of water for a few seconds (new cat litter trays are a good size for standard seed trays, and much cheaper than something similar sold in garden centres!) but don't let the modules or trays get saturated. If by mistake they do - then a good tip is to sit them on a folded up newspaper with a bit of kitchen paper on top, which acts like blotting paper to draw out excess moisture - newspaper on it's own doesn't work quite so well. Don't forget that if things are too wet - even if they're warm - they're far more likely to rot. Bigger seeds like peas and beans can be covered with compost and then watered from above initially. I put my early peas and beans onto damp kitchen paper on a covered plate or tray somewhere warm to germinate them first. Usually the back of my range cooker where I can keep an eye on them. This is particularly good for French beans later on in spring - which can be very prone to rotting if sitting in wet compost for too long. I then put the sprouted seeds into a pot in the usual way and cover them with seed compost. I then water them lightly at first, again making sure I don't saturate!
6. Cover the seed tray or modules after sowing by putting in a clear polythene bag, under a sheet of clingfilm or glass to keep them moist and stop them drying out, and put them in a suitably warm place. Check the optimum germination temperature on the seed packet - as not everything likes to be too warm. This particularly applies to lettuces and spinach. Then check every day for germination, and as soon as they appear, uncover them immediately and put them into good light - but not strong sunlight as this could burn them and kill them very quickly. If they're in the house on a windowsill, turn them round a bit every day so all the seedlings get equal light to prevent them getting etiolated (or drawn up and spindly), which weakens them and makes them much more prone to disease. You could also make a light reflector of tin foil fixed to a couple of barbecue skewers at the back of the pot as I used to years ago! At night then bring them into the room before you close the curtains otherwise they could be frost damaged. If they're in a cold frame, greenhouse or tunnel outside, shade them lightly from very bright midday sun - which can be surprisingly strong through glass, even at this time of year. Again, do make sure they're protected from frost at night with fleece suspended over them - not resting on them - or newspaper. Wire hoops are useful for this, also recycled old freezer baskets, a propagator lid or cloches etc.
7. Always water trays of young growing seedlings from underneath when necessary - sitting them in a tray as described above, using clean, ambient temperature water if possible. Watering them from above with a watering can again encourage damping off diseases. I keep clean rainwater in a barrel in the tunnel for watering, which is usually not too cold. Seedlings don't enjoy sitting in a freezing cold bath any more than you do!  And they enjoy rainwater best of all. Like all plants, they didn't evolve to appreciate chlorine, or anything else that may be in tap water!
8. After germination, grow on seedlings of tender veg. like tomatoes etc. at a slightly lower temperature but still in a warm light place- where they won't get chilled if it's cold at night. A roll-out heat mat which you can put on a greenhouse bench is convenient for this - or if you're good at DIY - you could make a cheaper large area of gentle bottom warmth by using soil warming cables buried in sand.  Be careful that propagators don't overheat, get them set up and going for a few hours before you start sowing your seeds, because just as too little warmth can damage seedlings - so can overheating. It can can seriously damage their cropping potential.  From March onwards all small seedlings will need some shade at midday under glass or in a tunnel - fleece also makes a good temporary sun shield. A small max-min thermometer is well worth buying, they're far more useful in the garden than a soil thermometer, and cheaper. As I've already said - you don't need a soil thermometer out in the garden to tell you when the soil outside is warm enough for sowing - all the weed seeds germinating will reliably tell you that!
Sowing early seeds in modules
To make sure I have something to plant as soon as the winter crops are finished both in the tunnel and outside, I always start sowing a few early crops in mid-January. Details of what you can sow now are in the 'What to Sow' sections for each month, so I won't repeat them here. Things like onions, leeks, beetroot etc. can be multi-sown in the modules - in 3's or 5's - depending on how many you want in a clump - or how big you want your onions (less in a clump for bigger onions) and they're planted out later without thinning. These will push each other apart as they grow and develop quite normally. You can do the same with summer spinach, chards and 'baby leaf' or salad mixes. Rather than use an expensive propagator at this time of year I germinate everything near the back of my range cooker - which keep things at a steady 65-70 deg F/16-20 deg C. As soon as the first seedlings are showing they need good light, so then I put them out in the polytunnel, on a roll-out heated mat which provides very gentle bottom heat of about 50 degF/10 deg C - or just above during the day - and is very economical to run. This is all most things need to grow on nicely without forcing. In another 2 weeks in the warmer propagator I shall sow my aubergines Bonica F1, (the very best and most reliable one) these develop quite slowly at first and need a long growing season. I'll also be sowing my earliest tomatoes - Maskotka, Latah and John Baer. These are always ripe in the first week or so of June. I can't wait for ripe tomatoes again! Talking of which - there may be some very exciting news soon on the tomato front - but can't reveal it yet!!
What are 'Blind seedlings' that don't develop?
Occasionally there are seedlings that develop they're first seed leaves or cotyledons as they are known - but after that they don't grow any more new leaves.  These are known as blind seedlings. In cases where you may only want one plant per space - like lettuces or hybrid calabrese - it's normal to thin seedlings to one per module, but only do this after they have clearly developed their first 'true' leaves - not the seedling/cotyledon leaves - as 'blind seedlings they will never develop 'true' leaves and grow on. This is quite common with brassicas and if it happens you could waste space on a seedling which will never develop any further - so don't thin them too early! With calabrese seed in particular - which can be expensive - it also wastes seed and money!  I've never seen any of the 'so-called' experts telling you this - they always tell you to thin as soon as you can handle the seedlings! Over 40 years of experience (OMG can't believe it!) does actually teach one a few useful things!
Sowing peas and broad beans in pots
| | |
| --- | --- |
|  Sprouted broad beans sown in 500g yogurt pots               | Sprouted mangetouts sown for pea shoots and pods |
I always soak my broad beans and peas for a couple of hours before then sprouting them on damp kitchen paper on a plate covered with cling film and put in a warmish place. I always get the best germination this way. It saves the seed sitting in cold wet compost for too long and possibly rotting. They sprout in about 2-3 days and then as soon as the 'radicle' or main tap root  appears - I then sow them in large pots as you can see above (I use recycled 500 ml yogurt pots - they're the perfect size!). 3 broad beans to a pot or a small handful of peas (don't count them) per pot. I don't thin the beans or the peas as it's totally unnecessary - I've tried doing it over the years but the plants produce just the same crop per plant - so obviously crop more per sq.ft/m if on a deep, raised bed. Thinning them after germination is not only totally unnecessary, but is also time-consuming and wastes valuable seed. These potfuls will be planted out about 30cm/1ft. apart when big enough. 
I am always amazed at just how much better the germination is with home-saved seed. I got 100% germination of the yummy Crimson Flowered Broad Bean as per usual (good job as we've just finished the last from the freezer!). Beans and peas are the only things I cover with organic peat-free seed compost after sowing - everything else is covered with vermiculite - which promotes good air circulation and drainage around the seedling stem, virtually guaranteeing no 'damping off' disease - as long as you are careful with your watering. After sowing anything - only ever water again from underneath. This is easy to do by sitting the tray or module in a tray of water for a few seconds. And as I've often said before - if you do happen to overdo it by mistake - and we all do it occasionally - don't despair and leave them to rot in cold wet compost!  It's very simple - just sit the tray of seedlings on a newspaper for 1/2 hour or so which acts like a wick to draw out the excess. All seeds need is a good seed compost, a little thought and plenty of TLC to grow - it's not rocket science! 
Despite all the years I've been gardening - I never cease to be surprised, thrilled and full of wonder at Nature's miracle of a tiny seed and it's determination to grow. That perfect little pre-programmed parcel of DNA - full of ancient history and priceless, unique and irreplaceable genes. And best of all - packed with a delicious promise of healthy food!   
--------------------------------------------------------------------------------------------------------------------------------------------------------------------------------
A friendly note:
I really enjoy sharing my original ideas and 40 years experience of growing and cooking my own organic food with you. It's most satisfying and naturally also very complimentary if others find "inspiration" in my work.  But if you do happen to copy any of my material - including photographs - or repeat it in any way online, I would remind you that it is copyright and I would appreciate it very much if you would please mention that it originally came from me. It's the result of many years of hard work and often hard won-experience. Thank you.
(I recently came across one of my best tomato photographs - one that I took to publicise the very first 'Totally Terrific Tomato Festival' - being used online, as the profile picture on someone else's Twitter account. Quite unbelievable cheek and legally that is plagiarism! Needless to say that person was otherwise anonymous!)