Contents

:  Grow Your Own Delicious Anti-Viral Medicine!... The proven health benefits of growing your own food are more convincing every day!..... The Nature Pill...  What can you grow if you don't have a polytunnel or even a garden?.... What you could be eating now from the polytunnel if you've planned well..... Not planted any potatoes outside yet?- Don't panic there's still time my super-fast way!.... Managing your polytunnel environment... Dealing with pest problems in spring polytunnels

.... 

Polytunnels as an integral part of the whole garden ecosystem.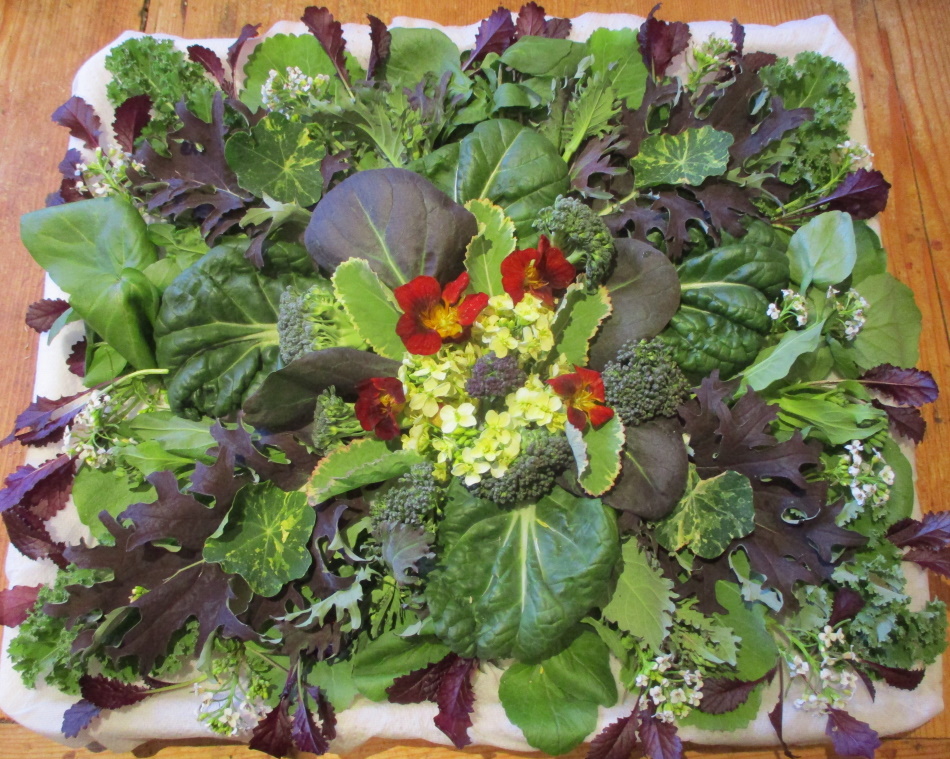 Who knew that anti-Covid medicine could look so pretty, taste so delicious, and be so easy to grow!
Grow Your Own Delicious Anti-Viral Medicine!
Like all of you - I want to be as healthy as possible, for as long as possible, so I try to keep abreast of all the interesting health and medicine news which relates to our diet.   As the Greek physician Hippocrates - recognised as the 'Father of Modern Medicine', famously said in about 350 BC - "Let food be thy medicine" .  S

eeing the rise of non-infectious, diet-related diseases rapidly increasing throughout the world - he was definitely on the right track, because food can also too often be our Nemesis if we're tempted to stray off the path of healthy food and eat ultra-processed junk!  

Despite not having the benefits of modern technology like mass spectrometry (an analytical technique by which chemical substances can be identified) - Hippocrates was so convinced of the benefits of some plants, and in particular watercress, that he set up his clinic beside a river specifically for his patients to be able to experience the healing benefits of watercress all year round.  And if you've been a reader of my blog for long you'll know what a devotee I am of wonderful watercress!  How gratified he would be to read some new research I came across only last week which proved that he was definitely onto something!   I've been fascinated by the intimate connection between our physiology and that of plants for many years, spurred on by wanting to provide the healthiest organic diet possible for my family, and watercress, along with other brassica or cruciferous vegetables, is consistently proving to be one of the healthiest foods you can eat.
Like other members of the brassica family, watercress contains the peppery, hot-tasting phytochemical glucoraphanin, which converts to a compound called sulforaphane when it is chewed, releasing an enzyme called myrosinase.  
The clever plant contains both of these plant defence compounds side by side, but they
 are only released and mixed, producing the sulforaphane, when the plant is attacked and eaten by a predator or herbivore - like aphids or us!  Incidentally - the reason why cabbage white caterpillars don't die as soon as they eat this protective compound is because they have cleverly evolved a defence mechanism themselves - a gut enzyme which neutralises it!  The intricate connections of Nature are constantly amazing - and we think we're so damn clever, when we're barely even beginning to scratch the surface of its complexities!
The study proved that sulforaphane, produced by cruciferous brassica vegetables like broccoli and kale, shows anti-viral activity against SIX (yes, you read right - SIX!), strains of #SARSCoV2  - including Delta and Omicron, as well as other seasonal corona viruses which cause the common cold, slowing the growth of the virus, significantly decreasing the total viral load in the lungs and upper respiratory tract, thereby reducing lung injury.  
All brassicas contain glucoraphanin and myrosinase, which are the precursors to sulforaphane, and young microgreens of all brassica-type vegetables contain even higher concentrations than older plants.  But not everyone wants to go through the daily faff of growing microgreens or sprouted seeds, especially when it's so easy to obtain the same benefits by just eating a wide range of cruciferous vegetables regularly.  The amazing range of beneficial phytochemicals in brassicas have also been proven to be effective against many cancers and neurodegenerative diseases - so why wouldn't we eat them as often as we can - especially when they're so delicious and widely available, or easy and cheap to grow?
There's such a fantastic range of beautiful, delicious and nutritious brassicas to grow that it would take a whole page to list them all!   Broccoli is the most vaunted of them - perhaps being the most studied due to it being so ubiquitous in our diets, but glucoraphanin is also found in dozens of other types of cruciferous vegetables like Broccoli Raab (aka rapini), cabbage, cauliflower, kale, Bok Choy, mustard greens, rocket, turnips, wasabi, and watercress etc.  Romanesco broccoli in fact contains up to 10 times more of it than normal broccoli.  Black Tuscany kale and red cabbage also contain higher amounts, and red cabbage is also high in other beneficial phytochemicals such as anthocyanins which give it its deep red colour - so we eat lots of red cabbage slaw here as it's so delicious and useful!   I usually make a large container of it once a week, with a kefir-fermented mayo dressing - and that lasts us for workday lunches and quick, no-fuss suppers all week.  We eat all of our brassicas here either raw, barely steamed, or stir-fried, so as not to deactivate the myrosinase so that we get the most benefits from them, and retain the crunchiness which is so delicious. I still have nightmare memories of being forced to eat overcooked school dinner cabbage! Oh... that revolting smell!
If you want to give yourself the best chance of beating Covid - especially the new super-infectious Omicron variant, and also next winter's colds and flu - get growing broccoli, or whatever brassica is your particular favourite! 
 I love them all - they're so versatile.  But as heat destroys the enzyme myrosinase which is the necessary catalyst for the production of sulforaphane - make sure you eat them raw, chewing really well, or barely cooked by steaming for 1-2 minutes, to reap the amazing benefits of their effective anti-viral compounds.  If you're not too keen on them raw -  you'll find them a lot easier on the palate if you mix them with other salad leaves you like, a few nuts and perhaps dried fruits like delicious dark sour cherries, and dress them with a sweet, fruity dressing - or make a slaw and dress it with a creamy kefir mayo.  Brassicas are so easy to grow, and I can't think of a more delicious way to take any medicine!.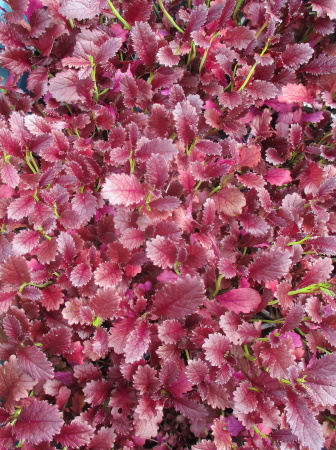 Pictured above are all the cruciferous brassica family vegetables I could find to pick in the polytunnel on 3rd April - although I realised afterwards that I had missed one or two out! Broccoli Raab I didn't pick, as I'm saving seed from it, the leaves are yellowing, and the seedpods are already well-formed but still green at the moment.  It is one of the fastest brassicas to produce flower buds though - often in only five or six weeks in summer!  In the picture above in no particular order are:  Watercress leaves and flowers, green curly kale, perennial 'Glin Castle' kale, kale 'Red Ruble' leaves and delicious shoots (like broccoli), Bok Choy 'Vitamina' leaves and shoots, Ragged Jack kale leaves and shoots, Nasturtium leaves and flowers, broccoli 'Green Magic' shoots, Pak Choi 'Dark Lady' leaves, shoots and flowers, variegated perennial kale leaves, purple-sprouting broccoli shoots, with
 red mustard microgreen seedlings scattered around.  I grow most of these throughout the year, but they are especially useful in winter, as they can be picked for a long time over winter and early spring, later on providing lots of nutritious, nectar and pollen-rich flowers for important emerging beneficial and pollinating insects in spring.
It never fails to delight and fascinate me when modern science, with all its high-tech benefits of expensive electron microscopy,
rediscovers and confirms
the efficacy of patronisingly portrayed natural 'folk medicines', which were well-known and 
well-used by
 ancient physicians, and which have been proven to be effective over thousands of years.  The difference between us and those ancient forefathers of modern medicine is that we now beginning to have the tools to discover exactly why something works, and often the ability to see it actually happening in real time.  But we still have so much to learn.  Scientists are often so arrogant and assured that we know better - and don't always necessarily have the open, inquiring minds and respect for Nature that some of our wiser forefathers had!
The proven health benefits of growing your own food grow more convincing every day! 
In fact, the most relevant of those benefits right now is the emerging evidence that those who eat an unhealthy diet, which may possibly predispose them to poor metabolic health and becoming pre-diabetic, are even more at risk from the complications of Corona Virus - which without doubt we all want to avoid!  Now folks -  while I love the undeniable delights of crisps, chocolates and squidgy fresh doughnuts just as much as anyone else (as long as they're organic!)....  if it's a choice between those and good health - then believe me I value my health far more! 
 I discovered many years ago, long before 'low-carb' became the fashion, that eating those kinds of carbohydrate-rich processed foods is not just addictive, fattening and makes you feel sluggish - but also that eating them puts us at more risk of becoming ill, because it actually damages our gut bacteria - otherwise know as our gut microbiome - which is essentially our immune system.  My kids were reared not eating those foods - junk was banned in our house because of my daughter's allergies,  and we have always eaten loads of healthy vegetables and fruits, along with homemade kefir and other
 fermented
 foods, as I mention in my 'How to make basic milk Kefir' article:
Recent science also hows that the more healthy fresh veg and fibre we eat - the healthier our gut bacteria are, and therefore the more active and effective our immune system is in protecting us from viruses. Or if we catch them unavoidably - in helping us to recover better without the serious complications of ensuing bacterial infections like pneumonia.
  So if we ever needed an excuse to get out there and grow anything we can, so that we can load up our plates with healthy foods it's right now!  Don't think that it's too late - it's never too late to eat a healthier diet!  No matter how much unhealthy junk you may have eaten in the past, the latest gut science shows that we can improve our gut health incredibly fast. Those little critters that work 24/7 to keep us healthy will be delighted with your improved diet and respond very quickly. Our main problem here has always been finding space for the meat or fish on our plates, which we generally eat only 3-4 times a week. We love our delicious homegrown veg so much that we always have at least three veg with every meal, so we often need side plates to accommodate it all, especially in summer when so many wonderful vegetables are available!
The Nature Pill
In addition to those benefits - some recent science proved that you don't even need to grow anything!
 Apparently, just being outside walking gently around the garden for twenty minutes, or anywhere else in the countryside will give you some of those benefits!  A new study, just published in the journal 
'Frontiers in Psychology'
, 
proves that taking at least 20 - 30 minutes out of each day, to walk gently, or just sit in a place that makes our senses feel in contact with Nature can have a real and measurable effect on our health - 
significantly lowering
 levels of the stress hormone cortisol which can contribute to such health problems as high blood pressure. 
 Scientists say that 
healthcare practitioners will now be able to prescribe 
what they are calling 
'the nature pill',
 in the knowledge that it has proven benefits.  
One stipulation was that while taking 'the nature pill' we should be outside in daylight. The other requirements were that we should at the same time minimize other factors known to influence stress, such as too much aerobic exercise (so heavy digging's out!), or social media use - such as internet, phone calls, conversations and reading, in order to maximise the benefits.  Or in other words - get a bit of peace! 
This is fascinating proof that, as I'm always saying, the further we move away from the natural world which we humans evolved to inhabit - the more damaging it can be for our health! 
But at the same time it happily also proves just how easy it is to reverse that damage with this easy, free and all-natural stress-relieving remedy. Growing up in a pretty frantic and stressful household, with two much older siblings, an adored father who was away often and a mother who suffered from mental health problems - I must say that I found spending my days mostly outside very calming when at home, wandering around in our large garden investigating 'jungly' green places, with my dogs and pony in tow. I still find such green spaces calming to this day - especially at this time of year when all the fresh green buds of spring are bursting in woodlands and birds are singing for joy. Perhaps that's why one of my good friends said years ago that I'd faithfully recreated an overgrown old garden - when in fact at that time my garden was barely 20 years old!
Robin having a little snack beside the Ragged Jack Kale!
Three years ago, in April 2019 - you can imagine just how delighted I was to find this study, as I was feeling very nature-deprived and quite a bit stressed, being unable to go outside in the garden or even walk up to my polytunnel due to my broken ankle!  Although my planned reconstructive ankle surgery has now been postponed due to the Corona Virus, which means that I now have to use a walking frame all the time to take the pressure off my very painful ankle and avoid damaging it even more - I can at least do a little work in the polytunnnel and that makes a huge difference to my mental health.
Seeing all the productive beauty, sitting among the flowers and veg, listening to the sounds of the birds, smelling the scents all around me and talking to my constant companion, my pet robin, are what keep me from being stressed about what I can't personally change, and which help me to sleep at night.  Although it looks a bit chaotic at times, and not what is considered the conventional way to grow veg - in the neat straight rows with bare soil in between which you see in books, on many other blogs and on TV programmes - it works!  It's wonderful to see all the flowers and veg intermingling and looking so happy - and if they look happy - then I know they are!  
While I can admire the neat and tidy potager look - neat rows are anathema to Nature!  They're not the way things naturally grow, and if you've been reading this blog for long you know that I like to grow things as closely to the way that Nature would grow them as possible - even though they are growing what is in some ways the artificial environment of a polytunnel.
 That's why I never see any pests at all - because the polytunnel has become an entire and functioning ecosystem in it's own right. Soil, flora and fauna in balance - even including my pet Robin!  Surely it's not so surprising that the kind of natural environment in which we and the rest of Nature evolved to live and eating the kind of natural food we evolved to eat, makes us feel more cheerful and energetic is it?
Overwintered spinach Viroflex cropping nicely 
April is one of the busiest months of the gardening year, with so much work to do both inside and outside but ultimately it will all be worth it - because what you're doing is actually growing your own health!
 Although we're completely unaware of it - when we're gardening we also absorb vital healthy Mycobacterium vaccae from our soil and environment. Studies have shown that when M. vaccae is inhaled it triggers the release of the 'happy hormone' serotonin in the brain, and that this is significant enough for it to be referred to as an antidepressant! This benefit, as well as the fresh clean air we're breathing, is something people who spend their lives mostly indoors miss out on. So us organic gardeners have it right don't we? We're saving money while at the same time growing our own health, and getting a huge sense of achievement, with enjoyable, stress-reducing healthy exercise! No wonder organic gardeners are such contented folk! 
Given that a Newcastle University study a few years ago also found that organically grown fruit and veg are at least 60% higher in vital antioxidant phytonutrients, with far fewer residues of neurotoxins like heavy metals and pesticides - then growing them ourselves organically, or buying organic is surely an complete 'no-brainer' and a winner from every point of view!
 After all - why on earth would you buy chemically-grown, pesticide-sprayed, fruit and veg when it's so easy to grow even just a little bit of luscious produce like the spinach like you can see pictured here? Not only that - you're getting the freshest food possible and you can eat it when it's healthy nutrients are at their absolute peak! If you haven't read my blog post about when is the best time to harvest your produce - here's a link to it: 
Even more great news for all of us keen gardeners who grow lots of our own food is that a recent study by University College London in the 'Journal of Epidemiology and Health' stated that the more veg and fruit you can eat, the more beneficial it is for your health.
  As I reported a couple of years ago - most experts think now that 7 or even 9 a day - rather than 5 a day is the very best total to eat. That's no problem if you grow your own - and it couldn't be fresher picked straight from your own garden!  The only dressing that home-grown, deliciously fresh veg requires is a little olive oil or butter - or quite a lot in my case - which scientists also now say isn't bad for you either. But be sure to use a good oil, like organic extra virgin olive oil, or nut oils - not industrially-processed, chemically-extracted GMO seed oils! Thank heavens finally for some commonsense about fat!  We never ate anything but organic butter and natural, cold-pressed organic oils here!  For salads we mostly use olive, avocado and nut oils - all delicious - and which all help your body to absorb all the healthy nutrients from your salads. 
Filling up on veg also means you can cut down a bit on expensive organic meat too and you don't need the carbs from loads of potatoes to make you feel satisfied after meals!
 Much better for our health. In our house - actually finding room on the plate for the meat is often a problem, so we have side plates for extra veg too if necessary. We're so greedy for our lovely fresh veg here and for most of the year there's always plenty of choice. We still eat potatoes occasionally - but we eat far fewer heavy carbs like bread, potatoes and pasta here now than we used to, since we started on mostly LCHF - or low carbohydrate high healthy fat eating. We still very occasionally enjoy the odd healthy cake or pud made from wholegrain flours as we always have done - but not every single day!  We don't go overboard and we don't exclude anything forever more - but we do all agree that we feel much better for it. The one thing that I am absolutist about however - is that absolutely everything must be organic! 
After over 40 years of research into how to feed my family the healthiest food possible - believe me I know far too much about the chemicals used on non-organic crops and the health effects of them on the animals and animal products that we eat! Never forget that what they eat - we are ultimately eating too! In fact - we are what they eat!
Growing your own is not just healthier for you but your budget too!
Thank heavens for polytunnels - where we can make a start on growing crops destined for outside by starting them off undercover to plant out later  - and they'll be all the healthier and stronger for it!
The weather here's been so wet on and off all winter and early spring - every time it looked as if it was drying up - then we had yet another deluge! Even though things have really started growing in the last couple of weeks outside - it's still far too wet to do any useful gardening.  But in the polytunnel - spring is already well and truly underway, growth is accelerating and no matter what the weather outside - there's always something good to eat - for us and the many bees that have been constant visitors to all the flowers in there over the last few weeks! 
Despite the recent hail, snow and freezing weather - there is still a glorious profusion of healthy salads to eat in the polytunnel right now.
If I only picked just one leaf from each different type of plant there would still be far too much to fit onto a plate! It really shows the benefit of planning well now for winter salads this time next year.  All the overwintered plants are cropping really well, producing a final burst of growth encouraged by the increasing light, before they try to flower in order to reproduce themselves. When they finally do  - I leave many of the flowers for the bees and hoverflies which are already busy helping to pollinate my fruit crops and control insects.  Even in a polytunnel - organic gardening is all about doing everything possible to encourage Nature to work with you - and it's happy to do so if given the chance! In fact it's getting hard to keep up with eating all the lovely salads - but the hens enjoy helping out too and all the healthy greens supercharge their eggs with all that captured sunshine! 
I never cease to be grateful for my lovely polytunnels that I worked so hard for - they were worth all the effort and they certainly save me a lot of money all year round!
 Why do so many people lose interest in their polytunnels over the winter and then only start to use them again in spring? They could be saving an absolute fortune on the household budget - and eating a far healthier diet too!  When I see the tired and miserable-looking, increasingly nutrient-depleted selection of imported salad leaves which are available in supermarkets - usually just spinach or rocket which is probably 2-3 days old at least - I feel so sorry for people who have no choice but to buy them! (see earlier link). They're expensive too - most packs are around €3 and they would barely feed two people!  Recently when, browsing in M&S to see what they had in their organic section, I came across bagged organic spinach grown in Italy - only about 250g for €3 per bag! That is positively criminal!  There is absolutely no good reason whatsoever why that couldn't have been grown here in the British Isles in a cold greenhouse - saving carbon and being far fresher! And there's no reason why you couldn't grow your own even if you only have a tiny outside space - as my stepladder garden pictured below proves - and that's even better for your budget!
But what if you don't have a polytunnel - or even a garden - can you grow anything? 
At the risk of repeating myself - as I've already written about this last month - this is something which I'm asked a lot and the answer, perhaps surprisingly, is YES - quite a lot!  Anything that you can grow in a polytunnel, you can grow in containers - but just on a smaller scale. 
 If you're short of space and think you can't grow your own veg - then think again! You'll be amazed at what will grow even in quite small containers. I know that not everyone is lucky enough to have a polytunnel or sometimes even a garden - but many people have a path outside their house - and if they have - then perhaps there's space for a tub or two?  So often I hear people saying "I don't have an allotment - so I can't grow anything".  Many people have tiny gardens now - especially in new housing schemes where space is expensive. Even if you don't have a garden at all - perhaps only a balcony - there's still no excuse not to grow at least something which will be fresher, healthier and save you some money for very little effort. And I don't mean just an unhappy pot of herbs on your kitchen windowsill! If you've got a path with room to walk on it, then you've got room for at least some veg in containers. For instance, there's my stepladder/mushroom box garden which I invented a few years ago (much copied since!). This will fit into anyone's front porch or on a balcony. It takes up less than a half a square metre and you'd be absolutely amazed just how much produce I got from it last year!  I picked up the used mushroom boxes, which are nice and deep, in the veg dept. of my local supermarket and they happened to be an ideal size to fit on each step, but still not too heavy to move - even with a soil/compost mix in them. 
I grew lettuce, herbs, chilies, Maskotka bush tomatoes, radishes, celery leaves, rocket, spinach etc. in those boxes on the steps a few years ago.
 I also put a couple of large 10l buckets either side of the stepladder, each fitted half-way underneath, one was planted with a Sungold tomato and the other with a watermelon Sugar Baby. I got terrific crops from both by training them up either side of the stepladder, tying them up to it as they grew!  Next to it in the picture here there's also some recycled skip-bag raised beds which are equally space-saving. The two bags fitted onto a large 'grow-bag' tray, but grew far more than you would ever be able to grow in a normal sized grow bag -and of course they were organic. I grew a fantastic crop of early potatoes, broad beans, Swiss chard, spinach, mangetout peas and then sweet potatoes in those last year - multi-planting so that there were two or three things growing in the bags all at the same time, apart from the very early potatoes in one bag which were on their own - as they were obviously going to be dug up, which would have disturbed the roots of anything else with them. I got several crops of fast growing radishes by 'catch-cropping' between slower growing things before they grew too big and shaded them. The sweet potatoes were the last crop of the autumn and they really appreciated the depth of soil in the bags - producing an incredible crop in November.
My 'stepladder garden' beside the recycled skip bag raised beds in late March shows what you can do in a very small space, with lettuce, spinach, celery leaf, peas & herbs.
Large attractive pots, if you can afford them, are very nice to look at - but if you're trying to save money, then 10 litre recycled mayo or coleslaw buckets from the local supermarket deli are good too, and they always have those at every deli counter. Ask nicely and you'll be amazed at what they have. Once you start on the 
"What can I fit some soil into?" 
 route - then frankly the only limit is your imagination - and of course any desire for tidiness! That's not something that bothers me greatly, I have to say, if I'm getting wonderful veg - and you can always hide the bucket by growing something trailing in it! In fact you can grow in anything that you can fit soil or compost into! If containers are large you don't have to fill the whole thing up with good compost. You can fill up the bottom with any kind of garden rubbish that you would normally put on the compost heap, to bring up the level. Things like soft prunings, old pot plants (only organic ones as others may contain nasty chemicals), last year's container soil/compost etc. perhaps mixed up with cardboard and newspapers - and if you mix in some garden soil as well this will all compost down nicely at the same time!
As long as you have about 30 cm or a 1 ft or so of depth of a nice soil/organic compost mix as the top layer, then anything will be delighted to grow in that.
 If containers are tall I find it useful for the sake of stability to also mix the lower layer with garden soil which is heavier. This is particularly important if the containers are in a windy spot or you're going to grow tall crops like runner beans or tall peas. The advantage of tall containers like skip bags is that not only do deeper rooting crops like chard etc have more room - but also dwarf mangetout peas or trailing courgettes can also drape attractively down the sides, making them more attractive - maybe mixed with a few trailing nasturtiums to attract bees and beneficial insects. The sky's the limit as my article on stepladder gardening here in the link below shows! 
Many years ago, I did a lot of experiments with growing in all sorts of containers, even using dustbins, old sinks and recycled carrier bags! The reason mainly was because we were in the process of moving to where we live now, but I still wanted to continue growing organic veg as I couldn't buy any then. Over the course of 2 years I grew an entire vegetable garden in various containers of one sort or another. 
Some were a bit 'Heath Robinson' - but it all worked and I got great crops! I even filled the freezer with 40 lbs of French beans! You can grow in pretty much anything as long as there's enough room for the roots and some drainage holes. Be inventive! Of course they do need a little more watering, looking after and feeding occasionally - but picking your daily salad should remind you to water them anyway! Containers tend to be a bit warmer too - particularly if they're sited in the sun, so crops are often earlier, meaning that you'll get more out of them over the course of a spring and summer, although they can freeze in the winter if you're in a very cold area. I've even protected containers in winter by wrapping them up with old duvets - but that's going a bit far for some people and can tend to look a bit untidy! 
You don't need a tunnel for container growing - but you can now get small, cheap mini-tunnel/greenhouses in most garden/DIY stores and in the discount supermarkets for upwards of £20 or €25.
 They can really increase the range of things you can grow over the year and allow you to grow more tender crops like tomatoes and aubergines. Or you could make your own - as I did years ago out of 2 x 1 inch wooden laths and recycled polythene, begged off a mattress from a furniture store!  They often have loads stashed in skips around the back if you ask nicely - the ones off the double beds are best and last for years if you're careful! Anything you can grow in a large polytunnel, you can grow in one of these, allowing for the head space needed. They do need anchoring down well though in any wind but apart from that they're very effective. The really big plus with containers for most people is that slugs and snails are usually are far less of a problem - you may get the odd adventurous one - but there are plenty of organic ways and means of dealing with them! 
What you could be eating now from the polytunnel if you've planned well
'Equinox Celebration Salad' 34 different leaves plus edible flowers all picked from the polytunnel
You wouldn't think that tunnel could be incredibly productive at this time of year would you? I decided last year to take a walk round the tunnel one morning to see what variety there was available to eat, at what is normally a pretty meagre time of year outside in the veg garden. 
 I took this picture
above on the morning of the Equinox on the 21st March! Believe me - it really tasted just as good as it looks!
Here's the list from my large east tunnel in no particular order - but just as I happen to walk past it!  Calabrese, curly parsley, Ruby and silver Swiss chards, giant scallion 'Shimonita', pea shoots, 4 different kinds of radishes, coriander, Giant Italian flat-leaf parsley, 3 kinds of spinach, salad/spring onions, rhubarb, 'Sugar Loaf' chicory, red-veined sorrel, celery leaves, rocket, lamb's lettuce, claytonia, thyme, oregano, salad burnet, curly endive, 5 different kinds of lettuce, watercress, Mizuna, pak choi leaves and flower buds (delicious and something few people think of because normally they cut the whole thing whereas if you pick individual leaves carefully they'll crop all winter), other assorted mixed oriental salad mixes, red stemmed leaf radish, frilly purple kale, Orychophragma Violaceus (Joy Larkcom's Chinese Feb. orchid) for salad leaves and beautiful flowers, Ragged Jack kale for baby salad leaves, then larger leaves and now also flowering shoots (like broccoli but better) beet leaves - 'Bull's Blood and McGregor's favourite - baby beetroot, and delicious giant garlic chives - a treasured gift again from Joy Larkcom when she came to stay here a few years ago.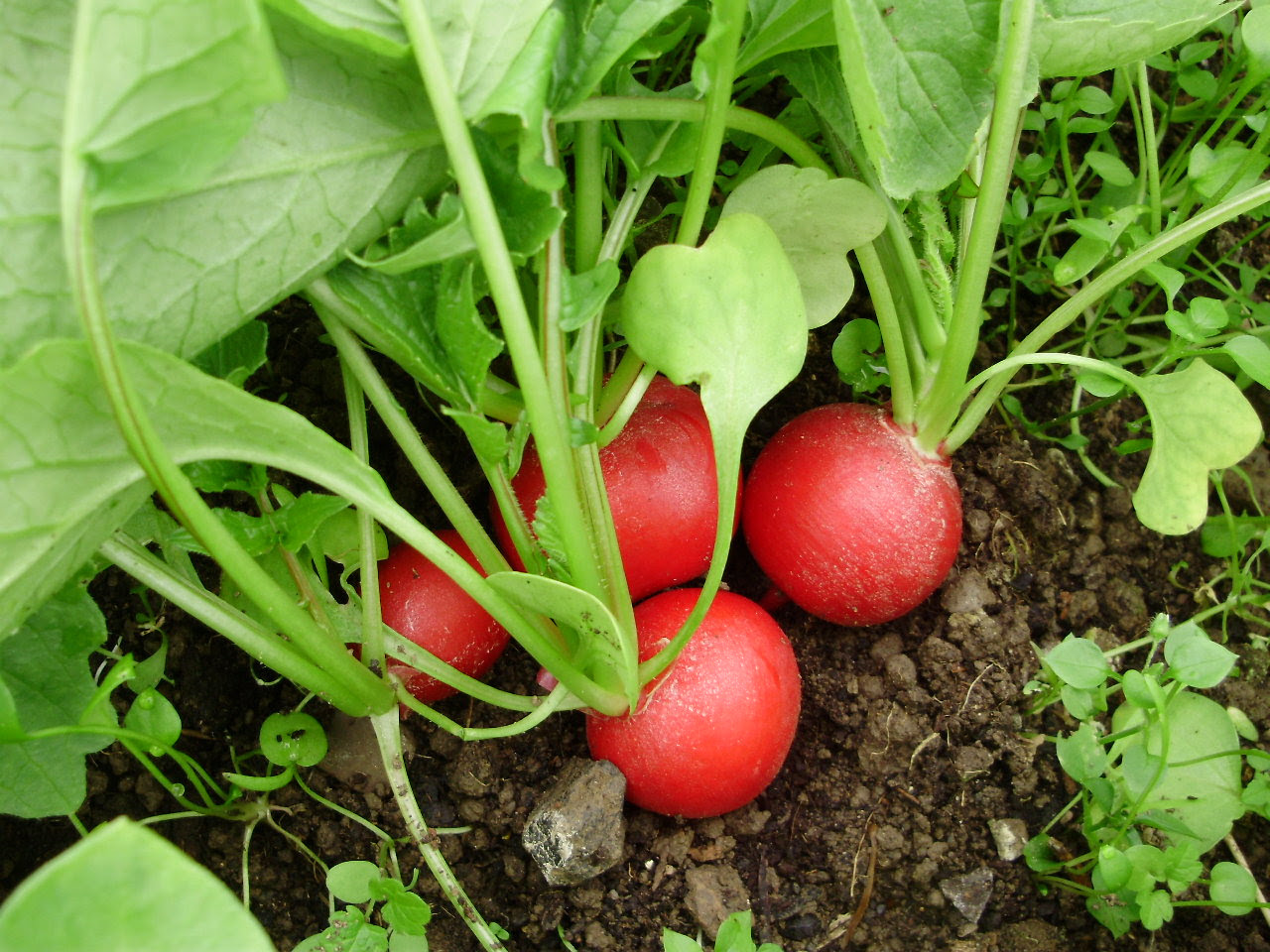 In the West (fruit) tunnel there's also the Sutton's loose leaf lettuce mix planted in recycled containers, along with pea shoots and spinach.
 The lettuce seeds are fantastic value at just 60 cents for 1300 seeds - and are a good mix of colours and leaf shapes. Lettuce all summer long for half of nothing!  In another couple of weeks there will be the first new potatoes - although I still have a handful of 'Mayan Gold' left in a pot from the Christmas grown ones which I saved up and may eat this week!. So there's plenty to choose from. Actually I must tell you that radish 'Rudi' from unbelievably cheap Lidl seed was a real find a few years ago! Not usually a fan of radishes, I decided to train my palate on the basis that if something tastes foul - then it must be good for you! I did that with rocket a few years ago - and while not a huge fan I'm getting better about eating it, and in fact the flowers are absolutely delicious in salads - tasting of vanilla!  I sowed the first radishes in modules in the propagator in late January and they've been cropping for about 3 weeks now, getting bigger every day. With regular watering radishes don't tend to taste as hot, although it also depends on variety, and 'Rudi' - pictured here, is crunchy, delicious and easy to grow and isn't hot at all - even at almost golf ball size which some now are - I promise you! Chopped into 4 or even 8 in salads it's sweet, tender and crunchily delicious. I've just had some for lunch. I think that variety of texture as well as flavour is so important in vegetables, particularly salads. Then you don't get bored by eating the same old thing every day. Oh! I nearly forgot the other edible flowers of course - pansies, violas, primroses and borage - all delicious and flowering right now!
The above list doesn't include all the stored veg we still have available now.  A
 few red onions which are still crisp and firm, the last of the potatoes left over from those kept for seed - and also fruit and veg in the freezer, French beans, peas, broccoli, broad beans, sweet corn, basil & parsley (in copious amounts!), peaches, strawberries, raspberries, blackcurrants, damsons and blackberries. We also still have a few leeks and parsnips still in the ground outside in the vegetable garden. Spoiled for choice really - all easily home-grown organically without toxic chemicals. They would cost a fortune in the shops if you could buy them but you wouldn't find even a fraction of these in any shop! I would go without veg if I couldn't grow them or buy them organically, so I make sure we always have plenty all year round. (Many people aren't aware that we share up to 40% of our genes with many insects, worms and even slugs - so anything that kills or affects them also eventually has an effect on us, especially since science is now proving that they have a cumulative 'cocktail' effect!). Most of the time we almost have too much choice - but the hens are always most grateful for any that we can't eat -  they then produce those delicious eggs!
If you haven't yet planted any potatoes outside because of wet soil don't panic! 
You can still cheat the weather, gain a few weeks and catch up by planting into pots now inside in the tunnel, which will bring them on quickly, then hardening off gradually and planting outside later, as I described last month - protecting them from frost with fleece. These will still be much earlier than any planted on the traditional St. Patrick's day outside into cold wet ground - especially with such cold soil temperatures after the recent snow and freezing weather. If you don't get round to planting them then - they will actually be quite happy in a 2 litre pot for their whole lifetime until you eat them, or you can pot them on into larger ones. They obviously won't produce as big a crop in pots and the tubers may be smaller - but I grow all the ones I keep for seed in 2 litre pots. That way they stay together, and don't get mixed up or stolen by hungry rodents in the autumn. When blight eventually strikes - I just take off the tops immediately, turn them on their sides so the blight spores don't wash down onto the tubers and let them dry out. They'll keep well all winter like that somewhere frost (& rodent!) free. Then I have them ready so that I can plant them early the following spring.
I always keep some of my rarer varieties in pots for the whole growing season, just turning them on their sides and drying them off if and when they show any signs of blight in summer. That way, not only do I ensure that I don't lose them - but it also means that I have perfect tubers for planting my extra early potatoes in January or later the following year. The Fleure Bleue and Apache that I planted in 10 litre pots on the 3rd Jan are looking amazing and should be ready for an Easter treat, and their siblings planted on 3rd Feb in 2 litre pots are looking great too. 
April is one of the most difficult months for managing the polytunnel environment.
Gerry Kelly - my co-host on our 'Tunnel to Table' radio series on LMFM Radio's  'Late Lunch Show' - helping to pollinate the peach trees a few years ago.
It really feels like spring now on sunny days in the tunnels - in fact it almost feels like summer on some days at 

noon

! The scent of all the flowers blooming in there when I open the doors is amazing. Even on frosty days it's lovely to work or sit in there. Brilliantly sunny days are lovely but temperatures can shoot up alarmingly high very quickly though. 
Then the sudden violent showers and gales gusting around in every direction can make ventilation a nightmare. I shouldn't complain though, I know how lucky I am to have my tunnels at home here - where I can dash out to open or shut doors in between bursts of writing.  I ran up just now to open the doors again and spotted two new species of hoverfly on the early potato leaves.  All the oriental veg flowers look like a natural firework display and also smell divine! I always leave the oriental salad mixes to run up to flower now as the early hoverflies, bees and other insects really go mad for them. When was in the tunnel three weeks ago before my accident, there were a couple of bumblebees in there, as there are most days, and many of the flowers on the dwarf peaches, nectarines and apricots in pots, and also the peach tress planted in the ground, have been pollinated already. Bees love to come into the tunnels where they're sheltered from strong winds. Happily they seemed to have already done a pretty thorough job - lots of the flowers have turned dark pink already - so we're looking forward to lots of lovely juicy peaches again. Pollinating peach trees is a job all visitors love doing - and of course eating the odd fruit later on!  In truth though - the ever-wonderful bees do most of it!
Dealing with spring pest problems in polytunnels
I've already covered propagation over the last two months so there's no need to repeat that here. 
The first thing to say about pests is that if you see them in any numbers - it usually means that plants aren't healthy and happy and are stressed in some way, which weakens them and make them more attractive to pests. It can also mean that you don't have a healthy balanced ecology in the environment wherever the plant is growing - whether it's inside or outside.
This can often be because they're in a hot dry conservatory or greenhouse, perhaps with no flowers - or that the soil isn't healthy. I always make sure that I have as much variety of flowers and plants as possible, growing in a healthy, living, microbe rich soil with plenty of fresh air. If plants have those conditions, they rarely suffer from pests and diseases. Plants are like us - if they're being fed too much or too little and are shut up in an unnatural environment without fresh air - they are far more likely to be unhealthy! Wherever you're growing plants, if you have lots of single flowers to attract insect predators like hoverflies, ladybirds, lacewings and wasps, and if you also have open vents, windows and doors where they can get in - then they will generally deal with any pests. The insects in their turn will also attract small birds like wrens, sparrows, blue tits and robins - which are only too delighted to help with pest control - particularly at this time of year when they're feeding babies. Aphids are ideal small baby bird food! Polytunnels are basically an unnatural environment, so doing all you can to create as natural and varied an environment as possible, with a balance of pest and predator, is the key to happy pest-free plants.
There's so many birds here in this garden now and so much competition for food that I almost never see an insect pest - but unfortunately that also means they eat caterpillars of in some cases increasingly rare butterflies - so I have to protect those by covering the clumps of nettles I grow in the tunnels with netting!
 Yes! I do grow nettles in my tunnels in out of the way spots - they're ideal habitat for butterfly caterpillars and early ladybird larvae. Most of the year I have the tunnel doors open, as long as it's not too windy, so small birds are grateful to hunt in there for insects - particularly in winter. I have large pea and bean netting up at the doors to keep hungry pigeons and pheasants out! The larger netting also allows bees in to do their vital job of pollination. 
Although last summer was a good one for some butterflies -
one of the most worrying effects of the last few year's wet summers, and the increasing use of pesticides, is t
he lack of bees and other vitally important pollinating insects in our gardens.
This is something many people may not even give a thought to - until there aren't any and they have no fruit for instance! If the climate continues to be as erratic and wildly unpredictable in the future - then I believe that this is the single most important factor that we will have to learn to deal with if we want to continue to grow food - whether we are organic or not. You may be able to kill pests with poisonous chemicals - but if you do so you will also kill vital pollinating insects. You can't then manufacture bees and hoverflies out of thin air!  (Although I read recently that Monsanto/Bayer are now trying to produce GM bees - another money-making idea! Their stupidity and irresponsibility knows no bounds!) 
Although it's hard work, you may be able to pollinate some fruit trees by hand on a small scale - but not huge fields of oil seed rape! 
 I think some farmers tend to forget that fact when they're thoughtlessly sloshing around the pesticides!  All insect populations have plummeted over the last few years, due to the recent disastrously wet summers when they needed good weather and plenty of food for breeding, erratic winters seesawing wildly back and forth from unusually mild spells to severe cold - and of course increasing use of pesticides as well. Consequently bird populations have also dropped. Coming on top of all the pesticides used by farmers, decreasing habitats, hedges, wildflowers and sheltered breeding places - the changing climate could prove to be the last straw for some pollinators - and bees in particular. Without them there won't be much to eat!  
Many people aren't aware that we share up to 40% of our genes with many insects, worms and even slugs - so anything that kills or affects them also eventually has an effect on us, especially since science is now proving that they have a cumulative 'cocktail' effect! 
Polytunnels are an integral part of the whole garden ecosystem.
My B&B border as I call it - made specifically for bees, butterflies, bats and birds, is a large question mark shaped border I put in a few years ago that wraps around the north end of both of my tunnels.
 I planted it specifically for wildlife, and I think that the insects, birds and bats that it encourages must deal with a lot of pests - both outside and inside the tunnels. The bank's also an ideal nesting site for solitary bees too, as it's south facing and well drained, being made mostly of gravel and bark chip mixed with sub-soil, so as it's just at the top end of the polytunnels - I'm never short of pollinators. On any mild day in winter there's always a few bumble bees in the tunnels foraging for pollen and nectar for their broods. You could build a bee and insect hotel or make a well-drained soil mound topped by an evergreen shrub even in the smallest garden, and this will provide shelter for hibernation and nesting sites for insects. In front of the border is a 'lawn' made mostly of perennial white cover, which is alive with bees when it's in flower and has the most fabulous scent. It's a lovely place to sit in the evenings in summer when it's planted with scented Nicotiana and Verbena Bonariensis, especially when bats are flying just overhead to catch the moths and insects that the flowers attract. My little Eden!
The first insect pests you may see in any numbers in a tunnel or greenhouse at this time of year may well be aphids
(this is even more likely if your neighbours aren't organic!). You can easily deal with these by just brushing off with a soft paintbrush if the numbers aren't too high, or by washing off with a hose or under the tap for pot plants. If the winter's been a hard one and the predator population hasn't recovered enough in time to deal with them - then you may end up having to buy in biological controls like ladybirds. These aren't cheap, but the good news is that you will probably only have to do this once, because if you do as I suggest and grow lots of flowers in your tunnel - some beneficial insects will breed and stay in there permanently then. I don't like to use even organic insecticidal soap sprays as these affect all insects. You couldn't use them on anything you are going to eat anyway and even on things like lemons they can actually damage the young shoots in spring. As I said in an earlier article this year though - soap sprays are the only way to deal with scale insect on citrus trees. 
There seem to be a lot of people putting up new polytunnels at the moment and I've had quite a few questions about them.
  All advice naturally also applies to cold frames or outside too - but new polytunnels in particular can be a problem for a little while - before they 'settle down' and develop a balanced ecology of pest and predator, because any pests multiply far more rapidly in the warmer, more protected environment. So here's a bit more about pests that I wrote in the blog a couple of years ago. Some of it I may have already covered, but hopefully it may deal with anything else you might be looking for that I haven't already mentioned. Can you believe that someone recently complained that I actually write too much?? Ungrateful since this is free! You can't please everyone can you? 
Using chemical pesticides, or even organic ones like soap, would prevent any chance of the ecological balance of the tunnel recovering for years, as they will harm beneficial insects too.
 We need to do everything we can in our gardens to encourage and help all insects - whether you consider them good or bad - because they are all vital links in the natural food chain - and everything is connected. Birds, frogs, hedgehogs, bats etc. all the gardener's friends - all depend on insects  For the organic polytunnel or greenhouse gardener this is even more important - pests can multiply at an alarming rate in the warm, sheltered conditions of a tunnel.  Just in case there are a few predatory beneficial insects around in a week or so - it's a good idea to let some overwintered salads like mizuna and rocket run up to flower now and also to sow a few annual flowers like calendula, Virginian stock etc for later on. You could also perhaps plant a few perennials like Bowles mauve wallflower, nepeta or scabious. They've been a huge success with hoverflies, butterflies and bees over the years in my tunnels - and they're flowering really well now.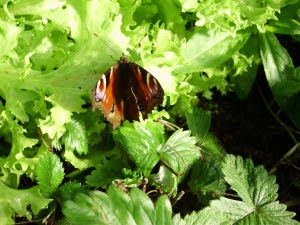 Scientists are warning there's even more compelling evidence now linking the collapse of bee colonies to the widespread use of systemic pesticides.
 These nerve poisons affect foraging bee's navigation system - making them unable to find their way home, feed their colonies properly or to produce queens to breed new healthy colonies. Any surviving bees gradually become underweight, weakened, more vulnerable to virus diseases and die. Beekeepers say we're running out of time to halt the bee's decline and we're all being used as guinea pigs. Amen to that!  It's no coincidence that global chemical giant Syngenta are also currently investing huge sums of money into farming bumblebees - they see it as the next multi-billion dollar business opportunity. Neat eh? Killing off all the competition would leave the field clear for their farmed bees - quite literally! Of course I doubt if it's occurred to many farmers yet that if they kill off pollinating insects by using pesticides - that  they won't have any bees left to pollinate crops like oil seed rape etc. - so then they'll have to buy bees instead! Many butterflies, moths, bees and other insects are becoming increasingly rare due to pesticide use.
It certainly doesn't seem to have occurred to a neighbour of mine - who keeps complaining that he's got no bees, no worms and no drainage!
  He also blames my trees and hedges for harbouring birds that eat his crops and thinks organic people are all completely barmy - a myth deliberately propagated by pro-chemical and GM interests - now more vigorously than ever!  Of course they're now getting worried that more people might actually start thinking for themselves instead of blindly accepting the deliberately packaged, misleading and often downright untrue information put out by the pro GM lobbyists!  Like many others - I've been convinced for years that the various combinations and 'cocktails' of nerve poisons and other pesticides being used in industrial agriculture may build up in our own systems, causing the cancers and other diseases which seem to be ever more prevalent - but who is going to prove that - when the chemical companies in most cases are the ones who are producing their own safety data - and constantly lobbying government scientific committees to pass their products as safe for sale?  That's if their products have been tested at all - and many chemicals used in everyday household products have never been tested. Profits and shareholders are the only things that concern the chemical companies - not our future - whatever they may say. Would you let them pour their pesticides straight onto your doorstep? That is in essence what they're doing - our planet is our home address - and also our children's future!! 
What was it the visionary Chief Seattle said? "Whatever befalls the earth - befalls the sons of the earth. - If men spit upon the ground, they spit upon themselves".  
The WHO and The United Nations are now seriously worried enough about some pesticides in every day use and also possible 'chemical cocktails' that a few years ago that they called for re-testing of many products - it's taken them long enough! But it keeps being delayed. Will it ever happen? - Who will do it? - Will the data be transparent?  And how long will it take? As a result of this re-evaluation - Monsanto/Bayer have really stepped up their lobbying campaign in favour of Glyphosate/Roundup. Reading their website you would think it was totally innocuous and completely harmless!  Forgive me if I'm just a little sceptical - I've read the research and even know personally of cases where people were made severely ill by being careless! Everyday now there is mounting evidence that it probably the most noxious chemicals ever invented - some scientists now even consider it to be worse than DDT!
In the meantime - the safest thing you can do if you're concerned, is to grow your own food organically or buy organic if you can't grow it.
OK - I do personally know how hard it can be to remember the bigger picture when we're all so understandably concerned about how to make ends meet - but some things are more important than money, and health is one of them. Money can't buy health - and growing our own healthy chemical-free food - fresh and burstingly full of vital nutrients - is such a positive thing we can all do for our families which also makes a huge contribution to the household budget in these more cost conscious times. I enjoy giving advice to people about how to grow clean and healthy organic food - and it's something I can personally do to help more people to be just that bit more independent of big business and the supermarkets! But who knows what's next? Maybe governments will start taxing the veg. we grow in our gardens - on the grounds that it deprives the supermarkets and chemical companies of profits and therefore deprives the taxman too!! Who knows? The one thing that we can be sure of though is that by growing as much food as we can ourselves - we can be more self-sufficient and much less dependent on imported produce. Many experts are now warning that when or if Brexit happens - a lot of imported produce will become more expensive due to import costs and tariffs - but I for one won't be worrying about that!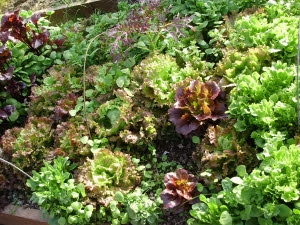 Talking of which - here's some pics of the wonderfully luscious salads we've been enjoying since last autumn
 all winter long, from the tunnel. The salads are lettuces Lattughino, Fristina, Jack Ice, and Cherokee, claytonia, mizuna, lamb's lettuce, landcress, beet leaves, spinach, vegetable mallow, parsley coriander etc. You could be enjoying crops like this too - even if you only have a large cold frame or two. It takes very little effort really - but saves an absolute fortune! 
If you're getting short of warm space in the tunnel this month and any really early tomatoes are looking like they need potting on again - as mine are now - then just give them a half strength general liquid feed of something like the certified organic 'Universal Plant Food' from Osmo - available now in most good garden centres.
  It's still far too early to plant out in the tunnel at the moment - the night temperature needs to be a constant minimum average of about 50deF/10degC - so mine will be staying on the gently heated mat for a bit longer, ensuring they have good air circulation around them to prevent disease and not allowing them to get starved. That way they can wait another week or so in their small pots while the weather's still cold at night. If delayed I'll pot them on again into larger pots - my recycled milk cartons which are easy to label individually with an indelible marker pen so they don't get mixed up! Then I'll leave them on the heated mat for another week or so - I won't risk them in any unheated space until the weather improves a lot. I always like to have really early tomatoes - so I don't want them to get a check. Planting out too early often means they'll get a severe check and be delayed.
(I really enjoy sharing my original ideas and 40 years experience of growing and cooking my own organic food with you. It's most satisfying and naturally also very complimentary if others find "inspiration" in my work......But if you do happen to copy any of my material, or repeat it in any way online - I would appreciate it very much if you would please mention that it originally came from me. It's the result of many years of hard work and often hard won-experience. Thank you.)