Contents:

  Sour Cherry 'Oblacinska' - an Easy to Grow, Delicious and Healthy Fruit.... 
An Historic Treasure rediscovered - Pyrus communis 'Blood Pear'
..... 
The importance of pollinators.... Thinning peaches and apricots vital for good crops....  Dwarf Cherries?- I don't think so!.....Tunnel fruits - grapes, strawberries and figs.... Other fruit jobs.....
 Pink staining at the base of sour cherry Oblacinska blossom indicating that it has been pollinated
"In this Month your Garden appears in it's greatest Beauty, the Blossoms of the Fruit-trees prognosticate the plenty of Fruits for all the succeeding Summer Months, unless prevented by untimely Frosts or Blights. The bees now buzz in every corner.... to seek for food: the Birds sing in every Bush and the sweet Nightingale tunes her warbling Notes in your solitary Walks, whilst the other Birds are at their rest..... The air is Wholesome, and the Earth pleasant, beginning now to be clothed with Nature's best Array, exceeding all Art's Glory." - (Worlidge, 1688)  
How I love the quote above!  How pristine and beautiful that relatively unspoiled countryside must have been.  What a stark contrast to our countryside now!
How much I would love to have seen it.  I often long for a time machine, so that I could go back and see the abundant, unspoiled beauty of that world before we modern humans destroyed so much of it in our ignorance. I was lucky to see perhaps what were some of the last remnants of it as a child growing up in the 50's and 60's in the English countryside. There are no nightingales here sadly - but one of the most wonderful things about growing fruit, especially tree-fruits which have to be propagated from descendants of the original trees, is that we can all cultivate that continuing history in our gardens. We can all touch what in fact are merely extensions of the branches of those many original  apple, pear or plum varieties which gardeners down through the centuries have tended lovingly - bequeathing them to us, to pass on in turn to our descendants. However, there are many more modern varieties, which are equally good, or perhaps even better, in some cases.  And their blossom certainly is every bit as beautiful, as you can see from the picture of sour cherry 
'Oblacinska'
 above - even more so when I can see that they've been pollinated from the pink staining at the base of the white petals, and I'm anticipating such deliciousness to look forward to!
Sour Cherry 'Oblacinska' - an Easy to Grow, Delicious and healthy Fruit
One of the few 'upsides' of global trade is that we are now able to avail of many good varieties of fruit from further afield, which may not have been available to our gardening forbears - like the wonderful Sour Cherry 'Oblacinska' - from Serbia - pictured above in bloom. I bought 2 trees of it in discount supermarket Lidl five years ago.  Just like the peaches I bought there 14 years ago now, they were so cheap that I just couldn't resist trying them at only €5 euros each, and I've been so pleased with them since!  As sour cherries are happy on a north-facing wall - I planted them on the back wall of the stables, facing the entrance to the polytunnels, hoping that I might be better able to protect them there. As sour cherries fruit on the previous year's green wood - just as peaches do - this means that they are far easier to keep under control by annual pruning than sweet cherries, which I've finally given up on here!  Sweet cherries are so vigorous even on the so-called 'dwarfing' (ha!) rootstocks.  Without constant attention pinching back and pruning, which I don't have time for - they become too big very quickly and get totally out of control!  This year the blossom on the sour cherries has been spectacular, and having been assiduously pollinated by a wide range of Bumblebees - are now promising a huge crop this year, all being well, as you can see above. All I have to do now is keep the birds away to ensure that WE get the crop instead of the birds - but I have a cunning plan for that which I'll elucidate in a month or so!  My mouth waters at the very thought of their deliciously tart berries - which aren't sour at all if they are allowed to ripen to dark red, and the extra hint of acidity gives them a far richer taste than any sweet cherry.
Tart cherries are rich in health-promoting, anti-inflammatory polyphenols, and have been found to have several beneficial health effects, including lowering blood pressure, improving brain function, protecting against oxidative stress and reducing inflammation generally.
  All that and they not only look so decorative that I almost can't bear to pick them - and they taste gorgeous too!  Other studies have found that freezing them makes the 
healthy
 phytochemicals in them more bioavailable to our digestive system. So they're perfect for anyone who grows and freezes their own produce, and you will never see them for sale anywhere. Their juice is available in some health food shops - at an exorbitant price!  Far better to have your own anyway - along with all the other nutrients and fibre which the whole fruit contains, they're much fresher and also organic, if you don't use chemicals.  Being organic also means they're also about 60-70% higher in these valuable phytonutrients, according to studies.
An Historic Treasure Rediscovered - Pyrus communis 'Blood Pear'  
Pyrus communis 'Blood Pear' - an historic and fabulous-tasting treasure rediscovered!
A couple of years ago I was wandering around Orchard Garden Centre in Celbridge - somewhere I go occasionally if I'm In that area as they always have an excellent range of plants, and often some of the less 'run of the mill' fruits

.
 I really wasn't looking for any more tree fruits, as I really have more than enough - being a 'pomoholic' - with over a 100 varieties of apples and a dozen pears here, which I've collected gradually over the years!  As I walked past the apples and pears though, something in the periphery of my vision caught my attention. I don't really know why - as the trees I was looking at seemed pretty similar at first to all the other pear trees they were standing among - but there was just 'something' about them. When I looked closer - I spotted that two, slightly taller trees, had several smallish fruits on - unusual for standard garden centre stock, as normally they're sold as one or two-year old trees which haven't started fruiting yet. I asked Adrian, the manager, if they had been sprayed recently, and he said that no - that they never spray the trees themselves, and that they'd had these trees in stock for at least a couple of years, as no one seemed interested in them. He didn't know anything about them, but thought that they were an ornamental variety, as they had beautiful autumn colour. I asked if I could just pick one fruit to try it.......... Well folks - they were obviously waiting just for me!
Let me tell you - bigger is not always necessarily better!
 Biting into what I expected might be a hard, bitter, dry fruit of an ornamental or perry pear, I was stunned when my rather tentative initial bite revealed the most beautiful crimson-flushed flesh, with a deliciously sweet flavour!  In fact I was completely stunned - it was like no pear I'd ever seen before!  Adrian said that it was called 
 'Blood Pear'
, and that he'd got it a few years ago from a small Irish grower who was into unusual ornamental trees, whose name he couldn't remember at the time, and who had got it from another nursery!  Not very helpful!
I thought that the pear's name 'Blood Pear' seemed possibly either very unlikely - or very ancient, so when I got home I looked in all my old fruit books and catalogues - of which I have many! 
That search drew a complete blank. But thank heavens for the internet - despite it's drawbacks - it is a real blessing sometimes! The more I researched this unusually-named variety - the more excited I became!  Lo and behold, I found it listed in 'The Perry Pears of Gloucestershire' - an enthusiast's book written by none other than the incredibly knowledgeable 
Charles Martell 
(of Stinking Bishop' cheese fame) - who recently featured on BBC's Countryfile TV series - and who I knew also just happens to be a very close neighbour of my favourite cousin in Herefordshire!  So I emailed the always helpful Charles to ask if he knew of anyone who was propagating it, as at that stage I still didn't know the name of the Irish grower who Orchard Garden centre had obtained it from..
Charles' beautiful book and my own further exhaustive research revealed that this incredibly rare Heritage pear was first recorded in 1675 in France - then 1684 in Germany - before Worlidge uttered those wonderful words which I've quoted above - but it may quite possibly be Medieval or even earlier.
  It is, as I suspected, an ancient variety, with it's origins lost in the mists of time, which was recently rediscovered in Hasfield, in Gloucestershire. Hasfield is just a few miles away from where my cousin farms on the edge of the Forest of Dean - an area where I spent a lot of time in my youth and am very fond of.  Apparently now a favourite in the National Pear collection, it bears slightly smaller than average fruits that have a rose-flushed skin when fully ripe, but the really exciting thing about this absolute treasure is the meltingly sweet, ruby-flushed flesh revealed when biting into the conveniently child-sized fruits. Their complex flavour is very hard to describe - the one or two European nurseries which have it listed describe it as being fragrant, with almost muscat or watermelon-flavoured fruits, having overtones of cinnamon. The colour and those complex flavours clearly show it's high content of aromatic, antioxidant polyphenols, something which regular readers will know I've been interested in for many years. 
It ripens in early August, ahead of many dessert pears, which is useful, and is absolutely delicious eaten fresh straight from the tree.
 It can be stored for 3-4 weeks in cool storage, can also be cooked, and the fruits dehydrate exceptionally well into deliciously-flavoured pear sweetmeats, which I discovered are especially good with a Brie-type cheese - like 'Stinking Bishop' oddly enough!  I recently heard of someone even making a pink sparkling Perry from this pear - I would really love to try doing that!  I could be wrong, but I think one might need to combine it with an astringent perry pear which has a bit more sharpness from tannins, to make a really good balanced Perry - if making Perry is anything like making cider?  It certainly would be an interesting drink to try though. Perry is not something I've ever tried making - but I think I may just be ordering one or two Perry pear trees in the autumn. Pears will take a bit more of a damp climate than apples - so they should be happy enough here in Ireland! My Blood Pears certainly seem to be very happy anyway! 
This beautiful pear is a real find - and an absolute treasure for lovers of unusual fruit. It is hardy, disease-resistant and crops prolifically. It is self-fertile, but will crop even better with another pear such as 'Conference' nearby to aid pollination.
 The large flowers are very ornamental in spring, and it has beautiful autumn colour - which is a reason I would certainly grow it even if it didn't have such unusual fruit!  I know some of you may laugh at me for saying this, as normally I'm a very practical person and don't often talk about my more fanciful imaginings - but I swear that those trees, which originated so close to where my family's roots go back hundreds of years, might have been connecting or communicating with me in some way through the ether - who knows?  My late very 'fey' aunt - the eldest of my father's 6 sisters, my favourite cousin's mother and more like a mother to me also - could have put it into words so eloquently. She could read my mind which was pretty scary at times!  But all I can say is - 
"There are more things in heaven and earth, Horatio, Than are dreamed of in your philosophy"
 - to quote Shakespeare's Hamlet. It is so true - there is still so much left to discover which is as yet unexplained, given the inadequate scientific knowledge or indeed language which we currently have. I think those trees were calling to me in some way that day in the garden centre!  I often go and talk to those new trees, which came from that area of countryside which I love so much. When I stroke them - I almost imagine that I can feel that connection to the soil where I know my roots still are..........  
One of the very few positives about my broken ankle a few years ago was a bit more time to do research into what interests me.  Microbiology has always fascinated me, and now is a rapidly-emerging field of science

.
 More evidence of the complexity of bacterial communication is being discovered daily - and the more I learn about it - the more utterly astonishing things I discover!  Gut feeling has already been well-documented and scientifically proven as valid. Which one of us hasn't at some time experienced those tell-tale 'butterflies' in the stomach when worried or excited by something?  Or that 'flip' in the pit of the stomach when attracted to someone (- not always a good thing)!   Recently a lot more science is emerging not just about how our gut microbes can also actually control our emotions, by direct communication with our brain - but also how our diet can influence that for good or bad.  So perhaps our gut bacteria may even be able to recognise some molecules of familiarity in other individuals of a similar microbial heritage or background?  Who knows? I know that there is definitely evidence of that in birds. 
Recently I was researching why it was, that despite the fact that the three different hybrid breeds of day old chicks I bought in December three years ago had been hatched on the same day, in the same hatchery, traveled home here in the same box and lived altogether in the very same quarters from day one - the 3 different hybrid strains have from the very beginning tended to gravitate towards their own breed in very distinct groups!
 It's quite uncanny! There is definitely something which they somehow inherently recognise in each other. This is something which I've found astonishing in creatures that one normally thinks of as just  'chickens' - and not something that I would have ever noticed before in chickens. Naturally that is because I would normally have bought all the same breed when I reared them for commercial laying-hens years ago. I got the 3 different breed this time, as I though they would be a more attractive and entertaining flock - not something one would worry about when keeping a large commercial flock. This is the first time I've raised three different hybrids all hatched on the same day.  So that proves that it's not all about scent - if it is at all.  Is it possible that they sense some kind of recognisable, inherited microbial signature?  Scientists aren't quite sure yet - again it's a very new idea that they are only just beginning to research.  One thing is for certain - we all originally came from microbes - we are still full of them, and enveloped by them. How many more fascinating things there are still to discover!  Anyway - before I ramble off into more 
'what if's'  
and bore the pants off you all - back to the more practical matters of fruit!  Although, come to think of it - microbes are relevant to fruit too - just as they are to everything other living thing on the planet, including precious pollinating insects!
The importance of pollinators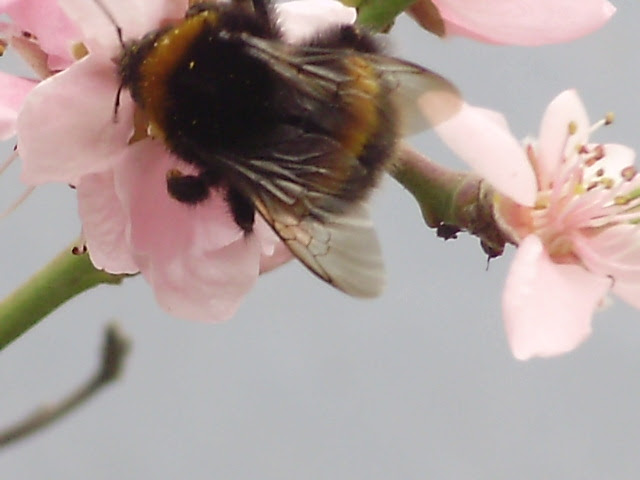 Back in Worlidge's time of the 17th century, one could take the predictability of the seasons for granted. Gardeners back then could also take for granted that there would always be plenty of bees and other pollinators every year to pollinate our fruit trees and other important crops. Sadly our seasons are becoming quite unpredictable now and bee numbers are declining rapidly everywhere, 
mainly due to insect damaging pesticides and habitat loss but also erratic weather due to climate change.  It's in our interests to do everything we can to help all pollinators right now, to try to halt this decline, by providing different habitats for overwintering and breeding, with flowers for nectar and pollen - and by not using any pesticides whatsoever. I haven't used any in over 40 years of organic food growing - they are totally unnecessary. Correct growing conditions and encouraging biodiversity, in an environment with a good balance of pest and predator is the key to growing without pesticides.
If bees and other vitally important pollinating insects disappear - so will all of the food crops which are pollinated by them - including the peaches pictured here. That's an awful lot of our everyday foods - and we wouldn't last too long without them! 
 Apricot fruitlets developing on the dwarf potted trees. Now for thinning!
Thankfully, despite some frosty nights, over the last few sunny days there seem to be quite a few different species of both bumblebees and solitary bees around in the garden and the tunnels. Yesterday, the tunnels were bee central! There were masses of them in there, pollinating the last of the dwarf peaches, apricots and nectarines in the west (fruit) tunnel, and enjoying all the flowers in both tunnels, some of which I grow specifically just for them. Last summer's warm dry weather was a good one for them again and despite the fact that we're surrounded by intensive agriculture and so much habitat destruction, I like to think that all the work I've done here over the last 30 or so years to provide lots of different habitat for bees and insects is now paying off. Particularly the well-drained B&B bank as I call it - that seems to have been a great success, with so many bee nests in it that I had to stop tidying it the other day. Agitated bumblebees were flying around me everywhere as I tried to tidy the roughest of the grasses up a bit. So I left them to it and resigned myself to it looking what some very tidy gardeners would consider to be a mess.  Essentially my garden was planted over 30 years ago with wildlife in mind - because insects, wasps and bees are the organic gardener's best friends. They don't just carry out valuable pollination but also vital pest control - just as nature intended.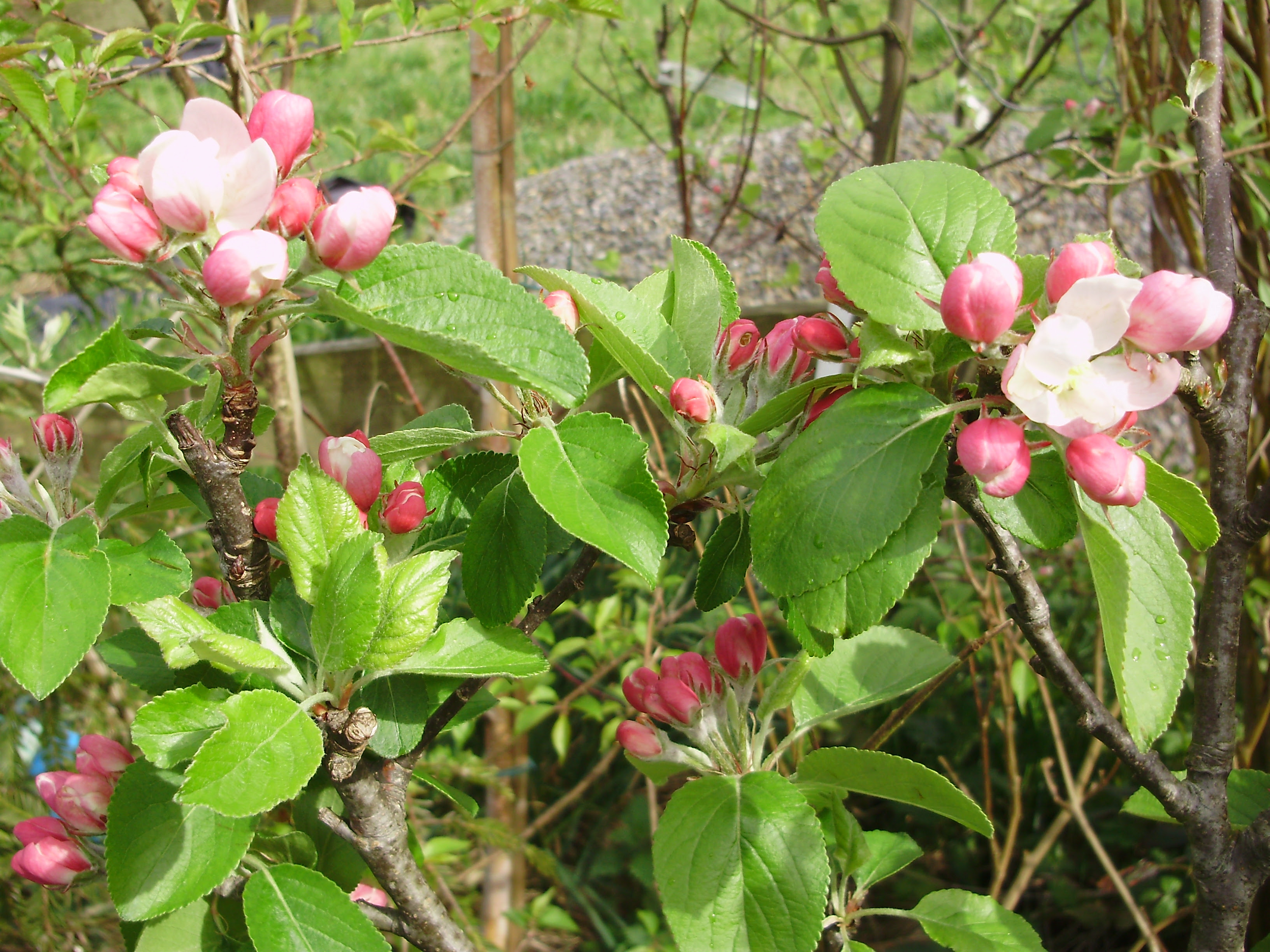 Apple blossom - 'James Grieve'
Many people don't know that bees, moths and other pollinating insects don't just need flowers for food, but also grasses, dry banks, leaves and woodpiles
to nest in and to shelter overwinter.
A friend told me the other day that the 'Glas' scheme for farmers here includes a module on attracting pollinating insects and solitary bees - so that's very good news. Although we left it as late as we could, to allow for hibernating bees, I felt rather guilty when we were mowing the strips across the wildlife meadow at this time three years ago, prior to planting the new orchard. Quite a few bees crawled out from the tall clumps of grasses - but the strips are only about a metre and a half wide - I'm leaving the rest of the rough grass with it's wildflowers - so there is plenty of habitat for them to crawl back into. I'll also be planting lots more native  meadow wildflowers between the trees to provide even more food for them and to attract plenty of pollinators, so that our trees are well-pollinated. So far the new orchard is doing well and we got a good crop again last year.
There are lots of bumblebees but still very few native black honeybees around at the moment though - usually the pussy willow catkins are smothered with them at this time of year. I seem to see fewer every year which is really worrying. I've noticed on or two on the dandelions on the drive, and I was thrilled to see them. I know there are plenty of flowers in the tunnel for them right now though too. The scent when I open the polytunnel doors in the morning at this time of year is always amazing - it smells like a perfume shop!  There are also plenty of hoverflies around in the last few days. Hoverflies aren't just brilliant pest controllers - really gobbling up the aphids - but they're also great pollinators. Once again this shows the enormous value of growing flowers in your tunnel - in case anyone thought it was a waste of space, or a bit 'girly'! Growing flowers outside around your fruit areas or in orchards is important too. That way pollinating bees and other insects get to know where there is food for them and they so clever that they remember it's location - so then they'll keep returning to do their job and then there'll more fruit for you too! Hopefully we can look forward to another summer full of a wide range of delicious fruit. The bees and hoverflies have done a good job of pollinating the early peaches and apricots too, and they must be swelling fast! I hope I may be able to hobble up to the polytunnels in a couple of weeks to try to thin the lower ones that I can reach - as thinning is vital if you want decent sized fruits. 
T

hinning peaches and apricots is vital for good crops
The peach and apricot fruitlets shown here, which are about the size of large peas, will have to be thinned as soon as they reach pea size, and thinned again in a few weeks when walnut-sized, leaving them at least 4-6 ins/10cm apart eventually.  It's 
a fiddly job I really hate - especially now I only have one arm which will reach above shoulder height since breaking my right shoulder 5 years ago!  I can't bear picking off all those furry little babies - that potential fruit - but I have to steel myself, because otherwise I know that they won't develop properly! Most will turn yellow and drop off as the tree can't cope with that many. By thinning you stop that fruit drop and those left will develop properly to full size. It's hard fiddly work doing all that thinning but I congratulate myself when I bite into that first delicious really ripe peach and the juice runs down my chin. It will be peaches for breakfast for several weeks in the summer! The outside ones are two or three weeks behind, so if you have any flowering now, protect them at night with fleece if severe frost is forecast.
Dwarf cherries? I don't think so!
Most years the cherries come into flower later this month. The dwarf (ha-ha!) 'Stella' cherries were the first fruit trees to be planted in the garden 36 years ago,  as small sticks less than 2 feet high, in an otherwise bare field.
 Now when they're in full flower they resemble a beautiful arching cathedral of blossom and are as tall as the house! Not dwarf sadly - but still worth growing for the blossom - and the birds naturally appreciate all the fruit! They can reach it - I can't! Sitting at my computer, I can see over the half door out of the kitchen, through the courtyard gate and straight down what I rather grandly called the 'cherry walk'. The trees should be literally dripping with blossom in another couple of weeks. They're under-planted with bulbs, hellebores, primroses and a multitude of other shade loving spring flowers, so they're a wonderful sight every year! They fruit prolifically, but I hardly ever get more than one or two delicious cherries, the birds get the lot, as they're far too high to cover. Even if I could - the blackbirds in this garden seem to be a particularly ingenious and determined lot, no matter what I try to do to deter them. I've even tried covering some lower branches with old tights before the cherries start to colour (not the most attractive garden ornament!), but my blackbirds aren't fooled by a bit of old hosiery, they just peck at them through the tights and still ruin them anyway! Some people say it's because they could be thirsty - but there's always plenty of water around here for them to drink and that doesn't stop them. So I have to be content with just one or two of my favourite fruit - if I'm very lucky. However, I suppose there is a little compensation in the form of melodious bird song for much of the year. Right now I can hear them competing with the thrushes, goldfinches and chaffinches for 'best spring song of 2018'!  A joyous concert -  although a pretty expensive one thanks to some of them - if you count the cost of the cherries!!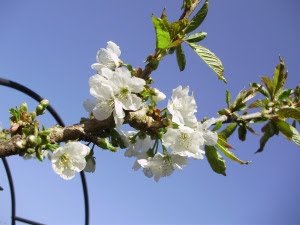 Twelve years ago I had another try, buying more sweet cherry trees on a new, much-vaunted 'extra-dwarfing rootstock' - Gisela.
  Sadly it doesn't seem any more dwarf than the others but perhaps with constant attention and pruning, which I don't have time for - it might possibly work? They're showing every sign of being just as vigorous as the others!  5 years ago - I invested in some more really dwarf fruit trees - this time to grow permanently in pots. I'm growing those in my fruit tunnel, so they'll get more attention while watering etc. and they'll also be protected from hungry birds - so I'm hoping that I may finally enjoy more than one or two cherries!  A few years ago I had the idea of putting empty netting log bags around many of the fruiting branches of the trees outside with some success but they're too difficult to reach now! The only cherries I will really be sure of getting outside are the Morello, or sour cherries - the buds promise a big crop on what are still quite small trees. 
Other fruit jobs 
You can plant all types of fruit from containers now, as it's too late for bare-root planting. Make sure they're nice young plants, not 'pot-bound' as they are more difficult to establish well.
 Gently tease a few roots loose around the bottom when planting, so they get the idea. Be careful to make sure that any graft union on fruit trees is at least 3-4 ins/10cm above ground level. I often see potted trees in garden centres with the graft union practically in the compost - those are a disaster waiting to happen for the unaware.  If the fruiting top part of the tree roots past the dwarfing rootstock, as can happen if it's too close to soil level, then the dwarfing effect of the root stock is lost altogether! Don't forget if space is short that you can also plant all sorts of fruit in containers too!  If you have a high 'pH' (limey) soil, this is in fact the best way to grow fussy acid-loving blueberries, always watering those with rainwater - never tap water if you're in a hard water area. This is where so many people go wrong
You can also prune to shape young and trained trees of stone fruits like plums and cherries now that the sap is rising.
 If pruned in the winter, they may possibly develop 'silver leaf' or bacterial canker disease. 
Keep a eye out for any blackcurrant, redcurrant and gooseberry leaves which start to appear like lace - with small holes appearing between the leaf veins. This is caused by gooseberry sawfly caterpillars.
 It's often a problem on young bushes just recently bought from nurseries, as it seems to be endemic in them! The best way to cope with these is not to spray! Just squash any caterpillars you find as soon as possible, and if you have space, put a temporary chicken wire fence around your currant patch and get a couple of chickens or even bantams to scratch around over the winter and pick up the eggs and grubs - that's how I got rid of it. A bit more protein to produce some nice eggs for you! The blackcurrants in particular will appreciate the extra nitrogen that the chicken's droppings will provide - and I can guarantee you won't have any more trouble with sawfly. Just make sure you move the chickens somewhere else in the spring, before the bushes start to fruit, or you won't have any fruit either!!  Feeding your garden birds near your fruit bushes is a good idea too - while they're waiting their turn on the feeders they will also search for insects.
Feed and mulch all fruit trees and bushes if you haven't already done so. If you have wood ash available from a wood burning stove - all fruits particularly apples and pears, will appreciate the highly soluble, fruit inducing potash it provides
.- Not blueberries though, as wood ash raises the 'pH' of the soil - use seaweed meal and/or comfrey mulch on these. Fruit trees and bushes in containers would also appreciate a feed of an organic general-purpose fruit fertiliser and a nice mulch to preserve moisture at the roots if you have room.
Don't forget that any fruit grown in containers is totally dependent on you for it's food and water, so from now on keep an eye on their watering too.
 If short of water, most fruit will immediately drop their fruits if allowed to wilt at all. Don't over water either - or the roots may rot unless the compost is free draining. Keep on top of weeds, but be careful hoeing raspberry beds, better to hand weed, as there may be new shoots appearing from ground level. Prune out some of the older fruited canes of autumn fruiting varieties (see March).
Tunnel fruits - grapes, early strawberries and figs
Inside the tunnel - grapes will be producing nice juicy looking shoots on the spurs now, with the flower bunches clearly visible. By the end of the month or before, you should pinch out the tips of all the shoots on the spurs (side shoots) after they have produced two leaves beyond the developing flower bunch
. That is all 
except the very end two shoots, on grapes 
grown on a permanent rod (stem) system. These will draw the sap along the branch system and provide extension growth if necessary. 
Always leave two shoots
 in case one gets damaged or broken. In the case of 'Guyot' pruned grapes, 
also leave two shoots to develop at the base of the current fruiting branch
 to develop fully, those will make replacement flowering branches which will fruit next year. Next winter you will cut out this year's fruited branch completely, leaving the stems which developed from those two shoots at the base which grew this spring. I think the permanent rod system works best for amateur gardeners though - it's easier and less work 
Side shoot or 'spur', off the main rod of seedless grape 'Rose Dream' - showing the end of the shoot pinched out 2 leaf joints beyond 2 prospective bunches
Grapes are very amenable to training and are also easy to grow in large bucket-sized pots grown as a small bush - allowing several branches to develop rather than just one main branch. They take up very little room this way and most people could grow them. You can get a surprising amount of different varieties into quite a small space this way and have a good spread of cropping time from July to November or even later. I experiment a lot with different varieties of grapes and various methods of pruning and training. Seedless grapes don't need the bunches thinning - whereas if you don't thin some of the seeded ones - the bunches can become crowded and disease-prone.
I don't juice grapes any more because what you're left with is just a lot of sugary water in most cases, without all the valuable natural fibre and nutrients in the whole fruit. I blitz the whole lot in a food processor or powerful Nutribullet blender now if I want a smoothie - so that I get all the skins, pips and important fibre from the fruit too.  Grape pips and skins in particular are very high in a phytochemical called Resveratrol - which studies show is extremely good for blood vessel health and circulation. This especially high in black or dark red grapes. My favourite black grape is Muscat Hamburgh, which has the same fabulous taste as those huge Moscatel raisins that are only available before Christmas. Another very good black grape is Muscat Bleu, it has the same delicious flavour as Muscat Hamburg but also has the advantage of self-spacing bunches - with the individual grapes slightly further apart, which promotes good air circulation - so it is ideal for growing in polytunnels where the atmosphere is more humid.  A new seedless one I planted a few years ago is 'Rose Dream'. It fruits extremely well, is very early in the tunnel and very sweet. 'Lakemont Seedless' - is a deliciously sweet early green dessert grape that carries large bunches and is a really good variety for organic gardeners as it's very disease-resistant. It's available from many suppliers now. That's the one I use for making scrumptious sultanas in my dehydrator!  It makes a lovely decorative feature climbing over the door at the south end of my large tunnel in space that would normally otherwise be wasted. Growing them in a tunnel also means that it's far easier to keep the birds away from them!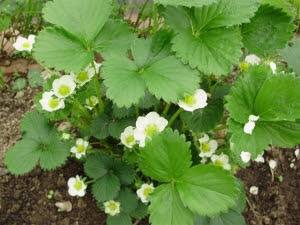 Perpetual Strawberry 'Albion' in the tunnel
All the varieties of perpetual strawberries in the tunnel are starting to flower well now.  They rarely produce runners after their first year, so if you want to increase your stock - let some runners develop. The catalogues or labels never tell you this of course, they tell you to cut them all off. Well, they want to sell more don't they?  As long as the plants are strong and well fed - it won't affect them at all - and after all that's how they naturally grow. Many of the more modern summer-fruiting varieties seem to behave the same way, 'Christine' is an early, great-flavoured one I grow, which does the same, so it's safer to take one good runner from each plant in it's first year, that way you're sure of keeping them. Cut off any which develop after those, to avoid weakening the plant.  
Protect flowers of early fruiting varieties from frost with fleece at night - remove during the day for bees to pollinate.
 Liquid feed weekly once the fruits are developing, with a high potash organic food like comfrey liquid, or the excellent 'Osmo' organic tomato food (available from White's Agri at Lusk, Co. Dublin and many garden centres). If you're just planting a new bed of more than one variety, make sure you just grow one variety per bed, to keep them distinctly separated. I find an early one like 'Christine', grown both inside and outside, with another one or two perpetual varieties, like 'Everest' and 'Albion' again grown both inside and outside, and an alpine one provide plenty of delicious strawberries to eat fresh and to freeze, from May until November. I've also brought pots of 'Gariguette' into the tunnel this year. I've grown it for years but never tried forcing it before. It's the French version of the famous old 'Royal Sovereign' - so I'm looking forward to supreme flavour. Why on earth would anybody want to buy the tasteless, disgusting, chemically-grown ones grown out of season, imported from half way across the world - when it's so nice to look forward to them in their proper season - just helped along a little in a polytunnel? By the way 'Albion' freezes particularly well too - not going quite as mushy as some other varieties.  
  Cape Gooseberry - small plants ready to pot on to larger pots
The Physalis (golden berry, Pichu berry or Cape Gooseberry - whatever you like to call it!) will have to be potted on this week into larger pots as they've grown well. They'll be fruiting by late August/September and will go on until December. After that the fruits will keep for literally months in the salad drawer of the fridge - so they're well worth growing from seed and are a really easy fruit to grow. They have a delicious citrussy-sherbetty taste (even writing about them makes my mouth water!) - and they're very high in antioxidants lutein and vitamin C. They're even easier to grow than bush tomatoes, do really well in tubs or large pots, seem not to be bothered by any pests at all, the bees really love the flowers and the birds haven't sussed them yet! What's not to like? I've seen the dwarf version for sale in garden centres - but they produce so little fruit they're a complete waste of space - and I don't know anyone who's been successful with them. Some of last year's plants have overwintered well in the tunnel due to the mild winter, I gave them a feed about a month ago and they are now producing lots of nice new shoots at the bottom, and even flowering already on the few long branches which didn't die back. As a result I'm hopeful of some really early, very welcome fruits. 
Frosty nights can be particularly difficult for any tender fruit growing in the tunnels. On the very bright sunny days after a clear night's frost the temperatures can rise at an alarming rate - so I have to watch the ventilation very carefully - trying as far as possible to even out the day/night temperatures - not always easy!
 There's a good crop of early figs developing fast on all the trees - many of the figlets overwintered without any damage. Those that are in any way damaged won't develop and eventually will turn brown and drop off. It's a good idea to take those off now so that they don't develop rots and spread diseases to the healthy younger ones.  In the picture you can see the early figs on last year's darker-coloured growth - the late summer's crop will develop on the new growth made this spring and summer. I'm being very careful to keep them evenly moist now too - if they dry out and wilt even the slightest bit - figs will ditch all their fruit without fail - usually about two weeks later - when you've completely forgotten that you possibly neglected them on just one occasion! The same goes for all potted fruit. Figs also like good drainage too, hating to be too wet - so they're temperamental devils in pots but well worth it, when even non-organic fresh figs are about a euro each in the smart fruit and veg. shops!  I should have my first ripe figs in mid June and will then have a second, bigger autumn crop on this years new green growth, on most of the varieties I grow.
The wonderful scent of the citrus flowers is filling the tunnel now even though there's only a couple of trees flowering! 
A real scent of approaching summer.  I always hate picking the last of the lemons and limes as they look so beautiful. Daft really isn't it?  If I leave them on though - they stop the new fruits developing even if the flowers are pollinated. They're also being protected at night as the dark red young growth is very soft and vulnerable to frost. They're getting a low strength 'Osmo' liquid feed mixed with tunnel temperature rainwater at every watering now - they hate limey, high pH tap water!  I do wish garden centres wouldn't water them with a hose! If they are in the garden centres for too long - the leaves start to turn yellow and drop off, as the staff don't know that they prefer the 'gentle rain' that 'droppeth mercifully from Heaven'!  Talking of which - I really had such a laugh on one of my much dreaded twice yearly ventures into Dublin a couple of years ago!  I wonder what on earth would Shakespeare have said at being quoted on an M&S food carrier bag? - 
"If music be the food of love play on"!
 writ large on a bright purple, recyclable bag - Whatever next!?

 Twelfth Night - Act 1, scene 1.- Duke Orsino:
If music be the food of love, play on,
Give me excess of it; that surfeiting,
The appetite may sicken, and so die.

Music and food would certainly be pretty high on my list of priorities that's for sure - I really love all kinds of fruit. I wonder if Shakespeare liked figs? 'Duke Orsino' would certainly have prized them as a Mediterranean man. I don't think you could ever die from eating them - but eating too many might possibly be a little uncomfortable!  I find half a dozen just enough per day, any more is too many - but they're so delicious that they're very hard to resist them.  Anyway, I could never fall out of love with figs - they're one of my favourite fruits. Problem is - so is almost everything - each in it's own season! 
Sometimes it almost seems that the more fussily difficult things are to grow - the better they taste. But then isn't that the real joy of gardening - that you can actually taste the achievement a little too?! Added to that - we always have something new to look forward to!
 

Early figs forming from the overwintered buds on last year's darker 'woody' growth. New shoots will carry a later crop on most varieties of figs in tunnels.

 

 

Strong red-flushed young growth, overwintered fruit and flowers on lemons in the tunnel

 
 (Please note. I really enjoy sharing my original ideas and 40 years experience of growing and cooking my own organic food with you. It's most satisfying and naturally also very complimentary if others find "inspiration" in my work......But if you do happen to copy any of my material, or repeat it in any way online - I would appreciate it very much if you would please mention that it originally came from me. It's the result of many years of hard work and hard won-experience. Thank you.)