Contents: Ensuring food security through preserving genetic diversity....  Strength in Diversity means strength in Adversity .... Keep Sowing Healthy Salads.... There's still time to sow flowers for pollinators....  Potato Blight - my way of dealing with it.... Keeping diseases and pests at bay..... Dealing with slugs and leatherjackets.....  Mulching cuts down on Watering..... Other jobs.... Keep the ground busy - don't waste an inch of growing space!....  Saving money by taking cuttings of veg plants....  Making high-rise, raised (or 'no-dig') beds....  What can you do about spray drift?...   The Brexit Bonus? - I think not!
Flowers mixed with vegetables - in the biodiverse, French 'Potager' style.  Brassica bed planted with Nasturtiums, Tagetes and Viola
Ensuring food security through preserving genetic diversity
I first became aware in the mid-1970s that ownership of the world's seed supply was increasingly becoming concentrated in the control of only a small handful of powerful global multinational seed/agrochemical companies. This was leading to a loss of vital genetic diversity as they dropped Heritage varieties in favour of promoting their own patented F1 hybrid and GMO varieties.  Seeds for growing such patented crops are produced each year by a complicated process of crossing undisclosed parents under specifically protected conditions and must be purchased from these seed companies annually, as it cannot be saved and replicated by farmers and gardeners.
This narrowing of genetic diversity in the world's seed supply is an extremely dangerous threat to global food security, as valuable traits like pest and disease-resistance, or potential adaptability to future unknown challenges of climate change may be lost, when long-evolved crops with varietal stability established over many decades, or sometimes even centuries, disappear from cultivation.
The issue of global food security has never been more relevant. The current war in Ukraine is showing us just how dangerous it is to allow control of valuable global commodities to be concentrated in too few hands.  The war is urgently highlighting that we can and must find alternatives to oil – but there is no alternative to food.  We all need to eat! 
Since the 1980s I have held several events trying to interest people in preserving genetic diversity in order to ensure food security – but it wasn't until 2012 that I felt people were becoming interested enough in the provenance of their food for it to be worth having another try.
Tomatoes are one of the most popular and economically valuable crops grown throughout the world by many different cultures - and exhibiting many diverse cultivars together is a very visually appealing way to engage people, and something which they can all relate to.  Tomatoes have such an incredible and vast array of shapes, beautiful colours, flavours and uses in food production, both at home and commercially.  Everyone eats them, in one form or another – whether we eat bog-standard takeaways or haute-cuisine!
So - the idea of holding The Totally Terrific Tomato Festival was born.  The festival has moved around since its birth in 2012 and  I am thrilled to see its adoption by the Airfield Estate venue this year. The festival runs on August 27th and 28th at Airfield Estate, Dundrum, Dublin.   In a really exciting tomato development - Colm O'Driscoll, head gardener at Airfield, has been running a trial, in association with the Gaia Foundation, to find an open-pollinated alternative to the popular Sungold F1. Four varieties are currently being trialled, and there will be tastings during the festival for the public.  I can't wait tp try them!
Strength in Diversity means strength in Adversity
Growing a diverse range of flowers, herbs and other crops in your potager or vegetable garden increases the range of biodiversity not just above ground, but also in the soil. This will become increasingly important if we want to be more self-sufficient in an uncertain world, where we can no longer rely on the weather and reliably predict what will grow well at any time of year.  We try to be as self-sufficient as possible here - growing a wide range of crops which means that there's always something to harvest no matter what happens. If one crop is a disaster - then usually there are several other alternatives to harvest, even in winter. Research also shows that having that broad range of plant biodiversity increases the chances of crops either not being attacked by pests or diseases, or of recovering from them more quickly and easily. .
I've always been a big fan of French potager-style gardens that mix flowers, fruit and herbs with vegetables.  They have always seemed a far more natural and beautiful way of growing things to me, because that's the way Nature grows things - all mixed up together, without lots of bare soil.  At the moment I'm seeing lots of lovely photographs of other people's vegetable gardens on Twitter. Many are incredibly neat, tightly-controlled and very tidy-looking with their neat rows of vegetables, with lots of weed-free soil between the rows, but to me some of them look incredibly sterile and sad - almost like mono-cultures - with bare soil everywhere! Now I know that some chaps tend to think that planting flowers with your veg is a bit 'girly' but it's not! There's actually a very good scientific reason behind it - quite apart from the fact that it looks beautiful! If you don't have flowers that produce nectar and pollen - then why would any self-respecting beneficial insect visit your plot to lay its eggs? Nature isn't that stupid or altruistic - insects need food as much as we do! 
The added extra of planting flowers for bees and other insects is that not only does this help with pest control - thereby making your garden more productive - but it also makes the vegetable garden look even more decorative. In my opinion, contrasting flowers make rows of delicious vegetables look even better! This is particularly important in a small garden where you may not have enough space for separate areas. I often used to visit the late Rosemary Verey's beautiful potager garden at Barnsley House, near Cirencester in Gloucestershire. It was an inspiration, as are dear Joy Larkcom's wonderfully delicious-looking books. One day I hope to make it to see the potager at Villandry. If only there were 48 hours in every day!  I think that nothing looks prettier or more satisfying than a neat, productive garden full of good things to eat, interspersed with flowers and fruit trees! The only problem is - picking them spoils the nice patterns - but we have to eat!  
Keep Sowing Healthy Salads
Stepladder salads by my front door last year - planted standing on one leg!
I'm always saying that the most important thing you can do every day is to eat a green salad - picked as fresh as possible, early in the morning when all it's valuable phytonutrients are at their highest levels. I like to have a range of ingredients, so that I have the broadest range of nutrients possible. Three years ago due to my broken ankle, I didn't get my early summer salads planted in the outside beds, as I couldn't stand to prepare the beds obviously!  But - determined not to be defeated - while my daughter was here helping, I got her to bring what I call my step ladder garden around to the front door which I could just hobble to - so that I could plant some salads on it that I would be able to harvest every day after she was gone. I was amazed it was still holding together (famous last words!) as I bought it about 25 years ago now and have been growing stuff on it ever since!  The two lettuces I planted - Lollo Rossa and Cosberg - did really well, picking a few individual leaves every day.  That's the best way to get a long harvest from lettuces if you only have a small space. My step ladder garden takes up less than 1/2 a square metre space, even with a couple of pots either side for tomatoes or other salad vegetables, it's something you could do even on a balcony, so it's well worth doing. I'm so glad I did!  It's been through many variations over the years, and if you want to copy my idea - there's a link here to a blog post I wrote about it a few years ago, with lots more ideas :
This year, even though I still haven't yet had the surgery to correct my ankle problems due to COVID19 delays - I've somehow managed to get two of the potager beds in the kitchen garden planted with a range of lettuces, celery, chards and other salads, with broccoli, leeks, parsnips, kales and other veg for winter.  None of those would do well in the heat of the polytunnel at this time of year. It's so important to have all those fresh salads - as emerging science is showing that eating the healthiest diet we possibly can is the best defence we currently have against the effects of all diseases.
There's still time to Sow Flowers for Pollinators
Don't forget that if you haven't yet sown annual flowers to attract beneficial insects and bees and other insects like hoverflies - you can still buy them in garden centres.  Any nectar and pollen producing flowers will do, and perennials like Scabious, verbena Bonariensis and nepeta are also good, and especially herbs like Thyme and Marjoram. But don't forget they must mostly be single-flowered or they're not much use to insects!  It's also important to ask the garden centre if they've been grown using neonicotinoid insecticides in the compost. The garden centre staff may think you're a 'barmy green' as I was described recently - but if you explain that most of the food we eat is actually provided thanks to pollination by bees - and that they're seriously under threat from these poisonous insecticides - then they may start to listen. If you don't mention that - they will think that this issue is something they needn't concern themselves with, because the customer doesn't care. 
Many plants have bee-friendly labels on them now - but there is actually no legal definition for 'bee -friendly' and the plants labelled as such can still be grown using bee-damaging pesticides! These pesticides can also transfer by leaching into the surrounding soil where you plant the flowers, killing a lot of beneficial soil life including useful ground beetles and centipedes. You don't want to kill them - and neither do you want to eat veg grown in soil which contains those chemicals! It's really good to know that by growing so many flowers with my veg - that I'm not just doing it because it looks pretty - but I'm helping bees and other beneficial insects to survive!
 Potato Blight - my way of dealing with it
I keep a sharp eye out for potato blight now, as conditions will be ideal for its development over the next few days, with warm weather following the recent torrential rain. If you got your seed tubers in early by starting off 1st and 2nd early varieties off in pots, as I do every year now - you should already have a decent crop under them already though. First and second earlies only need 10-12 weeks to develop a reasonable crop - and obviously after that any increase in the weight of the crop is a bonus. If we get a dry early summer, unless it's very humid we may not get blight until July - but after that it's mostly a given! I avoid early blight every year using my 'pot-planting' method.  I know a lot of people just can't get their head around starting off potatoes in pots because it's not the way things were always done. But why not? It's easy enough to do on a garden scale, and no different to planting lilies or dahlias! Many other crops are started off this way and people don't have a problem with that!  With climate change we will have to learn to 'think outside the box', be flexible and adapt our methods if we want to produce crops without harmful chemicals - although even those are becoming less effective now. Even permitted organic sprays such as copper sulphate can be harmful too, and can build up in the soil if overused, particularly in clay soils. It's severely restricted now under organic standards. I've never used any sprays whatsoever here for blight on potatoes but still get good crops, by growing them my way.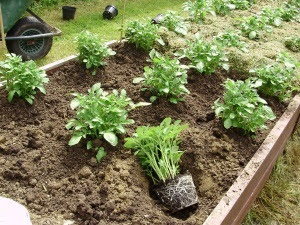 Planting potato plants with nice root balls and small developing tubers in April.
Even early blight doesn't  bother me now though - because in a normal year, all my potatoes are already flowering and developing their tubers nicely. I normally plant the outside crop in mid April in the way you can see here. They were all started off in early March and by then were already well developed plants with a good root ball. After planting I always give them a good watering and then a heavy mulch of grass clippings which keeps the moisture in and weeds down - making sure to leave the stems clear of mulch which could rot them. After laying down the mulch I then water again - to ensure that no fumes are given off as the clippings don't heat up -  which can burn leaves. The heavy mulch seals the surface, blocking out light so that weeds don't germinate and also stops the water evaporating too quickly - creating too humid an atmosphere around the plants and possibly encouraging blight. I then don't water again until the flowers are open - because this is the time when they start to develop their tubers. Less watering means less possibility of encouraging blight - so the best time to water is when you know plants will need it most.
Blight spores are in the air everywhere all the time, waiting for exactly the right conditions - warmth and high humidity. Really good air circulation and low humidity conditions are the keys to avoiding it as long as possible. That, and growing more resistant varieties - like those pictured below - of which a few are being bred now. Sadly though they don't always have the wonderful flavour of the varieties I grow. There haven't been too many nights of frost since my potato plants were planted, so luckily I've only had to cover them a couple of times with a double layer of fleece to protect them from frost - there's no damage at all and they're growing really well. I always take fleeces off first thing in the morning as air circulation is so important to keep disease at bay.  Despite hailstone the size of marbles in early May - there was no damage and they were looking really beautiful, but this morning are looking somewhat battered and bowed by the torrential rain overnight. They will recover though - but I shall now keep my eyes peeled for those first signs. Someone told me a couple of years ago about a really daft idea they had read somewhere - which was - "to cover the plants with polythene at the first sign of blight in order to stop it getting to the plants"! That's definitely the best way to reduce air circulation and the best recipe for encouraging blight as fast as possible that I've ever heard!!  You can't shut blight out - any more than you can stop plants breathing!

 
| | | |
| --- | --- | --- |
| | | |
| Innovator flowering - a blight resistant cultivar called Albert Bartlett Russet in UK | Naturally  blight-resistant potato Vitelotte  flowering | Potato Tibet flowering - the most blight resistant potato I have ever grown. |
As soon as I see any signs of blight on the Red Duke of York - always my best blight indicator, then I cut the haulms (tops) off all the plants immediately and cover that part of the potato bed with black polythene to stop any of the fungal spores washing down through the soil and rotting the tubers.  Red Duke of York is always my blight indicator, being more susceptible than most - so it's always the first to be hit. After that I keep a careful eye on the other varieties in the bed and as soon as I see any sign of the 'tell tale' black blotches on the leaves, I do the same with them. Using this method - I've been growing enough potatoes to feed the family for most of the winter every year for the last 30 years or so - when I gave up direct planting of seed tubers at the traditional time of mid-March. Combining that method with my 'extra early' mid January planting of tunnel crops - which I wrote about earlier this year - it means that I usually have my own potatoes all year round, depending on how many of the family and friends there are here to eat them!  If you're growing in raised beds as I do - you can even leave them in the ground for months then - they keep far better this way unless you have a massive slug or rodent problem. I don't normally lift the remainder of the crop until frost is a possibility, then I store them stacked in slatted plastic trays, in a cool frost-free shed, loosely covered with black material to keep the light out, but still maintaining good air circulation.

New strains of potato blight have developed over the last couple of decades and become far more resistant to the chemical fungicides used by conventional chemical farmers.  This is why many non-organic, commercially grown crops are sprayed often 20 times or more with chemical fungicides - quite apart from all the toxic 'cocktail' of other chemicals they are treated with. These include 'dessicants' - like glyphosate-based weedkillers which are used to spray off the foliage before harvest in order to make it easier for machines to harvest the potatoes). Even blight sprays aren't effective enough some years though - in that case farmers often then don't even bother lifting the crops because it's not economic - and they just plough them back in. Sometimes not for months though - leaving them rotting in the ground, and this just leads to even more blight proliferating in our mild damp winter climate here in Ireland!  That creates the perfect conditions for the evolution of blight resistance - and the smell of rotting crops is disgusting around here sometimes. I am convinced that this practice combined with increasing use of fungicidal sprays has contributed in a major way to the development of more resistant strains of blight over the last few decades.
I am also convinced that the amount of chemicals the general population is consuming now if they're eating these crops is going to cause a 'Tsunami' of health problems in years to come. Many scientists are beginning to worry about this issue too. Just this week some new evidence emerged about fungicides that are routinely used on many crops. Many think that fungicides are less harmful - but recent research has found that they induce changes in gene expression in mice similar to those in people with autism and neuro-degenerative conditions like Huntingdon's disease. This could partially explain the increasing incidence of such diseases. They're certainly not what I would want to eat - which is why I have grown all my crops organically for over 40 years, with no sprays whatsoever - not even organic ones like copper sulphate which are allowed under some organic guidelines!  Growing potatoes my way, I find that I can grow enough potatoes to see us through the year without using any sprays at all.  It's all a question of timing and TLC - but it's well worth it!
Keeping diseases and pests at bay in other crops
When it comes to diseases in other crops - constant vigilance and good housekeeping is the order of the day - especially so in salad crops like lettuce! Botrytis and downy mildew can spread like wildfire if you're not vigilant. Keep an eye on crops and pick off any yellowing, rotting or otherwise diseased leaves immediately! This is especially important in wet weather. 
Conversely in dry weather - powdery mildew can often be a problem - especially when days are hot but nights can be cool. If plants are not well-watered and mulched they may suffer this in dry conditions, as it's caused by dryness at the roots . Most of the questions at every year's Irish Garden advice stand at the Bord Bia Bloom garden festival in early June are about that, as it is normally very prevalent at this time of year.  
Dealing with Slugs and Leatherjackets
The scourge of wet weather - slugs - are a problem every year! They can be dealt with easily in a number of ways. By picking off, slate or beer traps, keeping weeds down among crops and keeping any grass paths beside veg beds cut very closely so they have nowhere to hide! My preferred method is snipping with scissors on my nightly prowl and also using pieces of slate along rows where they hide and can easily be scooped up daily to feed to the hens! I know a lot of people find the scissor method difficult at first - but believe me it gets easier - particularly if you've had something nice destroyed by them! The other good thing about that method is that they are still available as food for all the wildlife in the garden who are reliant on them for food.  As I often mention - this garden is not just managed for our benefit - but also for the benefit of as much wildlife as possible. There are so many birds in this garden that I really don't know how they all manage to feed themselves!  I rarely see pests though - so I guess that encouraging the birds, as well as other methods really pays off. I don't just grow veg - and I rarely have holes in my Hostas either!
Starling sitting on the weeping ash by the yard, proudly displaying a juicy leatherjacket
If you have any beds or ground you're not using - growing a green manure will discourage those other pests - leather jackets - which will proliferate if you let grass grow on beds when they're empty. 
 Leather jackets are the larvae of the Daddy Longlegs or cranefly!  Leaving beds vacant and cultivating lightly a few times before putting in lettuce is good at getting rid of many. The starling population in particular love leather jackets and are incredibly efficient at clearing them up!  It just proves once again the value of encouraging as broad a range of biodiversity as possible.  At this time of year the entire bird population here is frantically rushing around from dawn until dusk, trying to find insects to feed their hungry broods.  They are the best pest control you could possibly have, with the added benefit of free music!  
Mulching cuts down on Watering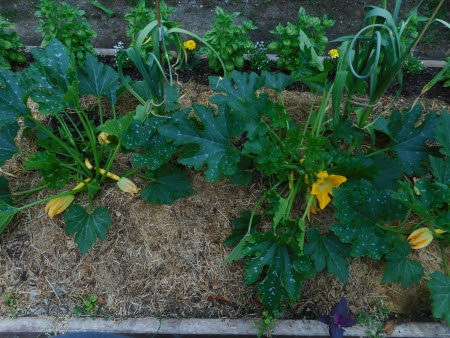 Courgette bed mulched with grass clippings showing how it packs down and knits together after 10 days - keeping weeds down
I've seen so many people complaining about having to water their veg gardens on social media recently, just before the massive down pours of the last couple of days (well we didn't have rain - but everyone else seems to have done!). At the same time - I'm seeing the photos they're posting of pale, dead-looking, carbon-deficient soil, especially on allotments - which is just crying out for a good mulch of organic material!  Watering without mulching is a waste of water - as much of it just evaporates off into the atmosphere!
Keeping plants well mulched after you've watered when the soil is moist is vitally important now, as crops are growing fast and will soon become stressed if they dry out, which reduces the length and amount of their crop and makes them bolt or run to seed early. A good heavy mulch reduces evaporation so you will need to water less often. It also keeps plant roots cool. Containers can often need watering twice a day in warm weather - a bit of a drag I know - but if you want to grow stuff and have no garden - it can still be done!  I even mulch those too if I have room - with chopped comfrey or grass clippings.
A good soaking and then mulching with grass clippings, compost or other organic material really pays off. As I've said above - always remember to keep any mulch at least a couple of inches away from the stems. Protecting all bare soil with an organic mulch helps to buffer it against drought, and as the worms gradually work it in, it naturally becomes humus, which acts like a sponge and absorbs more water. This is one of the reasons industrial chemical farming ruins soils, because it uses up soil carbon and humus, and doesn't return organic matter like straw-based manures and recycled plant wastes as farming did for hundreds of years, and as organic farmers still do now. The unnaturally chemically-fed soil gradually becomes just a lifeless dust. Without any added humus it's carbon store is depleted and so it doesn't absorb water. More and more hedges and field margins have also been taken out which would have absorbed water. Heavy rain then just runs off quickly causing flooding problems, pollution of rivers etc. That's what we suffered in many places this spring. Plants then also become stressed and sick - needing even more chemicals to keep them alive!! 
Effective watering at the roots where it's most needed is the key, rather than just aimlessly splashing it about on the surface where it just evaporates - or even worse - on the plant's leaves! Timing is everything too. As I've already mentioned - potatoes, for instance, benefit most from water just as they come into flower, as that's when the tubers are really starting to swell. I always water everything by hand. It can be time consuming at times, but I prefer doing this because I grow so many different types of crops together, often 'catch-cropping', inter-planting or 'poly-cropping' (the latest 'buzz word'!) with salads or other fast-growing crops between rows of slower growing crops, which all need different amounts of water. I've tried various automatic systems over the years, but find they tend to waste water and never really do it as well as you would yourself.  Doing it by hand also means you're really looking at your plants, getting to know them well and noticing any possible first signs of something going wrong - a few aphids perhaps, or a spot of mildew. Powdery mildew is often a sign that things are too dry at the roots. I find that courgettes in containers always suffer from this in particular - they tend to crop brilliantly for a few weeks - as my early ones in the west tunnel are doing right now.  But then no matter how much you water, as the plants get bigger they will get mildew on the leaves. Those growing in the ground are far happier really - but again - if you have no garden - containers are the only option, so you can get around the problem by sowing another few, 3-4 weeks after the first ones, then when the first ones go beyond the point where they're still cropping well - the next ones should start cropping.
Water is a precious and valuable resource, not just for us humans but for all life, so don't waste it, save every drop you can. If you're recycling grey water, make sure you're not using chemicals like bleaches and disinfectants, and use it as soon as you collect it, as it can become a bit smelly if you store it! I prefer to use it for crops that are going to be cooked rather than salads! I think that all new houses should by law have to install rainwater harvesting systems, for uses such as flushing toilets etc. If you collect as much rainwater as possible like I do - Hoselock do a very useful and efficient water pump which you can use to pump water out of water butts and onto your garden, it saves a lot of back breaking work carrying water to where you want it as you can attach a lose to it. It comes out pretty fast though - so make sure you're aim is careful!
Keep the ground busy - don't waste an inch of growing space! 
Have something ready to go in pots or modules so that you can plant it immediately any crop is finished and cleared. Things grow really fast at this time of year, so "gather ye rosebuds (or vegetables) while ye may"! - After the summer solstice, growth starts to slow up, in some cases quite dramatically! You should be starting to enjoy some of the rewards of your efforts this month - if you're lifting early potatoes, don't forget to save a few for a really early crop next year as it's difficult to buy them early enough in Ireland - and even if you order online they don't always come in time to get them sprouting before mid January. We've been eating new potatoes since mid April from the earliest plantings in the tunnel. 
Virused 'Roseval' on the left, surrounded by other healthy plants
Make absolutely sure you only save seed potatoes from the very best, healthiest-looking plants. In case you don't know what a virused one looks like, here's a photo I took a couple of years ago - clearly showing the difference between a healthy looking plant and one obviously infected by virus. I would normally 'rogue' this one out as soon as I had recognised it was virused, as it can be spread to other plants by aphids and I grow a lot of rare old varieties, which I want to keep healthy.  I deliberately left this one just in order to take a picture of the example for you - very noble!  Aphids can spread any virus to other plants. I often get problems with bought in so-called 'certified' seed, but very rarely on any that I save myself, as I am super-careful about what I save. Always wash the potatoes you're saving, dry them off gently with kitchen paper and leave them in a single layer somewhere cool where air can circulate around them.
I'm sowing more pumpkins, squashes and sweetcorn this weekend.  I hate being without plenty to store for the winter, and they grow so fast they will soon be fruiting!  I sowed some on this date last year and they did really well, planted in the polytunnel. Usually by now any pumpkins due to be planted outside have been potted on as small seedlings into 2 litre pots and are by now nice big plants, with the roots just starting to show through the bottom of the pot. Never let pumpkins become pot bound - they don't grow on well if they get a check. As usual I will give them all a heavy mulch of grass clippings to retain moisture and keep the weeds down. When 4 leaves have developed I shall pinch out the tip of the plants to encourage them to side shoot from each leaf axil. Each one of the subsequent shoots should then produce at least one pumpkin each. If you don't do this, the plant may set just one fruit and then later ones further along the shoot may not develop properly. I'll be planting my celery, inter-planting between the sweetcorn plants for shade - which it likes.
It is really important now to make sure you have the necessary seeds of winter crops like sugar loaf chicory, winter lettuces, lambs lettuce, land cress etc.  If you go to the garden centres next month looking for them - they may not be there - as I've learnt to my cost on several occasions. They seem to think that nobody sows anything after midsummer - so they send all their seeds back to the suppliers!! Or order them online. The Organic Gardening catalogue, among others, has a good range of winter cropping salads etc., most need sowing in July or early August at the latest. Jack Ice, Lattughino and Fristina are fantastic winter lettuces which are loose leaved, hardy and stand for a long time in spring. Jack Ice is a new one I discovered a few years ago - from Real Seeds. It's grown really well in the tunnel for the last 3 winters and was quite hardy outside too. By the way, don't sow radicchio before midsummer as it can run to seed.

Keep up with successional sowing of salads - that's something that's so easy to forget when you're busy, but otherwise you can find you suddenly have a gap, particularly if we get another hot spell and plants go to seed.  Even at this time of year I still sow into modules - that way plants are bigger, and much more resistant to the odd nibble from pests, or from bad weather..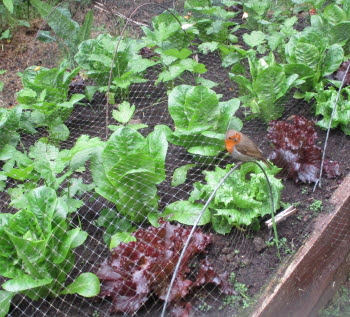 Robin waiting to help me inspect the salad bed with a 'come on where have you been' look!
Please don't use slug pellets.  They're the thoughtless, lazy gardener's option and kill so much helpful wildlife.  Would you deliberately poison a blackbird, a frog or a hedgehog? No of course you wouldn't!  But if you use any slug pellets that's exactly what you're doing!  An early morning and an evening stroll with the scissors is far nicer!  Don't forget to give slugs alternative places to hide too, like a slate or similar, placed on beds, where they think they're safe during the day - then pick them up and dispose of by your preferred method! You all know mine now!  As soon as I appear every morning with my first cup of tea to inspect the salad beds outside in the kitchen garden - my Robin friend is always waiting impatiently for me to undo the pigeon netting covering the beds, so that he can grab any insects oar tiny slugs which might appear.  They never escape his sharp eyes!
Keep your fleece on standby - don't put it away completely just yet!  We often get the odd late frost in many parts of Ireland. Don't get caught out if you're planting out tender things. Make sure they're well hardened off, watch the weather forecasts and get to know your particular local climate, as it varies hugely from the North to the South and South-West - and even in individual gardens in the same locality! 
Saving money by taking cuttings of veg plants
You can save yourself a surprising amount of money by propagating some of your veg plants from cuttings - particularly those that can be expensive to buy in as plants or as seed - like F1 hybrid tomatoes. It's really easy once you know how, as you will see from the pictures here. Some things like overwintered chard can be cut down with a very sharp spade or loppers and will re-sprout from the base. This is particularly useful if they're just going up to seed and you don't have any to follow on for a while. You can still harvest some useful pickings from them in a week or so. I did an experiment a few years ago and kept some going for 2 years by doing this. 
Even expensive tubers like Mashua, Yacon and Oca can be propagated by cuttings - just like dahlias. I first discovered this easy method of water rooting quite by accident many years ago on dahlias. I broke one and stuck it in a jar of water to see if the stem would flower - and it rooted! You just take the cutting about 6ins/15cm long with a very sharp knife like a craft knife (this is important to avoid bruising) cutting just below a leaf node. The stem must be solid not hollow - again to avoid rotting. If it's hollow then re-cut it further up, where it's solid. Put it in a jar of water for a couple of weeks, making sure it doesn't dry out. A north-facing windowsill is good for this at this time of year, as you don't want them cooking. Some will start to root within a few days and it's fascinating watching them develop. When you think they have enough roots, then pot them up in a small pot of seed compost and water well. The low nutrient in seed compost is a sort of half-way house between the water they were in and their future home and shouldn't burn the roots. The people who sell these tubers at vastly inflated prices won't like me for telling you this - but that's nothing new! Often the cost of buying plants puts people off trying the more exotic veg - and they can be great fun to grow!
Making high-rise, deep, raised, (or 'no-dig') beds
New raised/deep 'no dig' bed looking north
The re-development of the kitchen garden into a raised ornamental potager is ongoing and the new, higher raised beds are a complete joy to work! Made from two tiers of 7 inch planks, so that even when my back is dodgy, it means I don't have to bend and I can even sit on a stool or chair to garden if necessary. It makes my heavy clay soil so much easier to work, and will improve as more compost is added over the years. The plan is to hopefully complete half the garden this year - another four beds, depending on finances and my son's goodwill! (he barrowed about 3 tons of soil per bed, from the top paddock to the garden bless him!). Possibly a little ambitious - but one has to have goals!  We used 7 x 2 inch planks, treated with an oil-based organic wood preservative from Fruit Hill Farm, with corner brackets and 3ft/1m lengths of rebar hammered in along the sides at intervals for support, which looks very neat and they won't rot in the wet ground. I'm now making a carrot fly frame to fit over the bed and looking for some nice finials for the corners. I'm always looking for some new way to improve the garden - I'll never be bored!
I used my own organic soil (organic for over 35 years) which was left over after digging out my new bigger wildlife pond at the bottom of the field (one of the best things I've ever done). I didn't lash on tons of composts, manure or even mushroom compost (horror!) as some advise!  Doing that can seriously upset the balance of soil life and nutrients - and if non-organic, would also contain contaminants like pesticides and weedkillers used in both the production of the original straw and hay in the manure, and also any worm treatments or antibiotics used for treating animals. Mushroom compost is originally made from conventional, chemically-grown straw which is then dessicated with glyphosate pre-harvest. In addition - when being prepared for mushroom cultivation - the substrate is then also treated with soil sterilants like Methyl Bromide and organochlorine pesticides against destructive fungus gnats. I don't want those 'chemical cocktails' in any of the food we eat - combinations of which have been proven to be many times more toxic than the original chemicals individually!  I prefer to be a little more patient and rely on nature's gentler less toxic way of doing things - mulching, composting and worms! It's much safer!
According to Garden Organic (formerly the HDRA) - the 'grow your own boom' has brought on a massive increase in the use of peat, weedkillers and other pesticides, and if you've been reading this blog for a while you will know as organic gardeners and people who care about the environment, that's something we don't want at any cost! It's not necessary for us to use pesticides in order to grow food! There ARE safer organic alternatives!
Other jobs
Keep up with hoeing the weeds if you have any bare soil.  Mulching is much better for soil though, as I said earlier, and if you weed well first, and then put on a thick light excluding mulch - that will keep weeds down very effectively even after rain. Mulching also improves the soil - then making it much easier to get perennial weeds like docks out with all their roots intact - so they won't come back. If you're finding it hard to keep the weeds down on a new allotment or garden, as often happens at this busy time of year, then don't just give up and let them run to seed. Remember the old quote "one year's seeds - seven year's weeds!". Either cover the ground with a total light=excluding mulch, or even better, keep mowing it and making compost which will improve the soil and save you money at the same time!  The grass roots will break up the soil and if you sow some clover into it as well, this will fix 'free' atmospheric nitrogen, adding hugely to the soil's fertility when you cover it to start a 'no-dig' regime or dig it in. 
Remember - it's always far better to cultivate a smaller patch really well, than take on too much and end up with an unproductive mess!
What can you do about spray drift?
This is becoming an increasing problem in many areas of Ireland and the UK where people living in rural areas are being directly affected and their air, gardens and even water polluted.  At this time of year it's particularly bad. Two weeks ago there was spraying in a field to the north west of my boundary and there was some slight spray drift as the wind was in my direction, so I registered yet another complaint with the Dept. of Ag. here. A waste of time since they will not admit there is a problem - but at least I registered my complaint!  Yesterday I'd just finished some work in the garden when I heard a tractor again in the next door field, and although it was still far too hot - I rushed to close the tunnels. Luckily for once the wind wasn't in my direction. I had a nasty incident a few years ago, when my garden and tunnels suffered serious spray drift contamination and I had to dump most of my crops - so if I hear a tractor these days I panic and rush out to see where it is. If there's any possible threat, I close the tunnels and cover all the outside salads with fleece. Currently that's all I can do - unless I'm prepared to have my produce privately tested at a cost of about 600 Euros and then take a court case personally against the farmer who is spraying - something that would take years to resolve, with enormous stress and at huge expense. In addition - as I no longer make my living from growing commercially - all I would be likely to recover would be the cost of the lost produce! They don't take into account any possible soil contamination as these products are currently approved for agricultural use.
One of the problems around here is some 'here today, gone tomorrow' farmers who rent land for tillage crops for just the year to grow a crop and then move on somewhere else. It's just rape and pillage of the soil! They obviously don't care about any chemical residues they leave behind, they don't care about the damage they do to soil or biodiversity and they don't even have to care even about being good neighbours as they don't live nearby! They certainly don't care about what state they leave the land in, because they have no investment in it's future. Their only interest is to make as much money as they can from it now and move on! It's almost got to the stage where I'm afraid to go out when the wind's in our direction - in case the spray-drift happens while I'm gone! I almost feel like I'm under siege here sometimes! It's all so different to how it was here over 35 years ago when we first moved here and were surrounded by species-rich old pasture abundantly full of wildflowers - now sadly all gone!  Even our lovely crystal clear stream which used to support the young eels we often found has now been polluted and all life in it completely killed by agricultural effluent and all the uphill neighbour's grey water illegally being piped into it.
As I wrote this it was World Environment Day - do people not see the connection or do they really just not care? Sadly after my experience with our Dept of Agriculture a few years ago, frankly I wouldn't waste my time bothering with them again. They only came out here after 3 weeks of constant harassment, when they knew that I had already dumped most of the crops - and then said they couldn't find any traces of pesticides on the few bits that remained! They knew perfectly well that after 4-5 days it's difficult to find traces of the surfactants or adjuvants which make the pesticide coat the surface of the leaves more efficiently - despite the fact that at the time a friend & I still couldn't breathe in the tunnels or the garden 2 hours after the sprayers had gone from the field next door!.
These adjuvants have never actually been safety-tested at all as they were declared by the makers, Monsanto, to be 'non-active' constituents of the sprays. However there is a growing weight of scientific opinion now which believes that these chemicals are just as toxic individually, as the chemical which they are sticking to the plants - and that when combined, all the chemicals in the mix form 'cocktails' which are many times more toxic.  The Department of Agriculture's waste of public money in paying a top official to visit here was purely a PR exercise because I was making such a fuss! However - I had registered my complaint.
Sadly there's very little you can do currently, except at least do what I did.  Make a note of the wind direction and wind speed and log your complaint with your local environmental health officer and your Department of Agriculture. If some farmers are going to use chemicals then they should at least be used responsibly and to the absolute letter of the current law - whether I personally approve of them or not. Because the huge new sprayers are so expensive these days - many farmers don't have their own machines any more and use contractors to do the spraying instead. Those contract sprayers really don't give a damn when they do it - they still get paid for doing it!  They just do it whenever it suits their work schedule, and then walk away with no penalty if they cause environmental problems, seemingly no matter what they do!  You already know my opinion on the use of chemicals - but sadly we can't change the world overnight. 
If some of us choose to grow or farm organically, we at least have a right not to have our gardens, produce, or even the air we breathe contaminated by chemicals which we don't wish to consume. If I was still a commercial grower I could have lost my organic certification and therefore my livelihood over that spray-drift incident - it is that serious. The sprays smell a bit like Jeyes fluid or creosote fence preservative.  Remember - if you can smell it on the air - then that air you are breathing in is full of the aerosol particles of whatever is being sprayed - and you are being forced to breathe in cancer-causing poisons with absolutely no choice!  Even when it comes to smoking we now have a choice not to frequent the same areas as a smoker - but we have no choice but to breathe in pesticide polluted air.  Meanwhile the sprayer operator sits up high on his huge machine in an air conditioned cab - totally oblivious and uncaring!
I WROTE THIS PIECE BELOW THREE YEARS AGO - AND WHAT I PREDICTED THEN IS NOW CURRENTLY HAPPENING!
The Brexit Bonus?  - I think not!
Sadly if Boris Johnson has his way in the UK - pesticides currently banned there, but allowed in countries like the USA and Australia will be deregulated and that means that chemical farmers in the UK will undoubtedly use them - in order not to be at a disadvantage in any trade deal which will allow produce from those countries into the UK!  The same will happen with GMOs or genetically engineered crops. If this happens, it could destroy UK organic farming because many organic farmers may lose their licence, if they are situated anywhere near conventional farmers and at risk of spray drift, or wind contamination of crops by GM pollen! This makes me so angry - because even more of the biodiversity like bees and soil organisms which we totally depend on for the pollination and growing our crops will be endangered. That means that our food security will be threatened too. There will be no going back if those pesticides and crops are unleashed on the UK. Of course - that's what pesticide companies counting on. For them it's all about profit - and those promoting this policy don't give a damn about the environment or our children's future! They won't have to deal with the fallout!
Sorry for the rant - but it's such a worrying time for those who care about the environment, biodiversity and food production in the future! I hope all your vegetable gardens are growing really well this mid-summer, and providing you with delicious produce. Savour each delicious mouthful and enjoy every single moment mindfully. 
The many ups and downs of life over the years have taught me that you never know what's around the next corner.  Little did any of us think this time two years ago, in 2019, that we'd be dealing with the current pandemic and that life would have changed utterly for so many of us, and sadly for some - forever. Carpe Diem applies more than ever.
(Please note. I really enjoy sharing my original ideas and 40 years experience of growing and cooking my own organic food with you. It's most satisfying and naturally also very complimentary if others find "inspiration" in my work......But if you do happen to copy any of my material, or repeat it in any way online - I would appreciate it very much if you would please mention that it originally came from me. It's the result of many years of hard work and hard-won experience. Thank you.)