Contents:

 "The times they are a'changing"...... 
Now you see it - now you don't!....
 Berried Treasure - Blackberry fields forever!
.........
Preserving the joys of summer!......Magnificent Melons.........Raspberries all summer long?....  'Tis the season of wasps!.....  Other fruit jobs
| | |
| --- | --- |
| | |
| The Sea Buckthorn bushes were loaded as usual this year and starting to ripen their super-nutritious berries - but then the hungry blackbirds descended! |  The ever reliable Sea Buckthorn promised a great crop again in late June |

"The sun being now in it's southern declination the Air begins to cool, and it is become very pleasant to walk after a thunder shower. Although the beauties of the Fields and Gardens begin to fade, yet the profits now flow in.... the Avenues and walks of your Gardens now furnish the most curious palates with the most delicate Fruits....Little is now to be done in a Garden, besides gathering in the Fruits of former Labours." 
 (From A calendar of Gardener's Lore - August, 1688)   
"The times they are a'changing" - (to quote Bob Dylan)
I love old gardening quotes, which echo the familiar fellow feelings we share with all the other gardeners who have preceded us down over the centuries.
 They valued the predictable abundance of summer and autumn fruits just as much as we do now. They knew that fruit was healthy food - even though their knowledge was based on observations which didn't include using magnetic resonance imaging or high-throughput sequencing - the electron microscopy tools that we have much more recently acquired! 
I wonder how those old gardeners of yesteryear would have coped with the wildly erratic swings in weather and storms that we have had over recent years - which undoubtedly caused by rapidly progressive climate change?  How I wish I could go back and ask them!  I'm sure that they would have had some very ingenious ways to overcome problems - successful methods, well-practiced over centuries, which didn't involve pouring massive amounts of chemicals all over plants and the soil in an attempt to cope with the pest and disease problems that are a direct result of destroying biodiversity!  The erratic swings in weather due to climate change are causing stress to plants, and making them more vulnerable. They are also disrupting the breeding cycles of the insects we depend on for pollination and pest control services.  Those biodiversity-destroying chemicals are one of the major elements which are directly responsible for accelerating climate change, which is making growing any plant foods increasingly difficult - especially fruit crops. 
Now you see it - now you don't!
The increasing lack of insects and destruction of hedgerows, with the resulting loss of their wild fruits, is also putting more pressure on biodiversity such as small mammals and birds - with the result that they become even more interested in eating our precious crops!
  As you can see from the picture above -two years ago I had my best Sea Buckthorn crop ever, filling the freezer with the deliciously sharp and fantastically nutritious berries. I had so many still left in the freezer at the end of June that I was using them in everything, thinking that I was looking at freezing another massive amount, as the branches were loaded with the still green, half grown fruits once again - as you can see in the other picture above. I've never had any problems with birds eating them over the past 30 years, so wasn't the slightest bit worried about them. 
Taking their ever-reliable crop for granted, as I normally don't pick them until at least the end of the first week in September, I took my eye off the ball a bit for a couple of weeks.  My daughter was here who I hadn't seen for ages, otherwise I might perhaps have noticed the flocks of ravenous blackbirds feeding on them!  Then when I went up to the top of the field a few days ago to see how they were ripening - a shocking sight met my eyes.  Almost overnight they had vanished completely!  They must have ripened early, and the branches has been picked so clean - that it was almost as if a plague of locusts had suddenly descended on them!  The large tree-like bushes are far too high to cover with netting - but believe me, I won't ever take the Sea Buckthorn crop for granted again!  So I shall have to devise some sort of clever strategy to outwit those melodic and beautiful, but very greedy black marauders.
This year I managed to cover the lower branches with some netting - but I still had to pick them only half ripe, as the blackbirds were cleverly getting underneath the bushes at the back and attacking the branches from behind!  I'm beginning to think that the only way to outwit the black birds and protect the berries is to grow them under a fruit cage - but they are notoriously difficult to control into a neat bush - I will have to put some thought into how I shall protect them in the future!  Perhaps netting bags for the lower branches?  Anyway - I have the winter to think about it! 
Someone once said that there's no point looking back unless you can learn from it, and that is so true.
As I said earlier - times are a'changing and we have no choice now but to take it on the chin, adapt to our changing climate situation and the extra pressures that brings from hungry wildlife, and grow 'by the seat of our pants', as I'm always saying!  Take the bad, but be grateful for any good.  And also perhaps to learn new and alternative ways of growing reliable crops of healthy food.  Frankly - we have no choice!  We need to eat healthy food too!
Grape harvest - 6 early varieties ripe now. From top left clockwise - Chasselas D'Or, Regent, Muscat Bleu, Black Strawberry, Lakemont Seedless & Rose Dream
I really hate it when people ask me -"If you could have, say, only one grape, one tomato, one apple or other crop - then which would you choose?" I always feel it's a bit like being asked which is my favourite child. 

 It's impossible to choose! 

 

And why would you want to?   It depends so much on what you want that fruit for - whether it's for cooking, eating fresh and raw, dehydrating or whatever.  Every fruit behaves differently and a method which may suit some varieties of even the same fruit really well, doesn't always suit other varieties. There are so many different cultivars of every possible kind of seasonal fruit and other crops available which have been handed down to us over centuries, that we enjoy a fantastically wide choice and that is a luxury that many of our forebears didn't have. But there's also a serious point to that, and that is that we have a responsibility to ensure that we don't lose that diversity - we must make sure we preserve as many of them as possible.  When old varieties fall out of favour or possibly disappear altogether - we are losing a precious genetic resource which may possibly be vital to future breeding programmes, because it may have pest or disease-resistance - or an ability to adapt to our changing climate. 
There are always of course many new varieties of fruit being bred because it can now be extremely profitable to own the patent and collect the royalties on a new variety of any food crop.
Being able to patent a new variety is a relatively new phenomenon, compared to the countless centuries over which most fruits were preserved by people who just valued their qualities and thought them worth handing down to future generations. But the new varieties are not always good ones.  A case in point is the Rose Dream grape above - very sweet and watery, almost insipid, but welcome enough in early August because it's always the first grape to ripen here - but it has very little real flavour until it's dehydrated. Breeders now seem to think that everyone wants sweeter and sweeter fruits - but in fact what I'm always looking for is exceptional flavour. A rich, aromatic depth of flavour indicates a complex concentration of phytochemicals.  That is what interests me, as I want to grow the most nutritious food. 
Sadly supermarket demands for easy to package, evenly-sized fruit that doesn't bruise when travelling and has a long shelf-life, has caused many older traditional and far better-tasting varieties to become unavailable by making it not worth the commercial growers while to grow them. As gardeners we don't have to worry about shelf-life - we worry about our own lives - so we can grow the very best and tastiest varieties, which are often the most nutritious and best for our health too.
Berried Treasure -
Blackberry Fields Forever!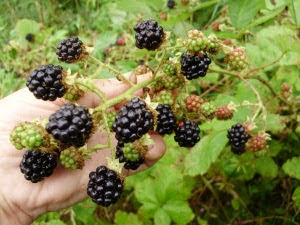 The huge ripe fruits of my 'Himalayan Giant' x wild bramble hybrid - always the earliest. Plump and delicious!
There's a bit of a damp chill in the evenings and it's feeling very 'autumn'-y now! The days rain we had a couple of weeks ago was very welcome relief after a long dry spell, but it's been very dry again since.  It really feels like the end of summer and the beginning of autumn. 
However - on the bright side - the rain came just at the right time for this year's blackberry crop after the drought!
The first berries started to swell about four weeks ago but they were still a bit 'pippy' and dry. They've started to swell up nicely now and the plumptious, glossy black berries are ripening faster than we can pick them - or the birds can eat them! The cultivated types like Himalayan Giant always start to ripen earlier - at least a month before the smaller wild species. One or two of the 'bird sown', bee cross-pollinated hybrids I've found here over the last few years tend to ripen even a few days earlier than those. One plant in particular has that real wild 'bramble' taste, combined with the depth of flavour, acidity and much larger size of the cultivated varieties. It's the best I've tasted and has a far better flavour than any of the hybrids you can currently buy. I've tried most of the varieties on offer and been very disappointed with their taste. Himalayan Giant - which I've often talked about before - is really the very best-tasting variety but it's a bit of a thug and can be an absolute nightmare in a small garden - or even a large one if left to its own devices! Fine though, if you've got plenty of room and you want a productive, very effective vandal proof hedge!  A good alternative to Himalayan Giant for a small garden - not quite as deeply flavoured but still very nice - is the new variety 'Reuben' which is a primocane variety. Being a primocane means that unlike other blackberries - it will fruit in its first year of cane growth. I've been growing it for over 4 years now since it first became available commercially and have found that by growing it in a large tub in the polytunnel I can even get it to fruit twice a year - picking huge fresh juicy berries for much longer. 
Blackberries are a nutritional powerhouse and a mainstay of breakfasts, muffins, puddings, salad dressings, ice cream and many other delights all year round here.
Combined with green leaves like spinach and kale, some kefir, and a handful of walnuts or almonds - they make the most delicious gut and brain-healthy phytonutrient-rich smoothies too!  I've enjoyed them like that for over 40 years - but I have to say that using a Nutribullet or other similar type blender , make that a lot easier. The rich taste of blackberries makes them a healthy base for any number of things and they're also high in other nutrients and fibre. In fact - blackberries have been shown to have one of the highest antioxidant contents of any food tested and studies have indicated that regular consumption of them may have a positive impact on health - lowering the risk of many diseases. Their high level of anthocyanin phytonutrients - which gives them their dark purple colour - have been shown to protect the brain from oxidative stress, and may even reduce the effects of age-related conditions like Alzheimer's disease and dementia. Other studies have shown that they may also protect against cancers of the colon. They are high in potassium, ellagic acid (an immune-stimulating nutrient) as well as many other vitamins, minerals and phytonutrients. 
We don't tend to eat jam here as we avoid too much sugar - so to preserve blackberries I freeze any berries not eaten immediately. They can then be thrown straight into yoghurt or kefir to make ice cream or half-frozen smoothies, if you have one of those powerful Nutribullet-type blenders.
 You can't buy frozen organic blackberries anywhere - at least I've never seen them. Even the chemically-laden ones - which I wouldn't touch - are incredibly expensive both fresh and frozen, so it makes sense to grow your own, and they really couldn't be any easier!  Picking Is the hardest thing - but any of the family who are around always get drafted in for that job - they want to eat them after all!  Anyway who doesn't love a bit of leisurely blackberry picking in warm early autumn sunshine - and the delicious benefits are many!  I certainly wouldn't agree with the 
"little is now to be done"
 in the above quote - but 
"the profits are definitely now flowing in"
 - we're certainly enjoying 
"gathering in the fruits of former labours" 
right now, as the quote says! ...
So far we've picked and frozen 12.5 kg of blackberries - that's at least €600 worth at the current price for organic fresh berries!
 - And even the conventionally-grown ones, which are sprayed with a lot of pesticides, aren't much cheaper, because even though they're seasonal as they're mostly grown in huge polytunnels or greenhouses, being such a high value fruit. So it's well worth the sometimes uncomfortable effort of picking your own, to have such nutrient-rich organic fruit available all year round!  When I finally ran out of the frozen berries a few weeks ago - I really missed them. Even the amount we already have would provide one person with one 'portion' of their five a day - on every other day of the year - and there's loads more still to be picked!  Blackberries are even energy efficient!  Freezing them loose and then bagging them up into very large bags is best, as it means that when loose frozen like that they'll fit very conveniently around all the bigger, lumpier things in the freezer - filling in any gaps and air pockets and therefore making your freezer as energy efficient as possible, as well as taking up less room. Important when there's so many seasonal goodies to try to fit in!
Anyone who has ever tried to clear brambles knows that blackberries will grow vigorously almost anywhere - but they particularly appreciate a heavy fertile soil and plenty of sun to ripen the berries and give them flavour.
 I noticed the first blackberries were ripe on the early Himalayan Giant hybrid about a month ago, while I was mowing nearby. I meant to go out in the evening and pick them - but something happened as usual and by the time I remembered next morning and went out, one of our secretive fruit gourmets - the badger or the fox - had paid us one of their regular visits, which they do nightly at this time of year. Everything that's ripe, from 'large Labrador nose height' down was gone!!  My dogs have always loved them too and even the hens love them! They know what's good for them! That blackberry is trained along a fence which backs onto a lawn, and is about 8 feet high so I find it impossible to cover. That means that the badgers, foxes and birds get a massive amount of fruit each year. 
Covering blackberries is extremely difficult - and fraught with danger due to the vicious thorns. It's also practically impossible to get the net off again, as it gets caught on all the thorns, so I don't bother to even try any more. I would need an enormous fruit cage to contain just one plant of Himalayan Giant and as it grows at an exponential rate - exploring through any netting very quickly!  We always have more than enough anyway. Badgers and foxes love all fruit - and on their night time forays help themselves to any juicy fruits conveniently growing at their level. I don't mind though - heaven knows they have a hard enough time surviving these days. Unfortunately though, badgers and foxes are also very partial to plums, which are not so plentiful! They obviously must stand on their hind legs to eat those - carefully hoovering off all they can reach in a neatly cropped circle all around the lower branches of the tree - not a lot I can do about that!  
Preserving the fruity joys of summer!
I always start to feel a bit like a squirrel at this hectic time of year - as while there's more than enough fruit to eat fresh now - it's very nice to know that there's also plenty of fruit preserved in different ways to add a bit of joy to the cold, dark winter months and to keep the colds at bay. 
This is the only time I miss the very hot, dry late summers of my childhood in the English shires, which seemed to last forever in hindsight. Our wonderful Victoria plums were as big as duck eggs from the huge old trees - and oh, the scent of the greengage walk in the kitchen garden! As soon as you walked anywhere near - you could smell when they were ripe!.....You never get that wonderful aromatic scent from greengages unless you grow them yourself because they're never left to ripen on the trees. They need to have a yellowish hue, be slightly soft and to be cracking slightly around the stem at the top. Then they taste like nectar for the Gods! The same goes for melons - most of the ones sold in shops are picked well before they're ripe or they wouldn't travel - but the taste of a properly ripe homegrown melon makes all the hard work worthwhile! The summer's been kind to us this year - and all the fruit in the garden is cropping really well. It certainly appreciated the bit of rain we've had recently - it came just at the right time - all the berry fruits are extra-large and juicy and the apples in the new orchard are swelling fast. 
There have been so many peaches again this year in the polytunnel - a surprise after the freezing-cold weather when they were flowering! The unknown variety of late, white fleshed, free-stone peach in the polytunnel had a fantastic crop on it again this year.
After eating as many as we can fresh, and freezing a few, I semi-dehydrate and then freeze them, after dipping them first in lemon juice to stop the cut pieces browning due to them oxidising. It's a very successful way to reduce their bulk in the freezer while still retaining their nutrients and delicious taste. In fact - doing this actually concentrates their flavour and they add a welcome extra deliciousness to winter salads, smoothies and many other dishes. The only problem I find is not eating them all immediately as they are so scrumptious - with that really concentrated peach flavour! When I was a child an uncle living in South Africa used to send us a huge box of candied glace fruits every Christmas as a present and they were such a delicious luxury then - though they were very high in sugar! These peach pieces have the same concentrated flavour but no sugar at all apart from what the fruit originally contained - so they're much healthier. Picking them very slightly under-ripe also means they contain a little less sugar and they're also firmer and easier to deal with when cutting in half. Another great use for the dehydrator!
Melon 'Emir'
Melons for breakfast - so sweet that they are almost (but not quite) too sweet - are such a luxury! 
The best and most reliable varieties I've found for tunnel growing so far are Lidl's Charentais (great value seed), 'Emir' which last year produced an exceptional crop of dozens of incredibly deliciously aromatic fruits and Alvaro which is similar. They are definitely the best I have ever grown!  The fruits are just the right size for two people to halve for a starter, pudding or breakfast - but naturally, being us, we have one each! Well we have to - we couldn't possibly waste them as they go off so quickly when really ripe - and don't store other than freezing well as a sorbet (with the judicious addition of a little drop of 'Melone' liqueur too - yum!).  I never harvest melons until they come away from the stalk at the top of the fruit with the slightest touch - that's when they are at their luscious peak of maximum perfection. Do try these varieties - they're terrific in a polytunnel - and this year might have been good outside too, with the amount of sun we've had here, especially if one grew them under a cold frame or cloches.  In the UK - particularly in the south east which all summer is normally between 6-10 degrees warmer than we are here - it would definitely do very well outside.
If you want an easy watermelon, Sugar Baby is a good reliable one - and more like the size of a canteloupe.
 They do need a longer season that canteloupes to be successful though - I always sow them in mid-late February. One or two are already looking very promising and won't be long before they're ripe! You can grow the huge ones from seed too if you start them early. About 35 years ago I grew some from seed saved from a shop-bought watermelon as it was hard to get seed then. They actually grew - I was astonished! I took a few slices to an organic conference - making some people very envious and a couple of good friends very happy!
In the picture below I've raised some of the melon fruits up off the ground on 2 litre pots.
 This keeps them away from any possible slug damage and being raised up in the sun also helps them to ripen as the black pots also trap heat. 
The three melons you can see below are, from l-r - Charentais, Country Taste and Emir.
 
Raspberries all summer long? 
| | |
| --- | --- |
| | |
| A delicious bowl of Sugana raspberries | Huge tasty fruit of raspberry 'Sugana' |
I'm very pleased with my latest autumn raspberry experiment in the fruit tunnel. I potted up a couple of Sugana plants 5 years ago to see how they would grow under cover.  Sugana is a new autumn raspberry - supposedly 'twice fruiting' - but as you know if you've read this blog before - I originally discovered many years ago by accident that all autumn raspberries will do that, if you leave some of the previous year's older fruited canes on the plants to fruit again the following midsummer. This is a tip I've shared widely - and I now see it being repeated everywhere! Sugana does seem more vigorous than most though, it's producing the most magnificent huge berries with a wonderful flavour. I made the mistake of putting two plants into a huge 20 litre tub as they were quite small when they came and I was a bit short of room. They've grown massively since then - producing lots of new canes which they will be fruiting on for some weeks - so when they eventually stop I shall split them up into 6 and replant them as they need watering every 5 minutes! The flavour is almost as good as my favourite Joan J - and also seems just a tad earlier. Growing both varieties - both inside and outside could spread the season even more and possibly give a really good crop of raspberries for most of the summer. I love raspberries - and they freeze so well. I've frozen some of the Sugana for a healthy festive treat - but last year Joan J went on fruiting a bit right up until Christmas
Raspberry Joan J - size comparison with 1 euro coin
Autumn raspberry 'Joan J' is a wonderful variety - so far removed from the old 'Heritage' and 'Autumn Bliss' types that it's almost another fruit altogether.  Joy Larkcom originally recommended it to me as she'd been given some to trial a few years ago and she loved it. When she was staying here some years ago for a talk she was doing locally, she tried another new one called 'Brice', which I had growing here which is another really good variety. Anyway, I'm so pleased with 'Joan J' that I took a photo to show you it's size. It tastes every bit as good as the summer ones and unlike them - it's another so-called 'primocane' variety - and it will actually crop again next year, lower down on the same canes which have fruited this autumn. It really earns its space in the garden even more than summer ones - producing two crops rather than just the one in the same amount of space. The flavour of these two newer autumn varieties is fantastic and completely different to the older types which I think are mostly pretty insipid and tasteless. This year I'm trialling a new variety - which is looking even better than both of those - with a lovely rich flavour and very productive - but I won't reveal it's name just yet - until I'm sure it's good all round. 
Although years ago I suppose one was glad of any late soft fruit - which was why I originally planted them, the older varieties like Heritage and Autumn Bliss are complete weeds here, and are a real nuisance in the garden now, coming up literally everywhere.
  I certainly wouldn't recommend anyone to plant them.  Their berries really aren't big or well-flavoured enough to warrant their aggressive behaviour! I really wish I'd never planted them!  I keep persistently digging them out and replanting them down in my woodland for the birds - but I don't think I'll ever fully get rid of them. Being organic I don't use weedkillers - so digging them out constantly is the only option - and not an easy one with my bad back! Anyway, the wildlife is grateful - that's why there's so many birds here. Although that can be a curse too at times when blackbirds start pecking at the shoulders of the apples as soon as they show any colour - and that can destroy quite a lot!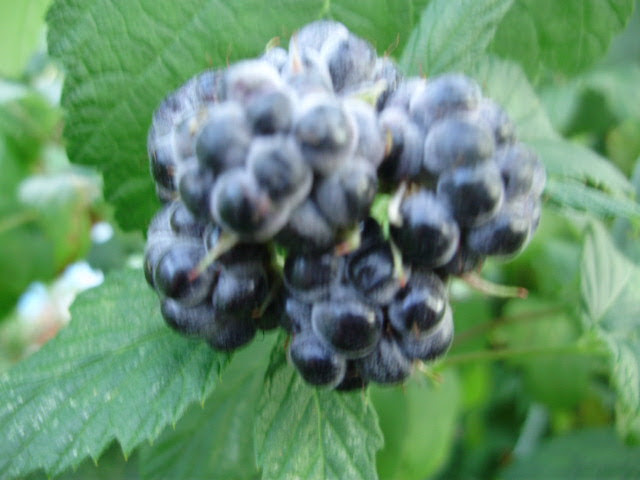 The jury's really still out for me on the expensive summer raspberry 'Black Jewel' which some of the fruit catalogues have. 
Their photographs look so enticing, and black raspberries are supposed to contain anti-cancer phytonutrient ellagic acid and anthocyanins like blackberries - but you'd need an awful lot of them to benefit. I planted some four years ago and they fruited for the first time 4 years ago. Last year they produced what I presume would be a good crop for them - but sadly not for me! The small fruit were a nightmare to pick as the plants are very thorny - and when you get hold of the pippy little fruits to pick them - they just disintegrate between your fingers into the separate little globules containing the pips, or whatever they're called! The few you can actually get enough of to taste do have an unusual sort of sherbetty/fizzy flavour, like old fashioned raspberry sweets - but I think they may well be joining the older autumn raspberries down in the woodland fairly soon - especially since they look alarmingly like rubus Cockburnianus - a decorative white-stemmed species of rubus that is another complete nightmare here and which has taken over half an acre of the garden! Naturally you see 'celebrity' gardeners or botanists retained by the big-ag owned seed companies promoting them - but they're paid to!  But frankly folks - they're an expensive oddity! Grow blackberries instead if it's health you want - and your pocket will be healthier too!
Black Jewel can go and do it's thing where it can't take over too much or do too much damage - in the woodland! I'll just eat lots more raspberries and blackberries together to get mostly the same nutrients and flavour - which I do already!  This year I compared the taste as they all happened to be fruiting at the same time and actually - if you eat blackberries and raspberries together in the same mouthful, then they taste exactly like the black raspberries! They're expensive to buy and a bit too 'Emperor's New Clothes'  - like for me!  If you only have a small space though you want to make the very best use of it - and frankly despite their much-vaunted health claims - I think that black raspberries are not a value for money fruit - since in addition - they only fruit once in summer!
'Tis the season of wasps!
 Early grape Rose Dream
When the first of the grapes are ripening I can always guarantee the first wasps suddenly appear - as if by magic! Every year they time it to perfection! It's a good time now to hang wasp traps around the garden
near the grapes
- I shall be doing that this week as I'm starting to notice a lot of young ones around so there must be a nest somewhere.  I know wasps do a lot of good in the garden - but I do like to get at least some grapes! The earliest tunnel grapes - the seedless Rose Dream pictured here is already completely smothered with wasps. They never touch them until the berries at the top on the shoulders of the bunch are starting to ripen - then they can destroy whole bunches incredibly fast.  When they finish that one - they will move onto the other varieties as they ripen - so it's definitely time for the traps! I've tried all sorts of methods of protecting them - but short of putting individual bags around each bunch - which I could do if I had an army of gardeners like the walled gardens of old had - then there's very little I can do! I just try to get there before they do!  I might try vacuuming them off every day in the tunnels for a week or so - sounds daft I know - but it's very effective for many pests as I've mentioned before. I don't begrudge them a little fruit...... just not all of it!  It's a bit of a quandary really - I don't want to get rid of all of them - as wasps actually do a lot of good work controlling aphids, caterpillars and other pests in the garden - and they're also good pollinators. This is something many people don't know, thinking that they're only a nuisance. I remember about 20 years ago hearing a very loud buzzing beside me in the cabbage bed where I was kneeling down weeding at the time. I looked to where the sound was coming from, just in time to see a wasp desperately trying to take off and fly away with a very large green caterpillar in its jaws - about twice as big as itself. The loud buzzing was its wings beating as it made the huge effort! It eventually managed it - flying off to its nest to feed it's hard-won trophy to it's young grubs.
When loganberries and summer raspberries have finished cropping
, cut out all the old fruited canes, give a balanced high potash organic feed, water well and mulch. If you haven't done  so already, you can now cut out the old twice-fruited (darker brown) canes of autumn raspberries as well, to give this autumn's new (pale green) canes more room light and air to grow.
As soon as stone fruits such as plums, cherries and peaches have finished cropping - get any pruning done as soon as possible.
Do it on a dry day to prevent possible infection entering wounds before they heal. Remember when pruning that peaches tend to fruit mostly on the new green wood they've made this year - so prune back to that to keep them within bounds. Peaches and nectarines in particular can get out of control very quickly if you don't do this - especially if trained as fans (or what I call 
'fushes'
 - fan/bushes in my case!) in greenhouses or tunnels. The late peach in the tunnel is starting to colour up now so I'll be watering very carefully from now on - not soaking them - so that they don't split. 
You may need to protect ripening late peaches and other fruit from the wasps now if they're a problem, as well as from the birds. Old net curtains, or something like 'Enviromesh', fixed securely with clothes pegs are good for this. Ordinary garden netting isn't fine enough.
I'm potting up the last of the strawberry runners for next year's plants this month
- I like the early tunnel ones like 'Christine' (the best for early tunnel use) to get properly established in their 2 litre pots during the autumn - they'll crop far better next year then. In their first year, perpetual strawberries make a lot of runners too. You must
propagate these in their first year, as in their second year most perpetuals tend not to produce as many - if any runners at all. That being so - it's very easy to lose them. Always choose really healthy looking runners - don't use anything with distorted, yellow spotted or twisted leaves - this can often be a sign of virus passed on by aphids. Alpine strawberries are different, and are propagated either by division or from seed. Clean up fruited summer strawberry beds now - cutting off any old tired foliage. Lift off protective netting so the birds can get in to clean up any pests like vine weevils that may be lurking around. The perpetual strawberry Albion is still fruiting steadily in the stepladder garden and elsewhere. If I only grew one strawberry it would be this one. It fruits prolifically from May until November if you give it the occasional feed of tomato food like Osmo organic, and it's firm and really delicious. I can't recommend it highly enough.  
All fruit in containers needs careful and consistent watering now. 
If some are still developing fruits - add a high potash liquid feed such as the brilliant Osmo organic tomato feed. Remember that with fruits ripening - erratic watering often causes fruits to split - so consistency and a good moisture retaining mulch if they're growing in the ground is key to avoiding this problem!
If you're thinking of ordering fruit trees or other fruit this autumn - do it now

 -
 even though autumn still seems like ages away. Nurseries start lifting plants in late October.  If you order now and get ahead of the posse - you will be first in the queue when the orders go out, things should arrive when the soil is still in a fit state to plant, and still warm from the summer. They will establish so much better than plants or trees planted in early spring when the soil is cold and wet and possibly even unworkable. They will also make bigger root systems, as they have more time to develop roots without having to support any new top growth for several months. Many nurseries have good offers right now before the end of August. These are for pre-orders of bare-root trees which they then start lifting in November. 
Look up good mail order catalogues and online now. Even if you don't order anything, they are a valuable and free mine of information  - and I'm all for that!  Good catalogues are the stuff of dreams for most of us gardeners - and remember - dreams are free too!
Early apple George Cave
I don't have many apples in my old orchard again this year, due to next door's spraying regime and the severe drought.
Just a handful on one or two of the trees - certainly not enough to store loads for the winter as I often do. The wonderful early cooker Grenadier also has some fruit on it too - so I'm looking forward to some crumbles! There's a few on the lovely early dessert apple 
George Cave
 - bred in Essex in 1923. It's one of the very best of the early apples and always the first to ripen here. Often ripe by the end of July - it's now fully ripe, as it's seeds have now turned from white to brown - which is how you know. When apples are properly ripe their seeds are always brown. It has crisp juicy fruit with a well-balanced, almost Cox-like, slightly sharp and 'cidery' aromatic taste. Now all I have to do is keep the birds off a few of them! 
For many years now I've had very few apples in the orchard I planted when we first came here, 39 years ago, and I've missed them so much.
 The orchard was planned to give us a spread of fruit that ripened over a whole year, both freshly picked and then from storage - and I had wonderful crops for about 15 years until the farm next door was sold - and all of the fields were ploughed up to grow grain. Five years ago I finally gave up hope of ever having any again, so started planting a new orchard on the other side of the property - much further away from the horrible hormone weedkillers that abort the flowers on my fruit trees every year. Somewhat ironic eh!  The young orchard is now looking promising, and we had quite a lot of fruit from it last year - but this year due to drought while the fruits were developing, there will be very little as most of the young fruitlets dropped very early on. The trees have grown well though and I'm very pleased with them. It's very noticeable that bare root trees always establish far better though. All of my trees are on the brilliant M26 root stock - which is semi-dwarfing, early-fruiting and productive - and suitable for all soils but particularly good on my heavy wet clay.
I hope you will all have some apples to enjoy or can find an organic orchard near you where you can buy some, or pick your own. Like blackberries - they're one of the healthiest fruits you can eat - and together they are simply sublime! Blackberry and apple crumble is a favourite here!
I really enjoy sharing my original ideas and 40 years experience of growing and cooking my own organic food with you. It's most satisfying and naturally also very complimentary if others find "inspiration" in my work.  But if you do happen to copy any of my material - including photographs - or repeat it in any way online, I would remind you that it is copyright and would appreciate it very much if you would please mention that it originally came from me, as it's the result of many years of hard work and often hard won-experience. Thank you. (I recently came across one of my best tomato photographs - one that I took to publicise the first Tomato Festival - being used online, as the picture on someone else's Twitter profile. Simply unbelievable cheek and legally that is plagiarism! Needless to say that person was otherwise anonymous!)