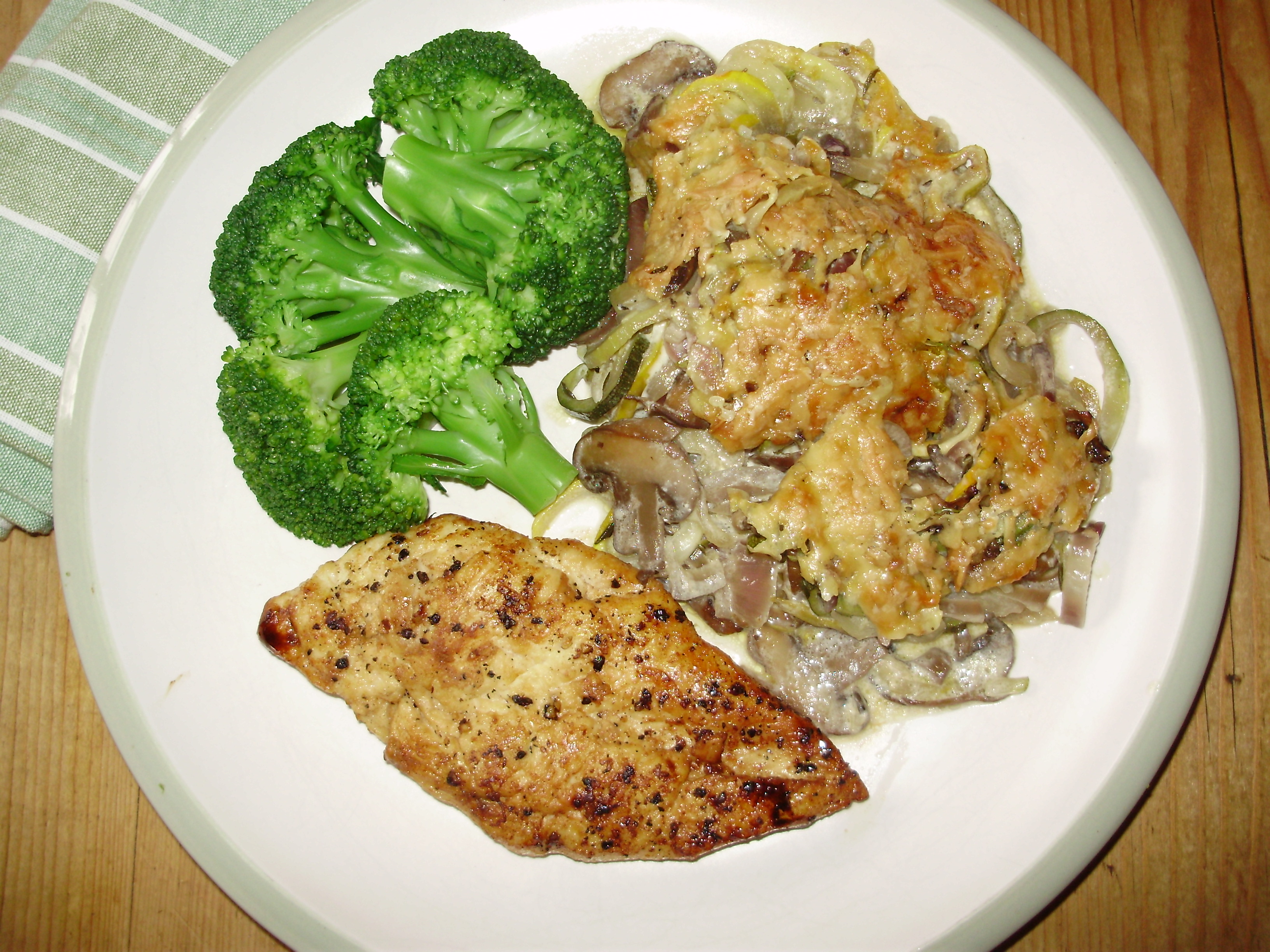 Creamy courgette & mushroom gratin served with black pepper chicken breast & broccoli
Using courgettes, red onion, garlic thyme, cucumber and lettuce from the polytunnel and garden. 
Both of these are seasonal recipes and so easy even a child could make them! They can also easily be prepared in advance.
Although they're both seasonal at the moment - the ingredients are available everywhere most of the time, so you could make either of them all year round. The courgette recipe is great for using up a glut of courgettes - something most vegetable gardeners have at this time of year! We never get tired of it because like many of my recipes -  it's a very versatile recipe and you can vary it endlessly.
The gratin makes a very satisfying lunch or supper. The prawn cocktail is a lovely light summer lunch or special starter - or alternatively for an easy supper as a larger prawn salad. It only takes minutes to make. 
 If you're a meat eater - you can make the gratin extra nice with a few crisped bacon lardons, crisped pancetta or even left-over meat like ham. The gratin with a suitable cheese, without any meaty additions, is suitable for vegetarians. In this version of the gratin I'm adding some nicely browned chestnut mushrooms to give a delicious depth of flavour - but you can make many variations. To make a balanced, more complete meal for lacto-vegetarians - you could also make 2 or 4 'nests' in it 15 mins before the end and cook some eggs in it! You can also do this with any leftover the next day - so no food waste! For vegans you could alternatively use concentrated vegetable stock or my Totally Terrific Tomato Sauce instead of cream and possibly add a crumbly topping of chopped nuts for extra protein and a nice crunch.
Lastly - They're both really healthy LCHF or 'Low Carb High Fat' recipes. This means they contain as little actual sugar as possible and no processed or starchy carbohydrates. They use lots of seasonal vegetables with butter, cheese and cream!! These last three are ingredients that we've been led to believe over the last few decades are bad for us - but which science is now proving are not! 
I must say I'm personally thrilled about this - because we never stopped eating them here! I was brought up eating natural fats like butter, lard and dripping. Regular readers will know that when my daughter was born 40 years ago with many allergies - our family doctor advised following a totally organic diet. I've done a lot of research into the causes of allergies, diet, nutrition and the benefits of eating organic food since then. Despite all the prevailing advice on eating low fat over the last 35 years or more - my gut feeling always was that it made perfect sense that natural, organic whole foods and natural fats were the healthiest possible option.They are what I call 'real foods' - the foods that Nature intended us to eat. It always seemed only common sense to me that nature didn't intend us to eat synthetic spreads like margarine - or for food to be sprayed with man-made chemicals either - since they were originally invented during WW2 for use as nerve gas weapons and are incredibly poisonous! That's one of the main reasons I only feed my family organic food although better animal welfare and care for the environment would be others!
It is also true though - that because there are now far more organic processed foods available than there were a few years ago, many of which are high in sugar - it's easy to fool yourself that because they're organic they're a healthier option. Unfortunately they're not if they're full of sugar too! Eating too much of those foods will have exactly the same effect. If we consume too many things like biscuits, cakes, snacks and sugary drinks whether they're organic or not - we'll still have a problem!
You'll need a gratin or casserole dish for cooking the gratin.(30cm pan size big enough for 1/2 recipe) Also a spiraliser is useful - not absolutely necessary - but I've been using mine for a few years now and I definitely wouldn't be without it! It's quite astonishing how different some veg taste when they're spiralised! Something to do with the texture or whatever - but they're magic! In Ireland Home Store & More are now selling them - but there's also several different makes available online.
Creamy courgette, red onion, garlic & thyme gratin

- serves 4.  For 2 people just roughly halve everything. There's no need to be precise about any of these ingredients - don't use 3/4 of a courgette and waste the rest! Just adjust slightly accordingly either way.
(My axiom has always been - "If in doubt add more"! That's except in baking - where one has to be precise to get a perfect result.)
Ingredients:
800g courgettes chopped into chunks, sliced into 'julienne' strips or spiralised (I prefer spiralised)
1 very large or 2 medium red onions sliced fairly thinly (others will do but I prefer red as they're sweeter & also far more nutritious)
250g pack chestnut mushrooms (if you're making the version pictured above)
Small handful of thyme sprigs (roughly 1 tablespoon when tightly scrunched up - or 6-7, 3 in/10 cm sprigs)
1 whole large head of garlic, cloves separated, peeled & sliced across roughly into 10 cent-ish widths
100g butter
250ml of double cream (Marks & Spencer & Sainsburys both have organic double cream) Alternatively you could use some of my Totally Terrific Tomato Sauce to cover this instead of cream - you'll find the recipe elsewhere - and cover with cheese in the same way to finish
Salt & black pepper to season
Any sort of grated cheese - Parmesan, Cheddar, or whatever you like - a couple of light handfuls. I've used the wonderful Parmesan-style Organic Vintage Cheddar from The Little Milk Company in Tipperary in this recipe (not suitable for vegetarians as it's made with animal rennet). This particular cheese won gold at the French Cheese Awards, it has a fruity/salty/almost 'toffyish' flavour somewhat reminiscent of Mimolette to me. (I'm a cheesaholic if you didn't already know!) It's really fantastic to have such wonderful organic cheeses available here now! (The Little Milk Company do a terrific selection of cheeses - the Irish Organic Brie is to die for and the Brewer's Gold is very similar to the famous Stinking Bishop - which isn't organic. You can look them up here:  
http://www.thelittlemilkcompany.ie/products
Method:
1. Butter a deep-ish gratin or casserole dish. (30cm pan size big enough for 1/2 recipe)
2. Put everything into a bowl except the butter and cream, mix it all up well with your hands. Add any additions like pre-fried, nicely browned mushrooms or bacon lardons at this stage (this gives a better flavour than putting them in raw) Mix it all up well - using your hands to do this is much easier - that's what they're for! Put it all into gratin dish & press it down firmly. Don't worry if it's a bit high - it will sink quite a bit as it cooks. Dot the top with pieces of butter.
3. Pour the double cream as evenly as you can all over top. Single will do but gives a much thinner sauce.
4. Season with a bit of salt & pepper.
5. Put into oven, uncovered at 190/200 deg C for about 45 mins to 1 hour.
6. After 30-45 mins take out of oven, squash it down a bit with a spoon or spatula, sprinkle the grated cheese evenly on top & return it to oven for another 15 mins or so until nicely browned & crisp on top. Alternatively do this at the end of cooking & brown under a grill. (I don't have one) I find this takes about an hour to cook in my Aga but ovens vary so try it after about 45 mins.
If it's a bit runny and you want a thicker sauce - just strain the liquid out into a small ceramic non-stick saucepan & reduce it a bit - then pour it back over.
This keeps warm for ages without spoiling and does heat up very well the next day if there's any leftovers - but it doesn't freeze. You can add leftovers to a fritatta, or if you have enough you can put them into a smaller gratin dish, warm up gently then break a couple of eggs into 'nests' on top - This makes a delicious light lunch!.
| | | |
| --- | --- | --- |
|   |   |   |
| 1. Ingredients assembled for Creamy Courgette Gratin with Chestnut Mushrooms | 2. Add the browned mushrooms to courgette mix  |  3. Add the chopped thyme and mix everything up |
|   |   |   |
|  4. Put mix into gratin dish, press down, season, dot with butter, pour over cream |  5. After approx 45 mins scatter grated cheese on top & return to oven or place under grill |  6. The finished gratin just out of oven, aromatic, nicely browned & bubbling hot |
Nicky's Fresh Take on Prawn Cocktail with lettuce, avocado and cucumber, served with Marie Rose sauce.
The easiest recipe on earth - and a useful one for easily put together, cold summer meals.
(Makes 4 'starter sized' prawn cocktails or 2 large prawn salads for two greedy people!)

One bag of Aldi frozen North Atlantic prawns. - 
(These are sustainably fished Marine Stewardship Council - MSC approved prawns, excellent value and available widely. It's always worth keeping a bag of these frozen prawns in the freezer for emergencies!) Or alternatively, you can use whatever prawns you like - it works with lobster too if you're feeling a bit flush!
You will need mayonnaise, cream and tomato sauce - whatever brand you like - in roughly equal quantities. How much depends how much sauce you're making - it's very flexible and up to you! Add a bit more - or less according to taste.
I use 'Simply Delicious' Organic Mayonnaise if I don't have any home made and I'm in a hurry - (available in Sainsbury's in Newry or in the Organic Supermarket Malahide and Dublin - they also do mail order) otherwise I use home made mayo, 
Heinz or Lidl organic tomato sauce are both good or use home made. Or you could use slightly less of a concentrated tomato puree.
The single cream I use is Glenisk organic cream - I find this gives a better sauce than a double cream - but again whatever's your preference. 
(Be careful with the sugar content of some branded sauces as it can be quite high if you're counting the carbs!)
1. Put the prawns spread out in a covered dish to thaw - somewhere cool - not warm. 
2. For the sauce: 
Start off with a tablespoon or two of mayo, tomato sauce and cream in roughly equal quantities to taste - depending on if you're just making a prawn cocktail or a larger prawn salad. For each person add another quantity or more if you like a lot of sauce. Depending on the brand, or if using home made - you can adjust to taste with cream if it's a bit too 'vinegary'.
Add a squeeze of lemon juice to taste - and 2-3 drops red Tabasco sauce per portion of sauce. (Tabasco is not vital but nice! Don't get it specially if you don't have it)
3. For the base: 
For 2 portions of prawn salad for lunch or supper or 4 prawn cocktails - 2 ripe avocados halved and chopped - some cos, Little Gem hearts or other crisp lettuce chopped. Roughly 1/2 a large cucumber spiralised. If you don't have a spiraliser chop the cucumber into long narrow batons or 'julienne' strips.
Mix all the veg together to make a nice crisp base, scatter the thawed and drained prawns on top and drizzle or cover with sauce.(cover in our case!) 
The sauce will last in the fridge for a couple of days if you've made too much - and is very nice on burgers (according to my son!), in a coleslaw or in fact with anything!
My tip for getting absolutely perfect avocados:  
Always buy them about a week before you need them - green and bullet hard. Hass are the best variety if you can get them. Put them in a brown paper bag for a week with a very ripe browning banana - this ripens them perfectly and they will gradually turn from green to dark brown and just slightly yielding to the touch at the stalk end - a sign they're ripe. They don't need to be in the warm, just normal room temperature is fine - it's the ethylene gas given off by the ripening banana that actually ripens them. Hey presto! Perfect avocados with no bruising every time!
PS. We don't do calorie counting here - because it's the quality of calories that counts - not the number! Never worry about eating natural, whole, nutritious foods or fats!  It's the empty, unhealthy calories in industrially-made, highly-processed low-fat spreads, petrochemically extracted vegetable oils and sugar-filled high carbohydrate processed foods that damage your health and clog your arteries. You should avoid them like the plague! 
As usual all the ingredients I use are organic wherever possible. Organic ingredients are scientifically proven to be more nutritious - with higher important omega 3 fats in all the dairy products. Organic vegetables and fruits are far higher in healthy phytochemicals and of course contain far fewer chemicals like pesticides or additives since none are used in the production of organic food.
(this is what we have eaten for 40 years - but it's up to you - non-organic alternatives are easily available)