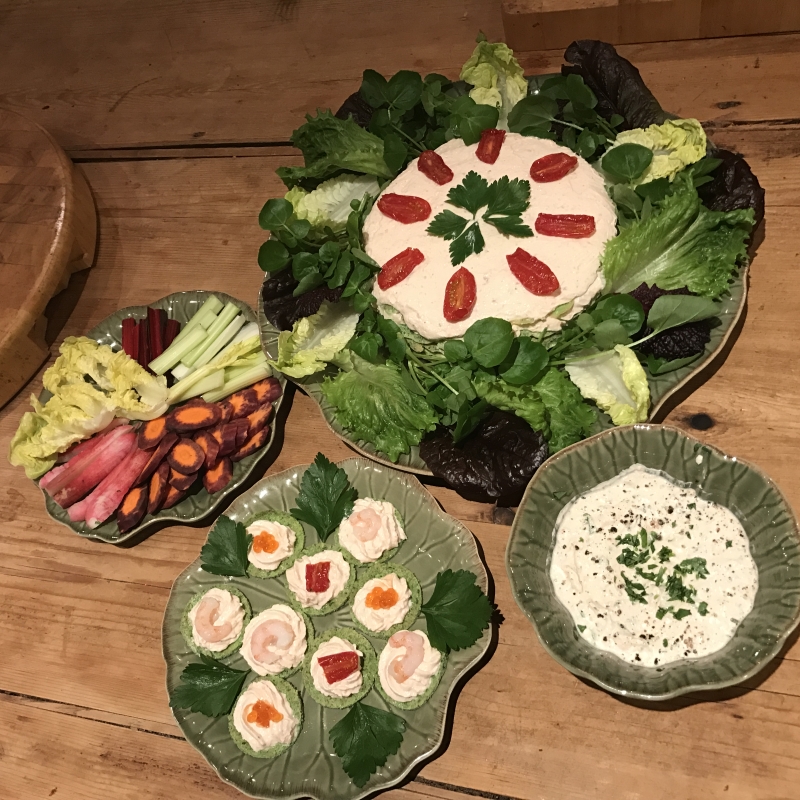 Easiest Smoked Salmon Pate Ever! Served as a Festive Smoked Salmon & Watercress Layer Cake garnished with seasonal salads, as a dip with vegetable crudites or on mini cocktail 'blinis'.
Using seasonal produce from the tunnel - Watercress, spinach, a variety of lettuce, celery, spring onions, purple carrots, Pink Dragon Oriental radishes, Welsh onions, ruby chard and oriental salads and some of last summer's semi-dehydrated Rosada tomatoes!  In the layered tortilla cake I also use our hens' organic eggs. They eat a lot of food from the tunnel too - especially in winter!
The ingredients for it are easily available everywhere - even if you don't grow your own. If you can't find watercress - you could substitute baby-leaf spinach or rocket - but I think watercress the watercress version is really the nicest.
I love quick and easy, no-fuss, make-ahead recipes that have endless variations - and this smoked salmon pate is one of those. The cake can be made well-ahead of time too - and in fact it's better made the day before as some sort of alchemy happens when all the flavours get to know each other and they acquire a kind gentle 'herbiness'. The pate on it's own is really useful to have in the fridge for fast healthy snacks all year round. 
The pate is really versatile - it can be used in so many ways. In my 'tortilla' cake, layered between my watercress wraps, it makes a stunningly beautiful and impressive make-ahead centre piece for a Christmas buffet accompanied by colourful and crispy fresh salads. It can also make smart starters for a dinner party - with individual portions wrapped in smoked salmon slices and chilled overnight.  It's also great as cocktail ''finger-food' on mini blinis, again using my watercress wrap recipe cut into small rounds with a cookie cutter. These are nice additionally topped with cod roe 'caviar', prawns, sun-dried tomatoes or whatever takes your fancy! It is also scrumptious as a dip with vegetable crudites, vegetable crisps or low-carb seed crackers. It's great in wraps or sandwiches, on hot toast. Even as a pasta sauce thinned down with a little cream it's divine! 
As it's quite rich - a little goes a long way and it's a great way to use up any left over smoked salmon or trimmings which you can often buy cheaper in delis. It's delicious with lots of crunchy fresh seasonal seasonal salads or with veg as crudites and this makes it a perfect antidote to heavy Christmas food. 
The wraps/blinis are also suitable for vegetarians - obviously with meat-free fillings.
The freshly-made pate can be frozen. It may just very slightly separate when thawed and seem a little watery but this can easily be remedied by beating it a little. Do NOT re-freeze any unused pate if it's already been frozen once.
The layered watercress wrap cake and all the variations are low-carb, grain-free, gluten-free, high in good quality protein, calcium and healthy omega 3 fats. It's perfect for low carbohydrate, LCHF and gluten-free diets. It uses my low-carb wrap recipe in a delicious new way. - If you've made those from my autumn recipe - then you're already halfway there!

For making the wraps for the layered watercress cake you'll need a good quality ceramic non-stick pan - don't use a 'Teflon' or other non-ceramic pan as these can produce toxic compounds during cooking. Ceramic pans can be expensive but T.K.Max is a brilliant source of them at about a third of the price!
A good silicone spatula - not a wooden one or it may stick.
A good whisk or Nutriblender of some kind
An accurate 1/4 cup measure
For the 'blinis' you will need a small cookie cutter (or failing that even a handy small rimmed glass would do the job).
For the pate you will just need a food processor and a sharp knife.
Recipe for smoked salmon pate

 - 
Serves 8-12 as layered cake with side salad, 6-8 as starter portions of pate with melba toast or crackers. For watercress mini 'blinis' upwards of 24 depending on extra toppings.
The cake, pate and un-topped blinis can all be made ahead and refrigerated for up to 2-3 days if they're all made from organic ingredients. I have done this on many occasions. With non-organic I would play safe and only make one day ahead as non-organic ingredients don't tend to keep for as long.

200 g organic smoked salmon
250 g Organic cream cheese or 'Philadelphia' type. (If you live near the border with Northern Ireland - Sainsburys in Newry always stock it)
2-3 tablespoons of organic creme fraiche - depending on how loose you want the pate or for a dip you can loosen it even more depending on what you're eating with it. If using crackers or vegetable crisps they can break when dipping in if it's too stiff! (I always use Glenisk which is a very good organic brand and keeps well) I also often use home-made thick milk kefir instead of creme fraiche, as I make it every few days so always have it to hand.
Juice of 1/2 an organic lemon & just a couple of light gratings of zest - possibly 1/4 teaspoon. (It's important to use organic lemons as even if they are un-waxed they will still have been sprayed with pesticides. If you can't get organic then leave the zest out)
Small bunch - about 20 g of either chopped watercress, dill or chives if  you have them - these are not absolutely necessary but do add flavour & look especially attractive if it's served as a pate, rather than in the already green herb-flecked layers of the tortilla cake where it's unsullied pinkness is beautiful.
Lots of freshly ground black pepper. (NO salt is needed as the smoked salmon is already quite salty!)
1. Chop 150 g of the smoked salmon roughly
2. Put into blender with the cream cheese, creme fraiche, lemon juice & zest. Pulse a few times depending on how smooth you want it. 
3. Put into bowl. Chop the other 50 g of smoked salmon quite small and add to the mixture with any herbs you want to add - chopped fairly small first by hand. Add several grinds of black pepper to taste
4. Chill in the fridge.
5. If making the tortilla cake then wait until both the tortilla layers and pate are well-chilled before dividing the mixture and spreading the mixture between the layers. Same goes for the blinis - don't attempt to cut them until the tortilla wraps are well chilled.
6.. If using as a dip - thin with some extra creme fraiche until it's the consistency you want. As a pate for spreading on toast, you won't need to do this.
Layered salmon and watercress cake  serves 8 - 12
For the blini wraps each tortilla wrap makes about 10-12 small blinis depending on the size of your cookie cutter.
Ingredients for watercress wrap layers or cocktail blinis:
1 tablespoon organic flax flour. 
40g of watercress or baby spinach leaves or a mix of both! Washed and spun dry in salad spinner.
(When using flax flour it's better to grind your own fresh - the Nutribullet/Nutrimix-type blenders have a spice grinding attachment which will grind small amounts brilliantly and it's better to grind it fresh if you can. Keep any unused flour in the fridge afterwards so that its stays fresh. Nuts and seeds should always be kept in fridge to prevent fats 'going rancid' or oxidising. If nuts are kept in a warm shop shelf this can happen quite quickly - you'll get a horrible 'chip pan' smell off them! Fresh nuts should have a pleasant, sweet smell.) If using coconut flour - until the
18th of October
- Holland & Barrett health stores have coconut flour at half price which is terrific value!)
A small pinch of salt & few grinds of fresh organic black pepper.
Organic virgin coconut oil for greasing the pan. 
(Coconut oil is best for this as it prevents possible sticking which can still happen even with a non-stick pan if not hot enough. A mix of coconut oil & butter is nice too but may stick more easily and butter can also burn quite quickly. Coconut oil is also widely available now - organic is best as the quality is assured but prices can vary widely between shops so shop around. Coconut oil is the very best fat for frying at a high temperature as it is stable and withstands the heat of cooking better, without altering chemically, which can happen with other cooking oils. It is the healthiest source of saturated fat - which up to date research proves is actually good for us. It's good for our heart, brain, skin, immune system and thyroid. Although called an oil - it is actually hard at room temperature but melts easily. As it contains antioxidants it doesn't go off and is stable at room temperature for a long time, so you don't need to keep it in the fridge. It's also delicious - I often eat a teaspoon on it's own! Being very slightly sweet it reminds me of the coconut ice my grandmother used to make - but without all the sugar!)
This just couldn't be easier - if you've already made my low-carb wraps then the method is identical. The ingredients differ slightly that's all!
1. Grind the flax seeds into a flour if using, add the flour to the eggs in the blender or bowl, a small pinch of pepper & blend - Nutriblender or Nutrimix ideal as they blend evenly - but a whisk is fine too.
2. Chop the watercress/spinach fairly finely and add to the mix after blending or just give one pulse or it may be too olive green. Speckled really looks nicer!
3. Heat pan with a small knob of coconut oil - about hazelnut sized. When it's hot add a 1/4 cup measure of the mixture and tip pan around to distribute evenly. Do this as quickly as possible or you may end up with a wrap with gaps as it can 'set' too fast! It's just like making a thin pancake. It's essential to get the pan really hot for the first one or it may stick - after the first they tend not to. Be careful not to get the pan too hot or the mixture may bubble up and possibly break giving you a hole in your wrap! If in doubt remove pan from heat for a moment while you turn it down to medium/hot and replace pan on heat.
4.. When the top sets and the sides of the wrap start to slightly come away from the pan - use a greased, wide spatula and turn over carefully. The first one can be delicate at this stage so greasing the spatula helps the wrap to come off the pan more easily without catching on it and tearing. You will find that one side is slightly greener than the other, don't worry about this, as the watercress always tends to sink slightly. In the cake it doesn't show and you can use the best side for the blinis.
5.. Stack the wraps onto a plate as you make them and cover. The steam as they cool helps to keep them pliable. Made with coconut oil they won't stick so don't worry.
6. Chill until needed - these can be kept for 3-4 days in the fridge. In fact for both the cake and wraps they're easier to cut and handle if made the day before and chilled.
7. If making the layered cake. Put one wrap on the bottom of the serving plate, spread with 1/4 of the mix, repeat until you finish the top with the last of the pate. Cover and chill in the fridge. Before serving - decorate with watercress, parsley and some tomatoes or whatever takes your fancy and looks festive! Serve cut into portions with a sharp knife. A mixed salad of winter leaves is nice with this.
| | | |
| --- | --- | --- |
| | | |
| 1. Watercress wrap ready to go. These make a delicious low-carb alternative to bread for cold turkey wraps even if you don't make the pate! | 2. Smoked Salmon Pate & Watercress wrap layered cake showing the beautiful colour of the middle |  3. Smoked Salmon & Watercress layered wrap cake slice served with salad |
| | | |
|  4. Smoked salmon, cream cheese & watercress dip |  5. Selection of vegetable crudites for dip. Celery, purple carrots, radish Pink Dragon, Little Gem hearts & ruby chard stems. |  6. Watercress mini cocktail 'blinis', topped with pate with some decorative additions |
Recipe Notes:
'Low carb high fat' LCHF diet recipes contain as little sugar, processed refined carbohydrates or starchy foods as possible. Processed carbohydrates turn rapidly to sugars in our bodies and we're all eating too much of them. This is is leading to an epidemic of Type 2 Diabetes & pre-diabetes. This can be avoided - and now some doctors are proving even reversed - by following the LCHF diet and cutting out all added sugars from your diet. The latest scientific thinking is that it's not natural saturated fats like butter, lard or coconut oil in our diet that are a problem - but highly processed foods, artificially hardened fats like margarine and some vegetable oils. The great spin off from this diet is that you can also lose weight very easily without starving or ever feeling hungry. I lost 2 stone and my son has lost 4 stone on the LCHF diet over the course of a year, after we had both put on weight following serious accidents which had left us unable to exercise for some time. It's a very easy diet to stick to because you're never hungry and it's high in healthy nutrients.
 We don't do calorie counting here - because it's the quality of calories that counts - not the number! We never worry about eating natural, whole, nutritious foods like coconut oil or butter!  It's the empty, unhealthy calories in industrially-made, highly-processed low-fat spreads, petrochemically extracted vegetable oils and sugar-filled processed foods that damage our health and clog our arteries. We avoid them like the plague! 
As usual all the ingredients I use are always organic wherever possible. Organic ingredients are scientifically proven to be more nutritious, higher in healthy omega-3 essential fatty acids, phytonutrients and of course contain fewer chemicals like pesticides, heavy metals or additives (this is what we have eaten for 40 years - but it's up to you - non-organic alternatives are easily available)