Warm Salad of Polytunnel Leaves - in a dressing of hazelnut oil, Highbank Orchard Syrup and cider vinegar, served with bacon lardons, apple wedges and toasted hazelnuts. From Tunnel to Table recipes for Autumn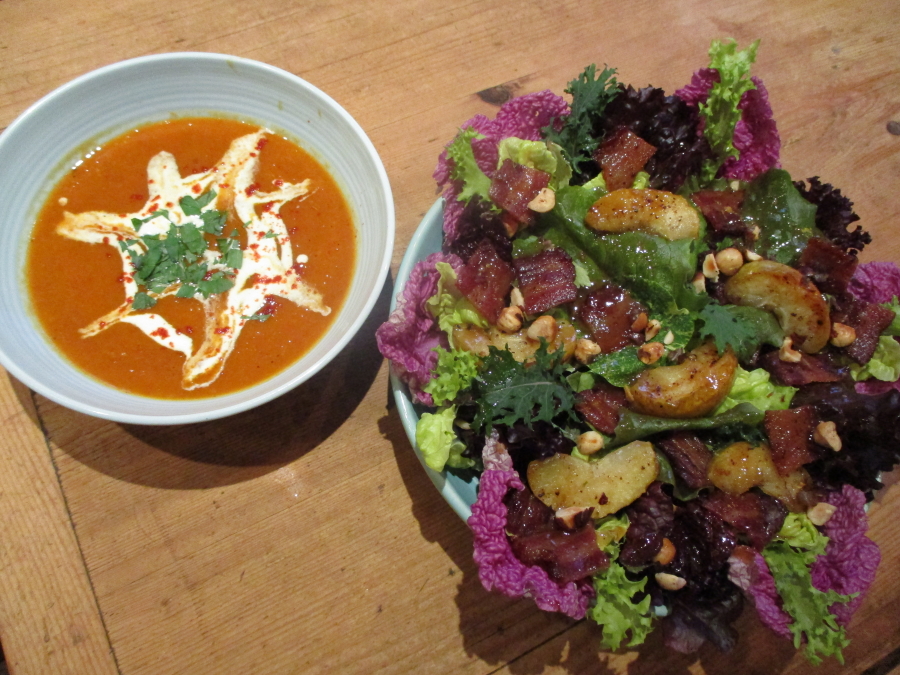 Easy to make, full of nutritious antioxidants and healthy phytonutrients to keep winter colds at bay.


As usual all the ingredients are organic. You get more of the active phytochemical compounds in organic, with no pesticides or heavy metal contamination. 
If you want to convert these recipes to vegetarian or vegan - you can substitute vegetable stock instead of chicken stock, use more hazelnuts instead of bacon lardons and olive oil instead of butter..
Recipe 1:

Roasted Red Onion, Red Pepper and Sweet potato Soup:


Ingredients
– Serves 4 (amounts can be varied to taste – they're not critical – it will still be very tasty!)
A glug of extra-virgin olive oil to drizzle vegetables before roasting
2 medium/large red onions, peeled and cut into quarters
2 red peppers, cut into quarters, seeds and stalks removed


2-3 med/large sweet potatoes (about 500g total weight before peeling), peeled and with any dodgy bits removed. Chopped into largish cubes
4-5 large cloves of garlic, chopped quite small. (Chopping garlic about 15 mins before cooking stimulates it to produce
more allicin – the active compound scientifically proven to help prevent colds and beneficial for a healthy circulatory system.


1 teaspoon sweet smoked paprika (I use Steenbergs which has an amazing aroma and rich smoky taste. I buy their wonderfully fresh organic herbs and spices from the UK online)


Freshly ground black pepper to taste


1 litre of chicken (or vegetable) stock – homemade, or from organic stock cubes, or both combined. If your homemade stock doesn't
have a lot of flavour, add some stock cube at the end, but keep tasting carefully as they can make it too salty if you're not
careful. Chicken stock or as Americans call it 'broth' made from leftover chicken carcasses contains collagen and anti-viral compounds. You've heard of the Jewish chicken soup cure for colds and flu? That's why it works!

Method:
(If you're in a hurry you can skip this roasting bit and just throw all the chopped or blitzed ingredients into stock in a saucepan - but I roasting the ingredients gives an extra-special flavour dimension to the soup, so is nice if you have time)
1. Turn on oven to 200 deg C. Put a baking tray in the oven to heat up.


2. Put the prepared veg into a bowl, drizzle with a little olive oil and work it around with your hands until all the pieces are just coated (but not swimming!) to prevent burning. Tip onto the heated baking tray.


3. Roast in the oven for about 20-30 mins until the edges of the peppers and onions are starting to brown and caramelise. Keep an eye on them, as they can catch and burn, then becoming bitter very quickly.


4. Take the veg out of oven, cool slightly and then scrape all the veg and any juices into a food processor and blitz to a fairly fine puree.


5. Add the veg puree to the stock in a large saucepan along with the chopped garlic, bring to the boil and add the teaspoon of sweet smoked paprika. Simmer for another 10 mins.
6. Blend in the saucepan with an immersion blender, or if you don't have one, allow it to cool slightly, then transfer into a food
processor to blend until smooth.


7. Return to the saucepan if using a food processor to blend, season with freshly ground black pepper and taste. At this point if you think it needs a bit more flavour, add a small piece of a chicken stock cube, try ½ to start with and taste again. Remember you can always add salt – but if it becomes too salty you can't take it away! It is unlikely to need salt, as the stock cubes are salty. (I use Kallo organic chicken stock cubes which add a great flavour boost when needed)
8. At this stage you can also add a little more stock if you like your soup slightly thinner. You could also add more of the sweet smoked paprika if wished.  


9. Serve with a drizzle of cream or dollop of crème fraiche, a light sprinkle smoked paprika and some chopped parsley


-------------------------------------------------------------------------------
Recipe 2: 
Warm Salad of Autumn Polytunnel Leaves, with crisped Bacon Lardons, Apple Wedges browned in butter and Toasted Hazelnuts, with a dressing of Hazelnut oil, Highbank Orchard Syrup, and Cider Vinegar
What makes the seemingly ordinary ingredients in this salad so sumptuously special are the contrasts of warm and cold, with crisp textures and autumn flavours which complement and bring out the best in each other. 
I got the idea for this salad from a starter I enjoyed in the Chart House Restaurant in Dingle many years ago, when I was down in County Kerry for the unveiling of my portrait sculpture of former Irish Taoiseach, the late Charles J. Haughey - who was a popular figure in Dingle. The salads at the Chart house are always delicious! Sadly I didn't manage to get the recipe – but this is a pretty good approximation. It looks complicated, but it isn't!  There are just several stages, all of which can be done in advance, and the salad thrown together at the last minute with apparently effortless ease! Impressive if you're entertaining!

Ingredients - for 4 people:
2 packs of mixed salad leaves. Or if you shop at a farmer's market or grow your own - a good selection of colourful crisp leaves - enough for a nice pile on each plate. Remember the more colourful they are and the more different varieties of leaves you use - the more healthy antioxidant phytonutrients they contain. (I used baby leaves of Ragged Jack kale, Scarlette Chinese cabbage, curly endive, spinach, Little Gem leaves, small Vegetable Mallow leaves, Nasturtiums and 3 different varieties of red loose-leaf lettuce)
Wash and spin the leaves, and put into the fridge so they stay cool and crisp until needed
For the toasted hazelnuts: 
Roughly 24 hazelnuts
 – 6 for each person – or more if you like   
(These can be prepared beforehand. I always keep an assortment of toasted nuts handy for throwing onto salads).
Method:

1. Toast the nuts in a small ceramic non-stick frying pan over a medium heat, with just enough hazelnut oil, or olive oil to grease the bottom without any running around (not too much or you will change their flavour). Toasting brings out their flavour and aroma. Keep them moving by shaking the pan, and don't allow them to burn. 
2. As soon as they start to brown a little and you get the aroma of hazelnut, take them off at once and set aside in a dish on one side to cool. This should take 5-10 minutes. Be careful as they can burn and become bitter quickly. While they are still warm, sprinkling them with Maldon Smoked Sea Salt adds a delicious, but not overpowering 'smokiness' to them, but it's not essential


3. Roughly chop them and keep warm until serving, or warm them again slightly before adding to the finished, dressed salad.



For the Bacon Lardons and Apple Wedges:
6-8 thin streaky rashers of bacon - smoked is nice but whatever you can get
4 average sized desert apples, core removed but not peeled and each cut into 6 segments 
– preferably a well-flavoured Blenheim Orange, or Braeburn which is available in most supermarkets, or failing that small Bramley's Seedling
Method:
1. Fry the rashers of streaky bacon in a very small amount of olive oil until nicely crisp and brown
 and the fat runs out of them, Lift out onto a plate, chop them into lardons with kitchen scissors (I find this much quicker and easier than frying already chopped lardons - but you can use those if you want) leave the bacon fat in the pan. (I use Coolanowle Organic Farm smoked streaky bacon – available online from 
www.organicmeat.ie
)  
2. Add a walnut-sized knob of butter to the bacon fat left in the hot pan and when it is foaming, add the apple wedges and fry quickly on both sides until browned very slightly. (Depending on the apple variety, take them out early if they look like starting to drop to bits! You want recognisable apple wedges - NOT puree!) Put aside with the bacon to keep slightly warm until you're ready to serve the salad, or if making beforehand - warm slightly again in a low oven
6 tablespoons of Hazel nut oil
 - or 3 of hazelnut & 3 of extra virgin olive oil (all hazelnut is nicer as you really get that nutty flavour, but it's not cheap. I think it's really worth it though to make this salad extra special!) I use 
Emile Noel organic hazelnut oil from www.nourish.ie)

2 tablespoons of cider vinegar (any good organic brand, or also available from Highbank)

1-2 tablespoons of Highbank Orchard Syrup to taste - I like to use 2 
(The Orchard Syrup is available in some farmers markets and delicatessens, and also online at 
https://highbankorchards.com/
  - Highbank do a great range of all home-produced organic apple products, and I can vouch for their addictive deliciousness! If you can't get it then you could substitute organic runny honey, but the Orchard Syrup makes this dressing extra delicious)

1 teaspoon of wholegrain Dijon mustard - (I use Biona or Bunalun - available fairly widely)

Pinch of salt and freshly ground black pepper to taste
Just put all the ingredients into a jar and shake well until blended.  You can then decant as much as you want into a small jug 




1. Put the salad leaves into a bowl and dress just lightly with some of the dressing immediately before serving, turning them over very gently with your hands. (You can serve more dressing at the table in a small pot or jug for those who want more – but if you put on too much at this stage, the leaves will go limp)  
2. Pile some leaves onto each plate. 
3. Add 6 of the apple wedges to the leaves on each of the 4 plates, divide the bacon lardons equally, adding some to each plate. Scatter over the chopped hazelnuts
Serve at once while the additions are still nice and warm, with more dressing available on the side if you wish. 
Enjoy!